Daging Sapi Mahal? Distribusi Panjang dan Transportasi Sulit
Beef Expensive? Long Distribution and Transportation is Difficult
Reporter : Gusmiati Waris
Editor : Heru S Winarno
Translator : Parulian Manalu

PUBLISHED: Jum'at, 10 Mei 2013 , 02:20:04 WIB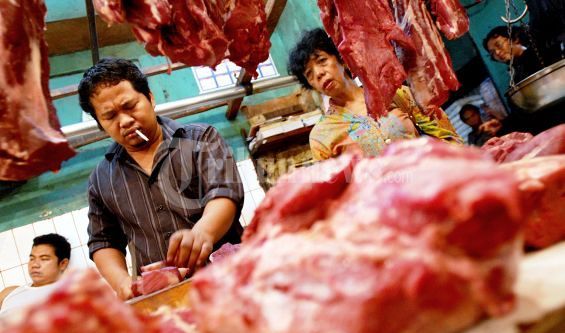 Foto: republika.co.id
Jember (B2B) - Harga daging sapi saat ini masih tergolong mahal lantaran tata niaga daging sapi masih panjang dan distribusi sapi dari sentra ternak ke kawasan konsumen terkendala kemudahan transportasi.
Menteri Pertanian Suswono mengatakan Kementerian Pertanian akan bekerja sama dengan Kementerian Perhubungan agar ada fasilitas perhubungan untuk memudahkan jalur distribusi hewan ternak yang memenuhi standar ´animal welfare´.
"Kita sekarang memikirkan bagaimana memudahkan distribusi dari Nusa Tenggara Timur dan Nusa Tenggara Barat ke kawasan konsumen seperti di Jakarta dan sekitarnya," kata Menteri Pertanian Suswono dalam Gebyar Peternakan dan Kesehatan Hewan di Kecamatan Tanggul, Kabupaten Jember, Jawa Timur, Kamis (9/5).
Langkah konkrit, kata Suswono, akan dilakukan tahun ini dengan memperbaiki sarana pengangkutan sapi. Awalnya, memperhitungkan pengangkutan sapi potong dengan kereta api, tapi ongkosnya ternyata lebih mahal daripada truk.
"Kami sedang koordinasi dengan Kementerian Perhubungan soal itu. Agar alat angkut sapi efektif, efisien dan tidak menyalahi animal welfare. Misalnya dari NTT ke NTB," ungkap Suswono.
Jember (B2B) - The price of beef is still relatively expensive because of trading system beef is still long, and distribution of beef cattle from the central region to consumers deterred ease of transportation.
Minister of Agriculture Suswono said the Ministry of Agriculture will work with the Ministry of Transportation in order to facilitate transportation facilities livestock distribution lines that follow the standard ´animal welfare´.
"We are now thinking about how to facilitate the distribution of East Nusa Tenggara and West Nusa Tenggara region to consumers such as in Jakarta and surrounding areas," said Minister of Agriculture Suswono in the Week in Livestock and Animal Health in Tanggul District, Jember Regency, East Java, on Thursday (9/5).
Concrete measures, Suswono said, will conduct this year to improve the facilities transport of cattle. Initially, taking into account the transport of beef cattle by train, but the fare was more expensive than the truck.
"We are coordinating with the Ministry of Transportation, that cow transportation effective, efficient and does not violate animal welfare. Example of NTT and NTB to Jakarta," said Suswono.