Polda Metro Jaya Terbitkan Surat Perintah Penangkapan Rizieq Shihab
Jakarta Police Issue Arrest Warrant of Rizieq Shihab
Reporter : Adipati Edonizar
Editor : Cahyani Harzi
Translator : Dhelia Gani

PUBLISHED: Rabu, 31 Mei 2017 , 03:33:00 WIB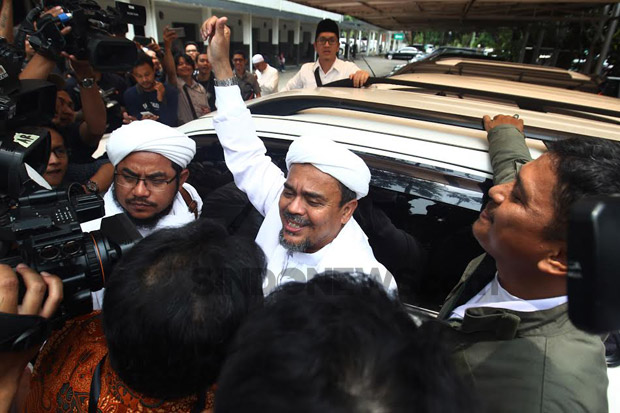 Pemimpin FPI Habib Rizieq Shihab (Foto: istimewa)
Jakarta (B2B) - Polda Metro Jaya menerbitkan surat perintah penangkapan terhadap pemimpin Front Pembela Islam (FPI) Rizieq Shihab, tersangka kasus penyebaran percakapan dan foto bermuatan pornografi, yang hingga hari ini belum kembali ke Indonesia.

Kabid Humas Polda Metro Jaya Kombes Raden Prabowo Argo Yuwono menyampaikan, pihaknya telah menerbitkan surat perintah penangkapan terhadap tersangka kasus pornografi, Habib Rizieq Shihab yang tak kunjung pulang ke Indonesia.

"Dengan adanya surat perintah itu nanti penyidik akan mendatangi rumah tersangka dan mencari," kata Kepala Bidang Humas Polda Metro Jaya Komisaris Besar Polisi Argo Yuwono di Jakarta, Selasa.

Penyidik kepolisian, ia melanjutkan, juga meminta keterangan dari Kantor Imigrasi untuk mengetahui keberadaan Rizieq dan berdasarkan informasi dari Kantor Imigrasi kepolisian akan mengeluarkan Daftar Pencarian Orang.

"Tahapan itu yang harus dilalui penyidik jadi itu yang saat ini langkah digunakan," kata Argo.

Argo mengatakan Polda Metro Jaya juga menyampaikan Surat Perintah Dimulainya Penyidikan (SPDP) ke kejaksaan.

Ia menjelaskan pula bahwa kepolisian menetapkan Rizieq sebagai tersangka berdasarkan dua alat bukti.

"Salah satu bukti adalah keterangan saksi, ada keterangan sakit ahli ada surat dan juga ada beberapa VCD yang berkaitan yang beredar di dunia maya," kata Argo.
Jakarta (B2B) - The Jakarta Police have issued an arrest warrant against the leader of the Islam Defenders Front (FPI) Rizieq Shihab after he was named a suspect in a pornography case on Monday (May 29).

"The police will visit the suspects house in search of him," Jakarta Police spokesperson Senior Commissioner Argo Yuwono stated here on Tuesday.

The police will also visit the immigration office to inquire and seek information on Shihab.

The police will use the immigration data as a basis for placing suspect Shihab on its most wanted list.

"Those steps are currently being applied," he remarked.

The Jakarta Police will issue a notification letter to the prosecutors office to start an investigation.

He affirmed that the investigators have collected sufficient evidence to name Shihab a suspect, including the Whatsapp chat logs between two people, allegedly Shihab and Firza Husein, the woman he is suspected of having an affair with.

Shihab will be charged under articles 4, 6, and 8 of the 2008 Pornography Law.

The legal process of Shihab must be handled in a transparent way, an official of the Indonesian Ulema Council (MUI) had earlier stated.

"(This is necessary), so that the people can follow its progress without any misunderstanding," MUI Chairman Maruf Amin stated.

He called on Shihab to respect the legal case by returning to Indonesia to face trial.

"I do not understand the case in detail. Please inquire from the police," he affirmed.