Menkop Puspayoga Apresiasi UKM Sulsel Dukung Pertumbuhan Ekonomi Provinsi
The Development of SMEs in South Sulawesi Province Hailed by Indonesian Minister
Reporter : Gusmiati Waris
Editor : Cahyani Harzi
Translator : Dhelia Gani

PUBLISHED: Selasa, 06 Juni 2017 , 00:43:41 WIB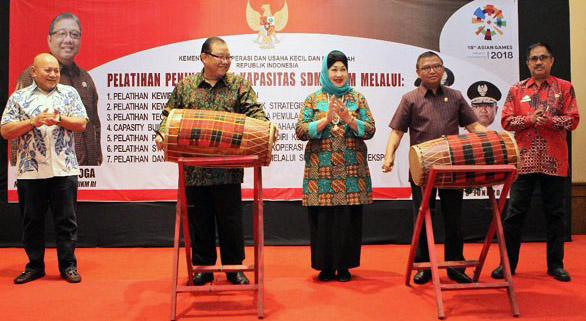 Kiri ke kanan: Deputi Bidang SDM Prakoso BS, Menkop UKM AAGN Puspayoga, Duta Koperasi Dewi Motik Pramono, dan Kepala Dinas Koperasi dan UKM Sulsel Syamsu Alam Ibrahim (Foto: istimewa)
Jakarta (B2B) - Menteri Koperasi dan UKM AAGN Puspayoga mengapresiasi pertumbuhan ekonomi Provinsi Sulawesi Selatan lebih 7% dalam tujuh tahun terakhir atau di atas rata-rata nasional, padahal tidak banyak perusahaan raksasa namun lebih banyak pemodal lokal yang berkembang melalui sektor pertanian, perdagangan, perikanan, koperasi dan UKM.

"Inilah hakikat pertumbuhan ekonomi yang sebenarnya, karena dinikmati bersama-sama oleh seluruh masyarakat," kata Menkop Puspayoga usai membuka 'Pelatihan Peningkatan Kapasitas SDM KUKM di Provinsi Sulawesi Selatan' di Makassar pada Sabtu (3/6).

Dia mengingatkan tiga syarat menjadi wirausaha pemula disingkat WP yakni kerja keras dan jujur, fokus dan kreatif. Kerja keras adalah semangat pantang menyerah, bersikap jujur untuk mendapatkan trust (kepercayaan) dan fokus untuk mengembangkan sikap profesional, dan kreatif sama maknanya dengan mengubah tantangan menjadi peluang.

Sementara soal permodalan, hal itu dapat diatasi dengan berbagai skim pembiayaan yang disediakan pemerintah mulai dari bantuan pendanaan WP, kredit ultra mikro, kredit usaha rakyat (KUR), dana bergulir dari Lembaga Pembiayaan Dana Bergulir (LPDB) dan Kredit Usaha Rakyat Berorientasi Ekspor (Kurbe).

"Semua pembiayaaan itu akan disesuaikan dengan skala usaha masing-masing," kata Puspayoga dalam pelatihan yang dihadiri oleh Wagub Sumsel Agus Arifin Nu'mang, Deputi Bidang SDM Prakoso BS, Duta Koperasi Dewi Motik Pramono, dan Kepala Dinas Koperasi dan UKM Sulsel Syamsu Alam Ibrahim.

Menurutnya, dari berbagai pelatihan kewirausahaan tentu tidak semuanya lolos menjadi WP yang sukses. "Jika satu pelatihan diikuti 300 orang, dan 25 persen di antaranya dapat menjadi WP saja, itu sudah bagus."
Jakarta (B2B) - Indonesian Cooperatives and SMEs Minister AAGN Puspayoga appreciates the economic growth of South Sulawesi Province over 7% in the last seven years or above the national average, although not many giant corporations and more local investors are supporting the development of agriculture, trade, fisheries, cooperatives and SMEs.

"This is the real economic growth because it is supported by the people," Minister Puspayoga said in Makassar on Saturday (June 3) after opened the 'Training on Capacity Building of SME Human Resources of South Sulawesi province'.

He reminded the three requirements to be a beginner entrepreneur that is hard work and honest, focused and creative. Hard work is passionate, being honest to gain trust, focusing on developing professionalism, and creativity means being able to turn challenges into opportunities.

Meanwhile, for business capital, can be overcome the financing scheme provided by the government such as funding start-up entrepreneurial assistance, ultra-micro credit, people's business credit, capital loans from financing institutions and export-oriented people's business credit.

"The funding scheme will be adjusted to the scale of SME's business," Mr Puspayoga said.

According to him, not all trainees can become successful small entrepreneurs. "If 300 people attend the training, and 25 percent of them can be beginner entrepreneurs, that's good."