Hari Konstitusi untuk Ingat Sejarah Terbentuknya RI
Commemoration of Indonesia Constitutional Day to Remember History
Reporter : Rizki Saleh
Editor : Cahyani Harzi
Translator : Dhelia Gani

PUBLISHED: Minggu, 31 Agustus 2014 , 00:44:09 WIB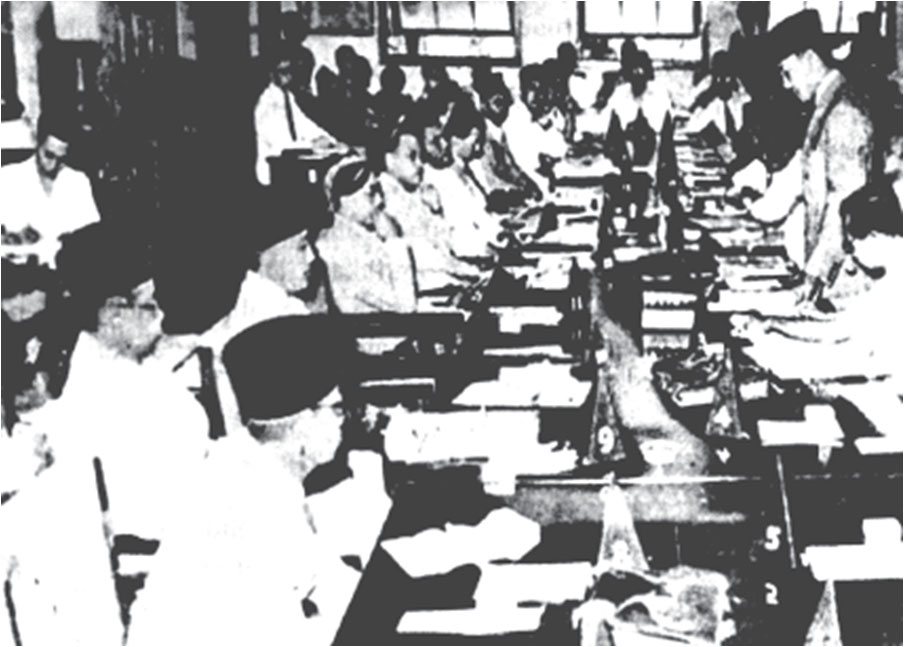 Foto: Pusat Arsip Nasional
Bandung (B2B) - Ketua MPR RI, Sidarto Danusubroto, mengatakan peringatan Hari Konstitusi dimaksudkan untuk mengingat sejarah terbentuknya negara Republik Indonesia.

"Sebagai bangsa yang besar kita tidak boleh melupakan sejarah," kata Ketua MPR RI Sidarto Danusubroto, di Gedung Merdeka, Bandung, Jawa Barat.

Turut hadir dalam acara tersebut Wakil Presiden Boediono didampingi Ibu Herawati Boediono.

Sidarto mengatakan, Hari Konstitusi yang diperingati setiap tanggal 18 Agustus juga dimaksudkan untuk membangun kesadaran berkontitusi.

"Selain itu untuk meningkatkan kualitas hidup berbangsa bernegara ke arah lebih baik," katanya.

Sebagai bangsa yang besar, kata dia, hutang sejarah selalu memiliki makna filosofis yang tinggi.

Sementara itu, Peringatan Hari Konstitusi dan Hari Ulang Tahun ke-69 MPR-RI dipusatkan di Gedung Merdeka Bandung Jawa Barat.

Hadir juga dalam acara tersebut, Wakil Ketua MPR RI Melani Leymena Suharli dan Wakil Ketua MPR RI Hajriyanto Thohari.

Menteri Pemberdayaan Perempuan dan Perlindungan Anak Linda Amalia Sari Gumelar juga tampak hadir dalam acara tersebut. (Ant)
Bandung (B2B) - Speaker of the Indonesian Consultative Assembly (MPR) Sidarto Danusubroto stated here on Saturday that commemoration of Constitution Day is meant to remember the history of the establishment of the Republic of Indonesia.

"We should not forget the history of our great nation," Sidarto Danusubroto stressed.

The ceremony was attended by Vice President Boediono Dan and his wife Herawati Boediono.

Sidarto noted that Constitution Day on August 18 is also intended to build awareness of the constitution, as well as improve the quality of state and nation toward better direction.

As a great nation, he said, the history has a high philosophical meaning.

Meanwhile, the commemoration of Constitution Day and the Anniversary of the 69th MPR-RI were celebrated at Gedung Merdeka, Bandung, West Java.

The event was also attended by Deputy Speaker of the People's Consultative Assembly Melani Leymena Suharli and Vice Chairman Hajriyanto Thohari, as well as Minister for Women Empowerment and Child Protection Linda Amalia Sari Gumelar.