Abu Bakar Ba`asyir Dipindah ke Lapas Gunung Sindur Dipantau Media Asing
Indonesia Moves Jailed Cleric Amid Inhumane Treatment Claim
Editor : Ismail Gani
Translator : Novita Cahyadi

PUBLISHED: Minggu, 17 April 2016 , 00:45:55 WIB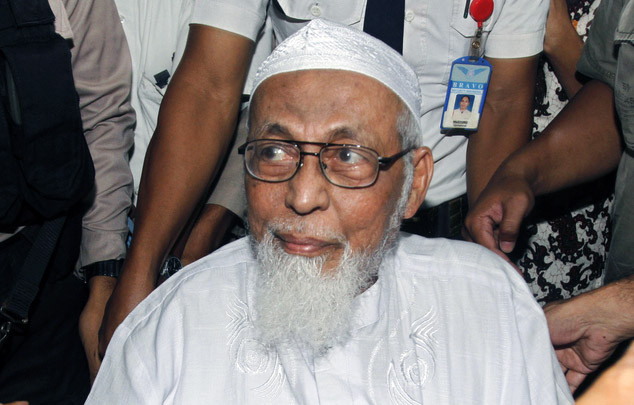 Abu Bakar Ba´asyir 77 tahun (Foto: MailOnline)
TERPIDANA kasus terorisme terkait Bom Bali 2002 pada Sabtu dipindahkan dari Lembaga Pemasyaratan (Lapas) Nusakambangan, Jawa Tengah, ke Lapas Gunung Sindur, Kabupaten Bogor, Jawa Barat setelah pengacaranya menuntut untuk mengakhiri perlakuan 'tidak manusiawi' karena alasan medis.

Abu Bakar Ba'asyir 77 tahun menderita sakit ditahan pada ruang isolasi di Lapas Nusakambangan dan langkah pemindahan terkait upaya pencegahan dari radikalisasi tahanan lain dan untuk menyingkirkannya dari jaringan terorisme.

Kepala Lapas Hendra Eka Putra mengatakan pemindahan Ba'asyir ke Lapas Gunung Sindur, sekitar 50 km di tenggara Jakarta. Ia diangkut dengan sebuah mobil lapis baja dari Jakarta menuju Bogor dibawa kawalan lebih dari 230 petugas dari Polri.

Pengacara Ba'asyir, Muhammad Mahendradatta mengatakan pada Kamis bahwa kondisi kliennya yang ditahan dalam sel berukuran dua meter persegi adalah "sangat mengejutkan dan perlakuan tidak manusiawi terhadap dirinya yang menyebabkan kesehatannya memburuk."

"Pemindahannya dilakukan atas dasar kemanusiaan karena usia renta dan yang berhubungan dengan kesehatannya," kata Hendrar. "Pemerintah telah mempertimbangkan bahwa ia membutuhkan sebuah penjara yang memiliki fasilitas kesehatan yang lebih baik dan dokter."

Ba'asyir, yang dikenal sebagai pemimpin spiritual kelompok militan al-Qaida di balik pemboman Bali yang menewaskan 202 orang, dijatuhi hukuman 15 tahun penjara pada 2011.

Jaksa mengatakan dia tokoh kunci dalam pendanaan sebuah kamp pelatihan militan di Aceh yang dikatakan terkait dengan hampir setiap kelompok radikal di Indonesia yang dikenal sebagai negara dengan pemeluk Islam terbesar di dunia. Hukumannya diringankan menjadi sembilan tahun setelah pengacaranya mengajukan banding.

Mahendradatta mengatakan kepada The Associated Press yang dilansir MailOnline bahwa Ba'asyir ditahan dalam sel isolasi selama 23 jam sehari dan tidur di atas tikar tipis di atas lantai semen tanpa selimut. Dia membantah kliennya mendapat bahan bacaan dan barang-barang pribadi, selama di sel dia kerap terbangun dari tidurnya karena digigit nyamuk, dan konsultasi dengan staf medis terkendala birokrasi di penjara.

Hendra menolak mengatakan apakah pemerintah akan terus mengisolasi Bashir di penjara barunya. Dia hanya mengatakan Bashir tidak akan ditolak mendapatkan hak-hak dasar sebagai manusia.

Lapas Gunung Sindur adalah penjara dengan keamanan maksimum, yang dibangun pada 2010, dilengkapi dengan langkah-langkah keamanan berteknologi tinggi termasuk jammers sinyal seluler untuk mencegah komunikasi melalui telepon seluler oleh narapidana.
INDONESIAN authorities on Saturday moved the jailed spiritual leader of the 2002 Bali bombers from a notorious prison island amid demands by his lawyer to end his "inhumane" treatment.

The ailing 77-year-old Abu Bakar Bashir was confined to a tiny isolation cell on Nusa Kambangan in the wake of the Jan. 14 suicide bombings in the Indonesian capital Jakarta to prevent him from radicalizing other prisoners and to cut him off from extremist networks.

Hendra Eka Putra, the chief warden, said Bashir was moved to Gunung Sindur prison, about 50 kilometers (30 miles) southeast of Jakarta. He was transported in an armored car from Jakarta to the prison in an operation involving more than 230 officers.

Bashir's lawyer Mohammad Mahendradatta said Thursday that the condition of Bashir's 2 square meter (22 square foot) cell was "simply shocking and inhumane treatment against him is causing his health to deteriorate."

"His transfer was made on the basis of humanity because of his old and health-related rights," Putra said. "The government has considered that he needed a prison that has better health facilities and doctors."

Bashir, known as the spiritual leader of al-Qaida-linked militants behind the Bali bombings that killed 202 people, was sentenced to 15 years in prison in 2011.

Prosecutors said he was a key player in funding a militant training camp in Aceh that brought together men from almost every known extremist group in predominantly Muslim Indonesia. A higher court later cut the sentence to nine years.

Mahendradatta had told The Associated Press that Bashir was kept in his isolation cell for 23 hours a day and slept on thin mats over a cement floor without blankets. He was denied reading materials and personal items, regularly awakened from his sleep because of mosquitoes, and consultations with medical staff took place behind barriers.

Putra declined to say whether authorities would continue to isolate Bashir in his new prison. He said Bashir would not be denied basic rights.

The Gunung Sindur maximum-security prison, which was built in 2010, is equipped with high-tech security measures including cellular signal jammers to prevent unauthorized communications by inmates.