Kemenkop UKM Dukung Pengembangan 543 Koperasi Wanita oleh DPP Perwira
Indonesian Govt Supports Development of Women`s Cooperatives
Reporter : Gusmiati Waris
Editor : Cahyani Harzi
Translator : Dhelia Gani

PUBLISHED: Senin, 12 Juni 2017 , 06:15:00 WIB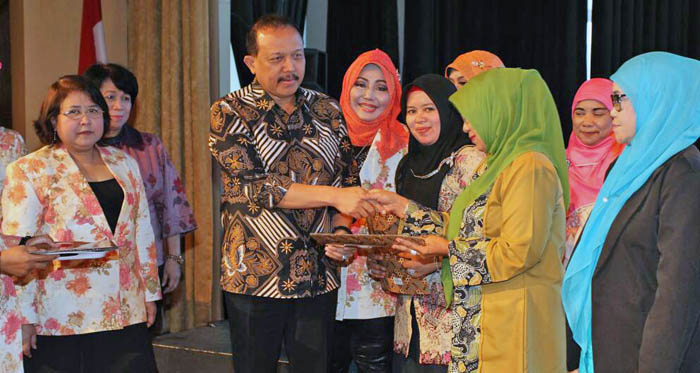 Sesmenkop UKM Agus Muharram (ke-2 kiri) menyerahkan akte pendirian koperasi wanita didampingi Ketua DPP Perwira, Elza Syarief (kiri) Foto: istimewa
Jakarta (B2B) - Pemerintah RI menyambut baik pendirian 543 koperasi wanita (Kopwan) di Kabupaten Bandung, Provinsi Jawa Barat, Sekretaris Kementerian Koperasi dan UKM Agus Muharram mengingatkan bahwa mendirikan koperasi lebih mudah ketimbang mengembangkan usaha koperasi dan mensejahterakan anggota koperasi.

"Namun saya optimistis bahwa koperasi yang didirikan dan dikelola oleh wanita lebih solid, karena kaum wanita ulet, teliti, hati-hati, dan jujur menjalankan kegiatan usaha. Asalkan didukung SDM berkualitas dan terampil, manajemen profesional, dan menerapkan teknologi informasi dalam mengelola koperasi," kata Agus Muharram pada pengukuhan 543 Kopwan di Soreang, Kabupaten Bandung pada Kamis (8/6).

Dia mengharapkan 543 Kopwan dapat mendorong peningkatan ekonomi dan kesejahteraan masyarakat, khususnya keluarga karena keberadaan koperasi merupakan wujud dari ekonomi kerakyatan yang digerakkan secara gotong-royong, sesuai instruksi Presiden RI Joko Widodo bahwa koperasi adalah usaha bersama dengan prinsip gotong-royong untuk kesejahteraan bersama.

Ketua Dewan Pimpinan Pusat Perempuan Wirausaha Indonesia (DPP Perwira) Elza Syarief mengatakan bahwa pihaknya berupaya meningkatkan kesejahteraan anggota Perwira untuk berwirausaha secara mandiri untuk meningkatkan ekonomi keluarga.

"DPP Perwira mendorong pendirian koperasi wanita di setiap desa di Kabupaten Bandung, dan kami mengucapkan terima kasih pada Kemenkop UKM yang memfasilitasi akte pendirian 543 Kopwan melalui program bantuan dana Rp2,5 juta untuk pendirian setiap koperasi," kata Elza Syarief.

Bupati Bandung, M Nasser berharap koperasi wanita akan meningkatkan kesejahteraan masyarakat desa dan mampu sinergi dengan badan usaha milik desa (BUMDes). "Sinergi tersebut akan mendorong tumbuhna ekonomi pedesaan."
Jakarta (B2B) - The Indonesian government supports development of 543 female cooperatives in Bandung Regency of West Java Province, and Secretary Minister of Cooperatives and SMEs Agus Muharram reminded that establishing cooperatives is easier than developing cooperative business and cooperative members´ welfare.

"But I am optimistic that cooperatives established and managed by women are more solid, because women are tenacious, conscientious, careful, and honest in running business activities. Provided support of qualified and skilled human resources, professional management, and implement information technology," Mr Muharram said at the inauguration of 543 female cooperatives in Soreang of Bandung district.

He expects 543 female cooperatives to encourage economic improvement and welfare of society, especially the family because the existence of cooperatives is a manifestation of populist economy which is mobilized in mutual assistance, Indonesian President Joko Widodo said that cooperative is a joint effort with the principle of mutual cooperation for the welfare of cooperative members and community.

Chairman of the Central Board of Indonesian Women Entrepreneurs (Perwira) Elza Syarief said that the Perwira members are trying to improve the economic welfare of family.

"The Perwira encourage the establishment of women´s cooperatives in every village in Bandung regency, and thanked the ministry that facilitates the deed 543 women´s cooperatives with 2.5 million aid program for the establishment of each cooperative," Mrs Syarief said.

Bandung Regent M Nasser hopes female cooperatives will improve the welfare of rural communities and synergize with village-owned enterprises (BUMDes). "The synergy will encourage the growth of the rural economy."