Apa Hak Anda, Jika Diperiksa Sebagai Saksi
Rights Entitled to a Person Examined as Witness
Editor : Mohamad Aslan
Translator : Intan Permata Sari

PUBLISHED: Rabu, 07 November 2012 , 13:29:00 WIB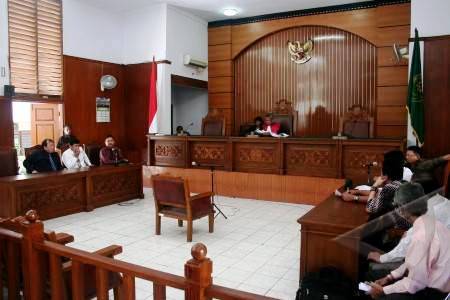 APABILA dalam surat pemanggilan terdapat ketidakjelasan status (apakah sebagai saksi atau tersangka atau sama sekali tidak ada statusnya) atau kesalahan penyebutan identitas, saksi dapat menolak pemanggilan

- Saksi yang dipanggil dapat menyatakan tidak bisa hadir asal ada alasan yang masuk akal atau patut (pasal 113 KUHAP)

- Saksi dapat meminta pemeriksaan ditunda, dengan alasan sakit

- Saksi dalam memberikan keterangan berhak mendapatkan perlakuan secara manusiawi dan tanpa ada tekanan apapun dari siapapun dan dalam bentuk apapun (pasal 117 KUHAP)

- Saksi berhak membaca dengan seksama atas Berita Acara Pemeriksaan (BAP) sebelum membubuhkan tanda tangan

- Apabila saksi menemukan keterangan yang ditulis dalam BAP berlainan dengan keterangan yang diberikan, maka saski berhak meminta kepada penyidik untuk merevisi/merubah

- Apabila usulan revisi ditolak oleh penyidik saksi dapat menolak untuk menandatangani BAP. (pasal 118 KUHAP)

- Dalam hal saksi tidak mau membubuhkan tanda tanganya, penyidik mencatat hal itu dalam BAP dengan mencantumkan alasan

- Saksi berhak untuk meminta waktu istirahat baik karena lelah, sholat dan/atau makan

- Saksi berhak mendapatkan salinan BAP

- Saksi dapat didampingi oleh keluargannya/penasehat hukum.

Semoga bermanfaat!

Tito Hananta Kusuma, SH.MM.CPHR
(THK Law Office)

Disclaimer: Tips Hukum ini bertujuan memberi pengetahuan terkait masalah hukum sesuai peraturan perundang-undangan di Indonesia. Penggunaan Tips Hukum ini bukan ditujukan untuk proses pembuktian di depan penegak hukum.
Ilustrasi: pdk.or.id
PROVIDING that there is no legal statement of status written in letter of summon (be it as a witness or suspect or absence of status) or mistakes referring to personal identity, witness may refuse to fulfill the summon.

- Witness, being summoned, may be absent due to reasonable or appropriate excuses (Article 113 of Criminal Procedure Code)

- Witness may have the investigation postponed providing that he/she is ill

- Witness deserves to have proper treatment and is free from any pressures by any parties and in any forms (Article 117 of Criminal Procedure Code)

- Witness has the right to read Interrogation Record in detail before signing the report

- If Witness finds any testimonies written in the record which are contradictive or are against the testimony stated by witness, witness has the right to ask investigator to revise/change

- If the revision proposal is rejected by investigator, witness may refuse to sign the report (Article 118 of Criminal Procedure Code)

- Providing that witness refuses to sign, investigator encloses this in the report along with excuses/reasons

- Witness may ask for interval period to have a rest, to do prayer, and/or to eat

- Witness may have copy of Interrogation Record

- Witness may be accompanied by relatives/legal consultant

Hope you can get the benefits!

Tito Hananta Kusuma, SH.MM.CPHR
(THK Law Office)

Disclaimer: the legal tips are intended to provide knowledge related to legal matters according to law in Indonesia. These tips are not intended as authentication process before law enforcer.