Jokowi Disadap? "Yang Disadap Orang-orang Top. Saya Ini Apa?"
Wiretapping on Jokowi? "The Target of the Top People. Who Am I?
Reporter : Roni Said
Editor : Cahyani Harzi
Translator : Dhelia Gani

PUBLISHED: Selasa, 19 November 2013 , 14:39:01 WIB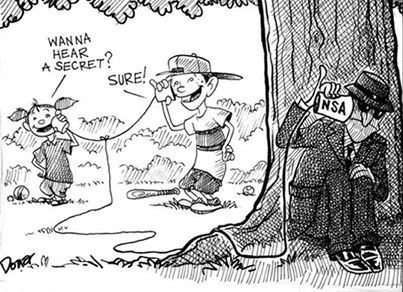 Ilustrasi: gameinformer.com
Jakarta (B2B) - Ketika isu penyadapan ramai menjadi perbincangan, Gubernur DKI Jakarta, Joko Widodo mengaku tidak khawatir pada kabar penyadapan oleh pemerintah Australia terhadap Presiden Susilo Bambang Yudhoyono (SBY), Ibu Ani Yudhoyono dan sejumlah pejabat tinggi negara.

Joko Widodo yang akrab disapa Jokowi mengaku bukanlah sasaran yang tepat untuk disadap. "Orang yang disadap itu orang-orang top, saya ini apa?"

"Saya urusannya apa kok disadap-sadap? Urusan saya kan ngurusi Blok G, Waduk Pluit, Cilincing, masak mau disadap? Kalau mau disadap apa yang disadap wong enggak ada isinya, masak mau nengok Blok G disadap?" kata Jokowi kepada pers di Balaikota, Selasa (19/11).

Menurut Jokowi, yang berpotensi menjadi target penyadapan adalah para pejabat yang terkait dengan keamanan dan kepentingan negara.

"Kalau saya kerjaannya ngurusin kampung deret, buat apa disadap? Yang disadap mestinya hal-hal yang berkaitan dengan kepentingan negara dan nasional, saya kan porsinya ngurusi Cakung, Tanah Abang, Waduk Pluit" kata mantan walikota Solo.
Jakarta (B2B) - When a lot of people fuss about issues of wiretapping. Jakarta Governor Joko Widodo said he did not worry about the wiretapping by the Australian government, as happened to President Susilo Bambang Yudhoyono (SBY), First Lady Ani Yudhoyono and a number of state officials.

Joko Widodo is familiarly called Jokowi claim is not an appropriate target for wiretapping. "The target of the top people. Who am I?

"What's the target of wiretapping? I just take care of Block G (Tanah Abang), Pluit Reservoir, Cilincing, why should I? If anyone would tapping yes it's okay, no contents. Want to to Block G review, why should tapping?" Jokowi told reporters at City Hall, Tuesday (19/11).

According to Jokowi, which could potentially be targeted wiretapping, high state officials related to the security and state interests.

"My job dealing with development row houses, why should I tapping? Related target the interests of state and government of Indonesia, my job just Cakung, Tanah Abang, Pluit Reservoir" said the former mayor of Solo," former mayor of Solo said.