Vicky Prasetyo, Mantan Tunangan Zaskia Gotik Ditangkap
Vicky Prasetyo, Former Fiance Zaskia Gothic Arrested
Reporter : Rusdi Kamal
Editor : Cahyani Harzi
Translator : Dhelia Gani

PUBLISHED: Sabtu, 07 September 2013 , 14:41:00 WIB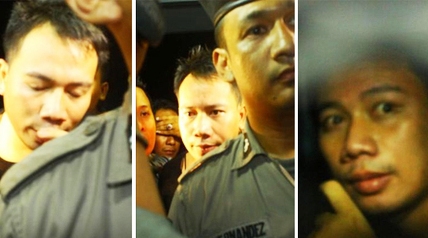 Vicky Prasetyo ditangkap (Foto2: merdeka.com)
Jakarta (B2B) - Vicky Prasetyo alias Hendrianto bin Hermanto ditangkap oleh tim intelijen Kejaksaan Agung dan tim Kejaksaan Negeri Cikarang di Hotel Santika TMII, Jakarta Timur pada Jumat sore (6/9).

Vicky ditangkap bukan lantaran bertunangan dengan penyanyi dangdut Zaskia Gotik. Namun, Vicky yang ditangkap sekitar pukul 16.00 WIB itu karena masuk dalam daftar pencarian orang (DPO).

Kepala Seksi (Kasi) Pidana Umum Kejari Cikarang Eka Nugroho mengatakan Vicky terbukti bersalah melakukan tindak pidana menggunakan surat palsu atau yang dipalsukan, seolah-olah surat itu asli terhadap sebidang tanah seluas 2.594 meter per segi dengan kisaran harga Rp1 miliar.

"Sertifikat tanah yang dipalsukan oleh Vicky, milik ahli waris Ny Nyoih Binti Entong. Hendrianto alias Vicky diketahui sebagai Ketua LSM Rakyat Bekasi, dan pernah mencalonkan diri menjadi kepala desa di kecamatan Cikarang Utara. Hendriyanto disangkakan pasal 263, karena terbukti bersalah dan putusan itu telah inkracht," kata Eka Nugraha.
Jakarta (B2B) - Vicky Prasetyo alias Hendrianto son of Herman was arrested by the intelligence team of the Attorney General and the State Attorney Cikarang team at Hotel Santika TMII, East Jakarta on Friday afternoon (6/9).

Vicky was arrested not because engaged with dangdut singer Zaskia Gothic. However, Vicky who was arrested around 16:00 pm it was because in the list of wanted persons (DPO).

Head of Section (Kasi) General Criminal District Attorney Cikarang, Eka Nugroho said Vicky found guilty of a crime to use a fake land certificate or land certificates were forged, as though original land certificate to the land area of ��2,594 square meters with a price range of Rp1 billion.

"The land certificate were forged by Vicky, owned by the heirs of Mrs. Nyoih Binti Entong. Hendrianto alias Vicky is known as the Chairman of the NGO People Bekasi, and once ran a village chief in the subdistrict North Cikarang. Hendriyanto alleged article 263, after being convicted and the verdict has been inkracht," Eka Nugraha said.