May Day, Pekerja Blokade Akses ke Bandara Soekarno-Hatta
May Day, Workers Blockade Access to the Soekarno-Hatta Airport
Reporter : Rahmat Kartolo
Editor : Cahyani Harzi
Translator : Dhelia Gani

PUBLISHED: Rabu, 01 Mei 2013 , 14:41:00 WIB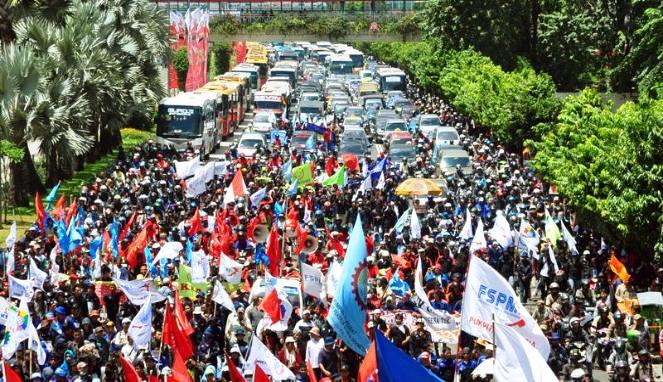 Foto: vivanews
Jakarta (B2B) - Ribuan pekerja menduduki Jl Marsekal Suryadharma yang merupakan akses menuju pintu gerbang Bandara Soekarno-Hatta (M1) Tangerang, Banten, Rabu (1/5) dalam rangkaian peringatan Hari Buruh Internasional 1 Mei.
Aksi tersebut diduga sebagai ungkapan kejengkelan setelah upaya mereka untuk berunjuk rasa di bandar udara internasional tersebut terhalang oleh hadangan polisi dan anggota TNI.
Para pekerja yang mengendarai ratusan sepeda motor dan dua mobil bak terbuka semula berencana berunjuk rasa di bandara. Namun, saat tiba di Jalan Marsekal Suryadharma, petugas menghadang mereka dengan kawat berduri. Tim keamanan gabungan yang mengenakan seragam lengkap juga berjaga di lokasi.
Karena tidak bisa melintas, para pekerja akhirnya memilih bertahan di jalan tersebut sambil menyanyikan beberapa lagu karya Iwan Fals.
Jakarta (B2B) - Thousands of workers occupied the Marshal Suryadhama Street which is the access road gate Soekarno-Hatta airport (M1) Tangerang, Banten, on Wednesday (1/5) to commemorate International Labor Day, May 1.
The action is thought to be an expression of annoyance after their attempt to protest at the international airport is blocked by the police and military obstacles.
The workers who drove hundreds of motorcycles and two pickups, originally wanted to protest at the airport. However, when arrived at Marshal Suryadhama Street, officers confronted them with barbed wire.
Because it can not pass, the workers eventually opted to stay on the road while sang some songs by Iwan Fals.