Densus 88 Bekuk Tiga Terduga Pelaku Bom Kampung Melayu di Bandung
Indonesia Arrests 3 Suspects in Bombings that Killed Police
Editor : Ismail Gani
Translator : Novita Cahyadi

PUBLISHED: Jum'at, 26 Mei 2017 , 15:07:10 WIB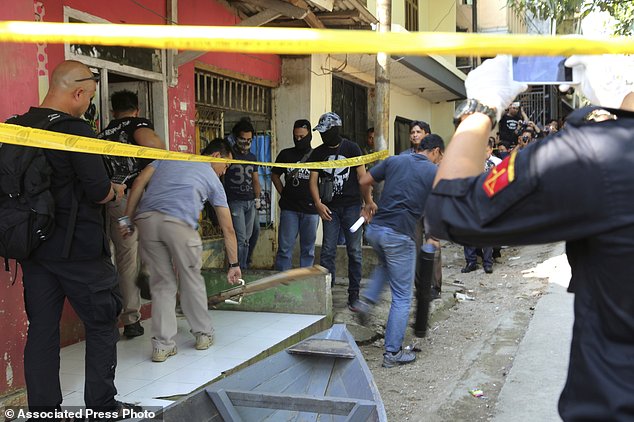 Foto: MailOnline
KEPOLISIAN RI (Polri) menangkap tiga terduga pelaku bom Kampung Melayu pada Jumat karena tuduhan terlibat dalam pemboman bunuh diri ganda yang menewaskan tiga polisi di Jakarta, sementara kelompok ISIS mengaku bertanggung jawab atas serangan tersebut.

Para terduga pelaku yang terlibat dalam ledakan Rabu ditahan di tiga tempat di Bandung, Provinsi Jawa Barat, kata Kabid Humas Polda Jabar Yusri Yunus.

"Peran masing-masing terduga pelaku dan kelompok mereka masih diselidiki," kata Yusri Yunus.

Lembaga pemantau teror AS, the SITE Intelligence Group mengatakan bahwa kelompok Islam tersebut mengaku bertanggung jawab atas serangan tersebut, yang menargetkan polisi di sebuah terminal bus di Jakarta Timur. Tiga polisi dan dua penyerang terbunuh dan 11 orang, baik polisi maupun warga sipil terluka.

Pihak berwenang di Indonesia, negara berpenduduk mayoritas Muslim terbesar di dunia, telah melakukan tindakan keras terhadap militan sejak pemboman 2002 oleh radikal berafiliasi al-Qaida yang menewaskan 202 orang di Bali. Dalam beberapa tahun terakhir ini Indonesia menghadapi ancaman baru karena bangkitnya kelompok Negara Islam di Timur Tengah yang membuka akses ke jaringan militan lokal dan menimbulkan kekhawatiran terhadap simpatisan ISIS yang kembali ke Indonesia.

Serangan pada Rabu malam adalah yang paling mematikan di Jakarta sejak Januari 2016, saat serangan bunuh diri dan senjata di pusat bisnis Jakarta yang mengakibatkan empat warga sipil dan empat penyerang tewas.

Kapolri Jenderal Tito Karnavian mengatakan tes DNA memastikan bahwa pelaku bom bunuh diri adalah Ichwan Nurul Salam, 31, dan Ahmad Sukri, 32, keduanya berasal dari provinsi Jawa Barat. Polisi sebelumnya menyebut nama berbeda atas nama Salam dan menjelaskan usia yang berbeda.

Kapolri mengatakan bahwa pelaku adalah anggota Jemaah Anshorut Daulah (JAD), sebuah jaringan yang terdiri atas sekitar dua lusin kelompok radikal Indonesia yang dibentuk pada 2015 dan menyatakan setia kepada pemimpin kelompok negara Islam ISIS Abu Bakr al-Baghdadi.

JAD, yang disebut oleh Washington awal tahun ini sebagai kelompok teroris, telah terlibat dalam sejumlah serangan di Indonesia selama tahun lalu.

Polisi mengidentifikasi mereka yang ditangkap pada Jumat sebagai Jajang Iqin Shodiqin, Waris Suyitno dan Abu Dafa. Yusri Yunus mengatakan bahwa polisi menyita komputer, telepon genggam dan dokumen tentang Islam dari rumah Shodiqin di Bandung barat.

Polisi mengatakan Shodiqin berperan aktif dalam mengumpulkan sumbangan untuk sebuah pondok pesantren Islam di Poso, sebuah wilayah di Sulawesi Tengah pernah terjadi konflik SARA yangmenewaskan sedikitnya 1.000 orang pada 1998 sampai 2002.

Kapolri mengatakan bahwa lebih dari 120 polisi menjadi korban serangan kelompok tersebut - 40 orang yang tewas, termasuk tiga orang yang terbunuh pada Rabu, dan sekitar 80 orang terluka.

Dia mengatakan polisi telah menggagalkan setidaknya dua percobaan serangan oleh kelompok tersebut.

"Mereka telah belajar bagaimana mendekati polisi dan menghindari deteksi intelijen," katanya seperti dikutip Associated Press yang dilansir MailOnline.
INDONESIAN police arrested three suspects Friday for alleged involvement in twin suicide bombings that killed three policemen in Jakarta, while the Islamic State group claimed responsibility for the attack.

The suspects in Wednesday's blasts were detained at three places in Bandung, the capital of West Java province, police spokesman Yusri Yunus said.

"The roles of each and their group are still being investigated," Yunus said.

U.S. terror monitors the SITE Intelligence Group said the Islamic State group claimed responsibility for the attack, which targeted police at a bus terminal in eastern Jakarta. Three policemen and the two attackers were killed and 11 people, both police and civilians, were wounded.

Authorities in Indonesia, the world's most populous Muslim-majority nation, have carried out a sustained crackdown on militants since the 2002 bombings by al-Qaida-affiliated radicals that killed 202 people in Bali. In recent years it has faced a new threat as the rise of the Islamic State group in the Middle East has breathed new life into local militant networks and raised concern about the risk of Indonesian fighters returning home.

The attack Wednesday was the deadliest in Jakarta since January 2016, when a suicide and gun strike in the central business district left four civilians and four assailants dead.

National police chief Gen. Tito Karnavian said DNA tests confirmed that the suicide bombers were Ichwan Nurul Salam, 31, and Ahmad Sukri, 32, both from West Java province. Police had earlier given a different spelling of Salam's name and said he was a different age.

Karnavian said they were members of Jemaah Anshorut Daulah, a network of about two dozen Indonesian extremist groups that formed in 2015 and pledges allegiance to Islamic State group leader Abu Bakr al-Baghdadi.

JAD, which Washington designated earlier this year as a terrorist group, has been implicated in a number of attacks in Indonesia over the past year.

Police identified those arrested Friday as Jajang Iqin Shodiqin, Waris Suyitno and Abu Dafa. Yunus said police seized a computer, cellphones and documents about Islam from Shodiqin's house in western Bandung.

Police said Shodiqin has had an active role in raising donations for a radical Islamic boarding school in Poso, a region of Central Sulawesi where a Muslim-Christian conflict killed at least 1,000 people from 1998 to 2002.

Karnavian said more than 120 police have been victims of the group's attacks - 40 who died, including the three killed Wednesday, and about 80 who were injured.

He said police have foiled at least two attempted attacks by the group.

"They have learned how to come close to policemen and avoid intelligence detection," he said.