BBM Subsidi Dibatasi, Mobil Pribadi Wajib Registrasi di SPBU
Subsidized Fuel Restriction, Private Car Registration Required at the Pump
Reporter : Gatot Priyantono
Editor : Taswin Bahar
Translator : Dhelia Gani

PUBLISHED: Kamis, 04 April 2013 , 16:02:00 WIB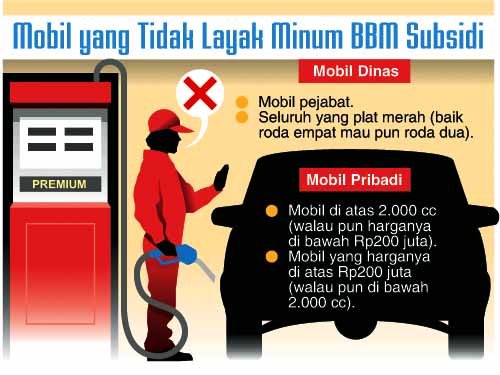 Foto: hakimrodamas.wordpress.com
Jakarta (B2B) - Mulai April, seluruh mobil milik pribadi yang membeli premium dan solar bersubsidi di Jabodetabek harus melakukan registrasi terlebih dahulu di Stasiun Pengisian Bahan Bakar Umum (SPBU).

"Mulai April akan ada istilahnya semacam registrasi. Begitu mengisi di SPBU, otomatis terekam ke SPBU," kata Vice President Corporate Comunication Pertamina Ali Mundakir di Jakarta, Kamis (4/4/2013).

Menurut Ali, registrasi dilakukan sesuai tuntutan program Sistem Monitoring Pengendalian BBM subsidi yang akan mulai berlaku Juli 2013. "Nanti ada chip di mobilnya, jadi semua bisa online," jelasnya.

Selain itu, ungkap Ali, pengoperasian sistem online yang biayanya diambil dari dividen Pertamina kepada negara, akan akan mencatat semua transaksi pembelian BBM bersubsidi sehingga kendaraan akan dijatahi penggunaan BBM.

Seperti yang diberitakan sebelumnya, PT Pertamina (Persero) menyatakan realisasi sistem monitoring pengendalian (SMP) IT untuk Bahan Bakar Minyak (BBM) subsidi akan dimulai per Juli 2013 dengan memprioritaskan Stasiun Pengisian Bahan Bakar Umum (SPBU) di wilayah Jabodetabek.
Jakarta (B2B) - Beginning in April, all privately owned cars that buy subsidized premium gasoline and diesel in Greater Jakarta must register at public gas stations.

"From April there will be registration. When buying gasoline at the pump, the pump will be automatically record vehicle data," said Vice President Corporate Communications of Pertamina Ali Mundakir in Jakarta, Thursday (04/04/2013).

According to Ali, the registration program conducted in accordance Fuel Subsidy Control Monitoring System, which will apply in July 2013. "There will be a chip in each car, so get online," he explained.

In addition, according to Ali, the operation of an online system that costs taken from Pertamina dividends to the state, which record all purchases of subsidized fuel would be restricted so that vehicles use the fuel subsidy.

As reported previously, PT Pertamina (Persero) state realization monitoring control system (SMP) IT for fuel oil (BBM) subsidy will begin by July 2013 to prioritize General Fuel Filling Station (gas stations) in the Greater Jakarta area.