OJK Butuhkan 70 Internal Auditor melalui Rekrutmen Terbuka
OJK Looking 70 Internal Auditor through Open Recruitment
Reporter : Gatot Priyantono
Editor : Ismail Gani
Translator : Novita Cahyadi

PUBLISHED: Jum'at, 22 Februari 2013 , 16:08:20 WIB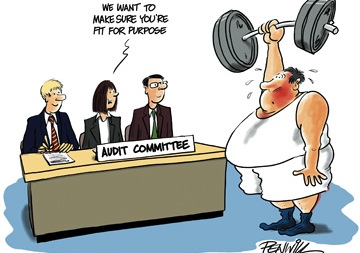 Sketsa: braindumped.files.wordpress.com
Jakarta (B2B) - Otoritas Jasa Keuangan (OJK) sedang mencari 70 orang internal audit untuk mendukung kinerjanya menangani industri keuangan. Sementara saat ini, OJK baru didukung 30 orang internal audit dan idealnya memiliki 100 untuk menduduki posisi tersebut.

"Saat ini OJK didukung internal audit dari Kementerian Keuangan dan Bank Indonesia yang jumlahnya 30 orang. OJK akan membuka open recruitment sebanyak 70 orang lagi," kata Ketua Dewan Audit OJK, Ilya Avianti kepada pers di sela pembahasan Best Practice Internal Audit, Risk Management, Quality Assurance dan Kepatuhan Terintegrasi di Industri Jasa Keuangan di Jakarta, Jumat (22/2).

Sebelumnya, OJK bersama asosiasi profesi bidang Audit Internal Manajemen Risiko dan Pengendalian Kualitas (AIMRPK) dan Kepatuhan bersepakat untuk membangun model asuransi yang terintegrasi, guna menciptakan industri keuangan yang lebih baik dan kuat.

"Model assuransi yang terintegrasi seperti combined assurance, yang terdiri dari first, second, dan thrid line of assurance yang disesuaikan dengan spesifikasi, karakteristik, size, kompleksitas dan jenis industri jasa keuangan," katanya di tempat yang sama.
Jakarta (B2B) - Financial Services Authority (OJK) is looking for 70 people to support the performance of internal audit to handle financial industry. While today, OJK, only 30 people supported internal audit and ideally have 100 to occupy the position.

"Currently, the OJK supported internal audit of the Ministry of Finance and Bank Indonesia there were 30 people. OJK will hold open recruitment to find 70 people," said Chairman of the Board of Auditors OJK, Ilya Avianti told reporters on the sidelines of the discussion of Best Practice Internal Audit, Risk Management, Quality Assurance and Compliance Integration in Financial Services Industry in Jakarta, Friday (22/2).

Previously, OJK with professional associations field of Risk Management and Internal Audit Quality Control (AIMRPK) and Compliance agreed to construct an integrated model of insurance, the financial industry to create a better and stronger.

"The model of integrated insurance like combined entity, which consists of first, second, and third line of assurance customized to the specifications, characteristics, size, complexity and type of the financial services industry," she said.