SBY Namai Komodo, Kendaraan Taktis Buatan Pindad
Komodo, a Name by SBY for Pindad-made Vehicle
Reporter : Reza Syariati
Editor : Hari Utomo
Translator : Intan Permata Sari

PUBLISHED: Sabtu, 10 November 2012 , 17:33:00 WIB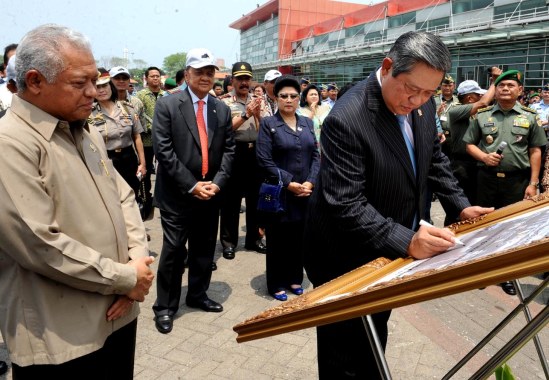 Jakarta (B2B) - Presiden Susilo Bambang Yudhoyono (SBY) memberi nama Komodo pada kendaraan taktis taktis buatan PT Pindad, saat meninjau pameran Indo Defence 2012 di JIExpo, Kemayoran, Sabtu siang (10/11).

"Kendaraan taktis karya putra-putri Indonesia yang, insya Allah, akan menjadi kendaraan taktis yang handal, bisa bergerak di segala cuaca bertempur di medan-medan Indonesia. Saya beri nama Komodo," kata SBY yang meninjau pameran didampingi Ibu Ani Yudhoyono.

Turut mendampingi Presiden dalam kesempatan tersebut antara lain Menteri Pertahanan Purnomo Yusgiantoro, Menteri Perindustrian MS Hidayat, dan Panglima TNI Laksamana Agus Suhartono.

Menurut Presiden, Komodo adalah binatang yang perkesa, yang di seluruh dunia adanya di negeri kita Indonesia. Semoga kendaraan taktis ini benar-benar handal, bisa bertempur dan tentu membawa kemenangan dan kejayaan bagi Indonesia."

Beberapa waktu lalu, Presiden meminta PT Pindad membuat kendaraan dengan kemampuan tinggi seperti Sherpa. Komodo menggunakan mesin diesel turbo intercooler dengan power 215 @ 2500 rpm dan bobot 25 hp/ton. Kendaraan taktis ini menggunakan transmisi manual 6 maju 1 mundur dan memiliki deferensi lock sehingga memiliki kemampuan offroad yang baik. Badan kendaraan taktis ini mengunakan body monocoque dan memiliki ketahanan terhadap tembakan senjata 7,62 mm.

Pameran Indo Defense 2012 ini diikuti 50 negara, separuhnya partisipan merupakan pavilion country atau negara yang membuka stan khusus alutsista. Sebanyak 600 perusahaan dalam dan luar negeri akan memamerkan teknologi terkini dari sistem pertahanan dan keamanan, antara lain PT Dirgantara Indonesia, PT PAL, PT Pindad, PT LEN, Lockheed Martin, dan industri pertahanan negara berkembang lainnya sudah menyatakan kesediaannya meramaikan pameran ini.
Jakarta (B2B) - President Susilo Bambang Yudhoyono (SBY) named a vehicle made by PT Pindad as Komodo when attending Indo Defence 2012 Exhibition at JIExpo, Kemayoran, on Saturday afternoon (10/11).

"God willing, the vehicle produced by Indonesian people will be a reliable vehicle that can work anytime in Indonesian battle field. I name it as Komodo," said SBY, attending the exhibition with the First Lady.

Also attending the exhibition were Minister of Defense, Purnomo Yusgiantoro, Minister of Industry, MS Hidayat, and Commander of Army, Agus Suhartono.

The President argued that Komodo is a strong animal which only exists in our country. Hopefully this vehicle will be really capable, ready to fight, and bring victories for Indonesia.

Some time ago, the President asked PT Pindad to produce high-quality vehicle like Sherpa. Komodo uses intercooler turbo diesel machine with 215 power @ 2500 rpm weighing 25 hp/ton. This vehicle uses manual transmission and has lock deference hence it has good off-road ability. Its body is monocoque and is resistant to shots from 7.62 mm weapons.

The Indo Defense 2012 Exhibition is participated by 50 countries. Half of them are pavilion countries or those specially set up primary weapon system booths. 600 foreign and local companies will display their latest technology of defense and security system, such as PT Dirgantara Indonesia, PT PAL, PT Pindad, PT LEN, Lockheed Martin, and other developing countries' defense industry which are ready to participate in the exhibition.