Ahok Damprat Pejabat DKI di YouTube
Video of Ahok Snapping at DKI Officer on Youtube
Reporter : Gatot Priyantono
Editor : Ismail Gani
Translator : Intan Permata Sari

PUBLISHED: Jum'at, 30 November 2012 , 17:56:17 WIB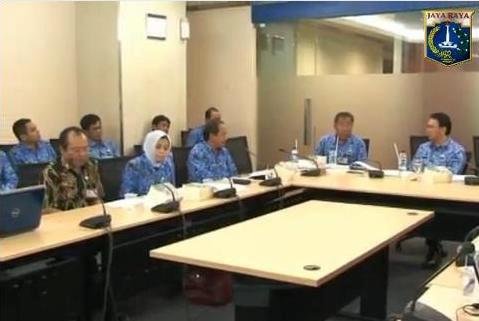 Wakil Gubernur DKI Jakarta Basuki Tjahaja Purnama (Foto: youtube.com)
Jakarta (B2B) - Jejaring video YouTube kembali mengungkap sepak terjang Wakil Gubernur DKI Jakarta, Basuki Tjahaja Purnama atau Ahok menertibkan penggunaan anggaran di Pemerintah Provinsi DKI Jakarta.

YouTube mempertontonkan kejengkelan Ahok terhadap pejabat di Badan Penanaman Modal dan Perizinan (BPMP) DKI dan telah disaksikan 3.350 view ribu view hingga Jumat sore (30/11).

Kejengkelan Ahok bermula ketika seorang pejabat BPMP tidak dapat menjelaskan salah satu program yang ditanganinya yakni Pembinaan Penanaman Modal. Sang pejabat tampak gugup dan berdalih bahwa saat program disusun dirinya tidak dilibatkan.

"Ketika programnya disusun, saya tidak ada di sini. Saya sedang bertugas," dalih sang pejabat.

Mantan anggota DPR dari Fraksi PDI Perjuangan ini lalu bertanya tentang dana pembinaan penanaman modal sebesar Rp200 juta, digunakan untuk apa saja?

""Ini juga untuk konsultan Rp 160 juta ini apa? Ini harus dijawab. Kalau Bapak menuliskan pembinaan untuk sewa hotel, untuk makan, ngundang orang datang, saya masih.." kata Ahok.

"Kita ngundang investor, kita undang dari Kementerian Perindustrian, kita adakan di hotel, makan siang, kita undang instansi yang memiliki regulasi-regulasi yang harus diketahui. Nanti pembicaranya dapat honor," jelas pejabat BPMP.

"Kalau ini saya bongkar bisa gawat, kalau ini sudah parah, Pak. Nah di situ ada pengawasan dan evaluasi. Kalau saya tanya pengawasan, itu pasti Bapak juga nggak bisa jawab," lanjut Ahok.

Ahok lantas mengancam apabila dokumen kontrak pihak ketiga tidak dapat diperlihatkan kepadanya, maka anggaran kegiatan akan dicoretnya. "Itu ada berapa kegiatan? 74 ya, saya minta TOR-nya," kata Ahok.

Wagub DKI lalu meminta rapat segera diakhiri karena dinilai membuang waktu saja tanpa kejelasan. "Pertemuan ini kita sudahi saja. Kalau mau dibahas Senin (3/12), besok kasih ke saya," lanjutnya.
Jakarta (B2B) - Youtube video network again reveals the action of Deputy Governor of DKI Jakarta, Basuki Tjahaja Purnama or Ahok in regulating the use of budget of DKI Jakarta provincial administration.

Youtube displays Ahok's annoyance to officers in License and Capital Investment Agency and the video has been watched for 3,350 times until Friday afternoon (30/11).

Ahok got annoyed when an officer of the agency could not explain one of the programs that he takes care of, namely Training on Capital Investment. The officer looked nervous and argued that when the program was set up, he was not involved in it.

"When the program is set up, I was not here. I was on duty," argued the officer.

The former member of DPR from PDI Perjuangan faction then asked about the fund for training of capital investment amounted to Rp 200 million and its implementation.

"What this Rp 160 million was for? What consultant? You must answer this. If you write it down for accommodation fund, for snacks, for inviting people, I still…." said Ahok.

"We invited investors, and those from Ministry of Industry, we organized the event in a hotel, we had lunch, we also invited agencies which have related regulations that we need to know, and we paid the speakers," said the officer.

"It would get worse if I am going to reveal this. This is already a bad one. That is why there are supervision and evaluation. If I ask you about supervision, you surely could not say anything," Ahok continued.

Ahok then threatened that if the officer could not show the contractual document with the third party, he would eliminate the budget. "There are some events. I want to see the documents," he said.

The Deputy Governor asked to close the meeting because it only wasted time without any result. "Let's stop the meeting. If you want to discuss it on Monday (3/12), please submit the documents to me," he continued.