Haji: Kuota 2013 Dikurangi 20% menjadi 168.800 Jemaah
Hajj: 2013 Quota Reduced 20% to 168.800 Pilgrims
Reporter : Rizki Saleh
Editor : Cahyani Harzi
Translator : Dhelia Gani

PUBLISHED: Rabu, 12 Juni 2013 , 18:06:00 WIB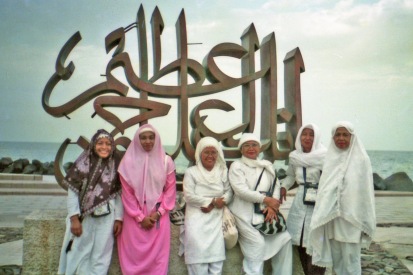 Senyum mengembang dari jemaah haji Indonesia yang selesai merampungkan ibadah haji di Mekkah dan Madinah (Foto: B2B/Mya)
Jakarta (B2B) - Pemerintah Arab Saudi memutuskan untuk mengurangi kuota jemaah haji Indonesia 2013 sebesar 20% atau 42.200 orang. Pengurangan kuota membuat jemaah haji Indonesia yang akan berangkat ke Mekkah turun dari 211 ribu orang menjadi 168 ribu jemaah haji.

Kebijakan pemerintah Arab Saudi itu berdasarkan surat Kementerian Haji Arab Saudi pada Kamis 6 Juni 2013 yang menyebut penyebab pengurangan itu adalah keterlambatan penyelesaian rehabilitasi Masjidil Haram dan demi menjamin keselamatan jemaah haji.

Menteri Agama Suryadarma Ali mengimbau kepada calon jemaah haji yang telah membayar lunas dan siap naik haji pada 2013 sebanyak 180 ribu orang untuk sabar menunggu. Kementerian Agama meminta waktu dua minggu untuk melakukan pembahasan dengan pihak terkait dari pemerintah Arab Saudi.

"Bagi calon jemaah haji yang kemungkinan tidak berangkat akibat kebijakan pemerintah Arab Saudi, Kementerian Agama menjamin kepastian calon jemaah haji untuk mendapat alokasi kota keberangkatannya pada 2014 tanpa dikenai biaya tambahan Biaya Penyelenggaraan Ibadah Haji apabila terjadi selisih biaya," kata Suryadarma Ali kepada pers di Jakarta, Rabu (12/6).

Suryadarma menambahkan, atas nama pemerintah Indonesia akan segera membahas langsung maupun melalui upaya diplomasi dengan pemerintah Kerajaan Arab Saudi, khususnya dengan menteri haji dan pihak terkait mengenai kebijakan tersebut untuk mendapatkan dispensasi.

Pemerintah Arab Saudi tidak hanya mengurangi kuota jemaah haji Indonesia, ujarnya, tetapi kuota haji seluruh negara pengirim jemaah haji di dunia, yakni sebesar 20 persen dari kuota dasar sesuai kesepakatan negara Organisasi Konferensi Islam (OKI).

"Keterlambatan rehabilitasi Masjidil Haram berakibat pada berkurangnya kapasitas daya tampung tempat tawaf yang semula dapat menampung 48 ribu jemaah per jam menjadi 22 ribu jemaah per jam," katanya.

Menteri mengatakan, pengurangan kuota haji akan diberlakukan secara proporsional untuk semua provinsi namun lebih diutamakan kepada jamaah yang masih muda agar memberi kesempatan kepada jemaah yang sudah berusia lanjut lebih dulu.
Jakarta (B2B) - Saudi Arabian Government decided to reduce the quota of pilgrims Indonesia in 2013 amounted to 20% or 42.200 people. Quota reductions made ��of Indonesian pilgrims who will go to Mecca fell from 211 thousand to 168 thousand pilgrims.

Saudi Arabia´s government policy based on a letter the Hajj Ministry Saudi Arabia on Thursday, June 6, 2013 that it was called the cause of the delay reduction the Grand Mosque rehabilitation, and to ensure the safety of pilgrims.

Religious Affairs Minister Ali Suryadarma appealed to prospective pilgrims who have paid in full and for the Haj in 2013 as much 180 thousand people to patiently wait. Religious Affairs Ministry asked for two weeks to conduct discussions with the relevant parties of the government of Saudi Arabia.

"For prospective pilgrims are likely not leave due the government policy of Saudi Arabia, Religious Affairs Ministry ensure certainty prospective pilgrims, departure city for allocation in 2014 at no additional charge Hajj Operation Costs in case difference in cost," said Suryadarma Ali told reporters in Jakarta , Wednesday (12/6).

Suryadarma added, on behalf of the Indonesian government will soon discuss directly and through diplomatic efforts with governments the Kingdom of Saudi Arabia, in particular with Haj minister and stakeholders about the policy to get a dispensation.

Saudi Arabia´s government not only reduce the quota of Indonesian pilgrims, he said, but the entire quota of Hajj pilgrims sending countries by 20 percent of the quota basis as per the agreement the Organization of the Islamic Conference (OIC).

"Delay the Grand Mosque rehabilitation results in reduced capacity of the tawaf, from 48 thousand pilgrims per hour to 22 thousand pilgrims per hour," he said.

The minister said Haj quota reduction will apply proportionately to all provinces but are preferred to the young pilgrims in order to provide an opportunity for elderly pilgrims.