Bambang W Soeharto Diberhentikan sebagai Pimpinan Partai Hanura
People´s Conscience Party Riffed Bambang W Soeharto as Party Official
Reporter : Rusdi Kamal
Editor : Cahyani Harzi
Translator : Dhelia Gani

PUBLISHED: Selasa, 17 Desember 2013 , 18:09:17 WIB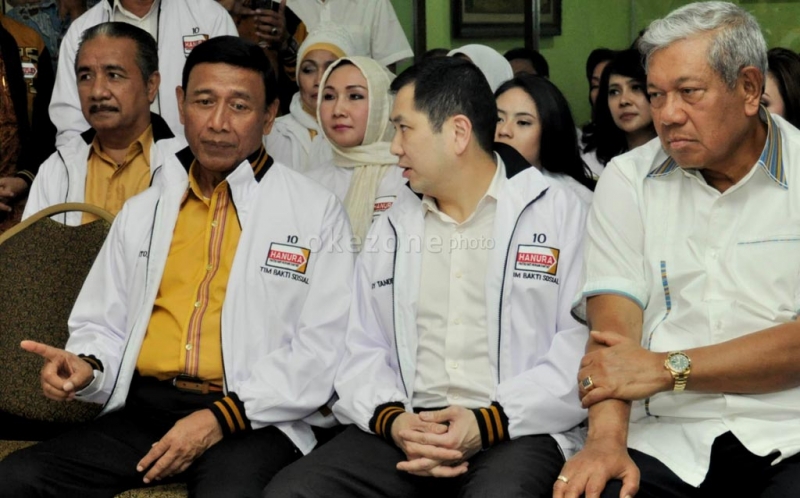 Bambang W Soeharto (kanan) bersama Ketua Umum Partai Hanura Wiranto (kiri) dan Hary Tanoesoedibjo (Foto: okezone.com)
Jakarta (B2B) - Bambang W Soeharto, Ketua Dewan Pembina dan Penasehat Partai Hati Nurani Rakyat (Hanura) resmi nonaktif dari tugasnya.

"Setelah mendapat keterangan langsung dari Bambang W Soeharto, saya putuskan untuk memberhentikan agar fokus dalam menghadapi proses hukum," kata Ketua Umum Partai Hanura, Wiranto di gedung parlemen Senayan Jakarta, Selasa (17/12).

Pemberhentian itu menyusul ditangkapnya Direktur PT AAN, Lusita Ani Razak bersama SUB, Kepala Kejaksaan Negeri Nusa Tenggara Barat (NTB) oleh Komisi Pemberantasan Korupsi (KPK).

Menurut Wiranto, fungsi dan tugas Bambang W Soeharto di Partai Hanura akan digantikan oleh Subagyo HS.

Lusita Ani Razak
Lusita ditangkap KPK dalam operasi tangkap tangan (OTT) pada Sabtu (14/12) malam bersama Kepala Kejari Praya, Lombok Tengah, Nusa Tenggara Barat M Subri SK dalam sebuah kamar di hotel di Senggigi, Lombok, Nusa Tenggara Barat sekitar pukul 19.15 WITA.

Ia diduga memberikan suap kepada Subri untuk pengurusan perkara tindak pidana umum pemalsuan dokumen sertifikat tanah di wilayah Lombok Tengah dengan tersangka dalam perkara kasus tersebut bernama Sugiharta alias Along.

Lusita disebut-sebut merupakan salah satu direktur dari PT Pantai Aan yang dipimpin oleh Bambang Wiratmadji Soeharto. Bambang juga diketahui sebagai Ketua Dewan Pengarah Badan Pemenangan Pemilu Partai Hanura dan Ketua Dewan Pimpinan Pusat Kosgoro. Bambang sendiri saat ini sudah dicegah KPK untuk tidak bepergian ke luar negeri hingga enam bulan ke depan sejak hari ini.

Perusahaan milik Bambang melaporkan Sugiharta alias Along dalam perkara dugaan pemalsuan sertifikat tanah yang diklaim milik PT Pantai Aan di atas lahan seluas 4,3 hektar di Desa Selong Belanak, Praya Barat, Lombok Tengah yang rencananya akan dibangun hotel. Akhir November lalu, jaksa dari Kejaksaan Praya menuntut Along dua tahun penjara.

KPK telah menetapkan Subri dan Lusita sebagai tersangka bersama barang bukti dengan total Rp213 juta dalam bentuk dolar Amerika Serikat dan rupiah yakni pecahan lembaran 100 dolar AS sebanyak 164 lembar senilai Rp190 juta serta ratusan lembar rupiah dalam berbagai pecahan senilai Rp23 juta. Saat ini keduanya mendekam di rumah tahanan KPK.

Adapun Wakil Ketua KPK Bambang Widjojanto mengatakan Lusita diduga tidak melakukan tindak pidana itu sendiri dan berdasarkan hasil pemeriksaan penyuapan tidak hanya melibatkan kedua tersangka sehingga terbuka kemungkinan ada tersangka lain.

"Tapi belum bisa diumumkan ke publik karena prosesnya sedang dalam penanganan. Karena itu kami pakai kata kawan-kawan, ada potensi terjadi pada orang lainnya," kata Bambang, Minggu (15/12).
Jakarta (B2B) - Bambang W Soeharto riffed from his duties as chairman of the board of trustees and advisory People's Conscience Party (Hanura).

"Having heard testimony of Bambang W Soeharto, I was decided et him to focus facing legal cases with the Commission," Wiranto, Chairman of Hanura Party to the press at the parliament building in Senayan Jakarta, Tuesday (17/12).

Dismissal of Bambang W Suharto related arrested Director of the AAN Company, Lusita Ani Razak with chief prosecutor Praya in West Nusa Tenggara (NTB) by the Corruption Eradication Commission (KPK).

According to Wiranto, functions and duties of Bambang W Soeharto will be replace by Subagyo HS.

Lusita Ani Razak
KPK caught Lusita red handed on Saturday together with M Subri SK at a Senggigi hotel room in Lombok and confiscated Rp213 million worth of fund from them in US dollar and rupiah.

KPK then brought them to Jakarta to be put in the KPK detention house. Lusita was charged with bribing Subri to fix the case of against Sugiharta alias Along as a suspect.

The Praya prosecution already demanded a two years imprisonment for suspect Sugiharta alias Along in a court session last month.

Lusita is a director of PT Pantai Aan under Bambang Wiratmadji Soeharto. Bambang, a political party official has been banned by KPK from leaving the country.

The company reported Along to the authorities accusing him of falsifying land certificate over land the company claimed as its own. The company planned to build a hotel over the 4.3 hectare land.

Deputy chairman of KPK Bambang Widjojanto said the anti graft agency found indication of involvement of other people in the case. Lusita and Subri might not be the only perpetrators in the bribery case, Bambang Widjojanto said.