Dahlan Iskan Dikecam Ikut Unjuk Rasa Buruh Sekadar untuk Pencitraan
Dahlan Iskan was Criticized Follow Labor Protests only to Imagery
Reporter : Rizki Saleh
Editor : Cahyani Harzi
Translator : Novita Cahyadi

PUBLISHED: Kamis, 02 Mei 2013 , 20:09:00 WIB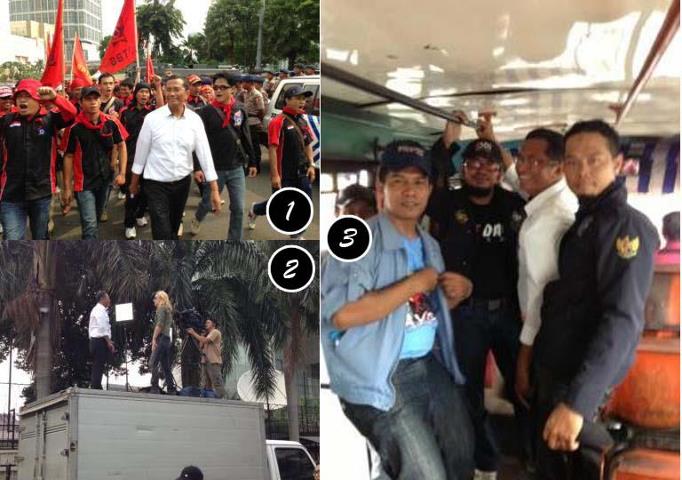 Dahlan Iskan ikut demo buruh May Day sekadar untuk foto-foto? (Foto2: facebook.com)
Jakarta (B2B) - Tindakan Dahlan Iskan mengikuti unjuk rasa buruh pada peringatan Hari Buruh Sedunia pada 1 Mei (Selasa) atau May Day dikecam oleh Majelis Pekerja Buruh Indonesia (MPBI) sebagai aksi pencitraan.
Kecaman tersebut dilontarkan Presidium MPBI, Andi Gani Nena Wea yang menilai tindakan Menteri Badan Usaha Milik Negara (BUMN) merusak perjuangan murni kaum buruh untuk memperjuangkan hak-hak mereka sebagai pekerja.
"Buat apa Dahlan tiba-tiba hadir di aksi May Day besar- besaran. Tetapi, saat pemimpin buruh sudah tiba di Istana malah mendatangi massa buruh yang ada di Bundaran Hotel Indonesia (HI) untuk foto-foto. Jangan buat perjuangan murni kami untuk pencitraan dia," kata Andi melalui pesan singkatnya, Kamis (2/5).
Padahal, kata Andi, berkali-kali pihaknya melakukan aksi ke kantor BUMN untuk menanyakan perihal tenaga kontrak di instansinya. Namun, disayangkan Dahlan justru tak pernah menemui para kelompok buruh.
"Kami sudah melayangkan surat dan demo berkali-kali ke kantor BUMN untuk menanyakan sikap dia soal outsourcing masalah ketenagakerjaan di BUMN tapi tidak berani dan tidak ada niat menemui kami, malah menghindar," keluhnya.
Seharusnya, kata dia, bos salah satu perusahaan media massa itu menemui masa buruh yang mempertanyakan sistem upah di BUMN, bukan malah memanfaatkan May Day untuk pencitraan.
Jakarta (B2B) - Dahlan Iskan follow labor protests on the occasion of International Labour Day, May 1 (Tuesday) or May Day was condemned by the Council of Labor Indonesian Workers (MPBI) as an act of imagery.
The criticism expressed by presidium MPBI, Andi Gani Nena Wea are assess acts of the Minister of State Owned Enterprises (SOEs) impair the struggle of the workers to fight for their rights as employees.
"Why Dahlan suddenly presence in action a massive May Day. However, when labor leaders were at the Presidential Palace, instead went to the workers at the Hotel Indonesia traffic circle to the photos. Do not broken workers´ struggle, for imagery Dahlan Iskan," Andi said via text message Thursday (2/5).
In fact, Andi said, many times it take action to state office to inquire about contract workers in state-owned companies. However, Dahlan Iskan just never want to meet labor groups.
"We had sent a letter and demo many times to the SOEs office to inquire about the his attitude of outsourcing in SOEs but he was afraid and did not ever want to meet us, even avoid," he complained.
Supposedly, he said, one of the bosses of mass media companies that meet the workers who questioned the wage system in the state enterprises, rather than take advantage of May Day for imagery.