Wapres JK: Pemerintah Minta Maaf atas Korban Tewas Mudik Lebaran 2016
Indonesian Govt Apologize Deaths of the People Going Home for Eid al-Fitr Festival
Reporter : Rizki Saleh
Editor : Cahyani Harzi
Translator : Dhelia Gani

PUBLISHED: Rabu, 13 Juli 2016 , 02:00:23 WIB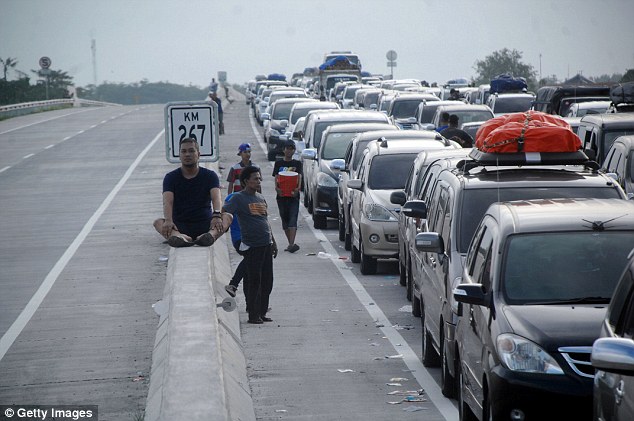 Terjebak dalam mobil dan bus di bawah suhu terik, mengakibatkan penumpang dan pengemudi pingsan dan korban tewas meningkat setelah para pemudik enggan meninggalkan kendaraan mereka di tengah kemacetan selama belasan jam (Foto: MailOnline)
Jakarta (B2B) - Wakil Presiden RI Jusuf Kalla menyampaikan permintaan maaf atas nama Pemerintah RI atas adanya korban tewas akibat kelelahan di perjalanan akibat macet belasan jam di jalan tol pada mudik Lebaran 2016, dan Pemerintah akan melakukan evaluasi agar pelayanan di masa mendatang lebih baik lagi.

"Pemerintah minta maaf atas kejadian tersebut, dan akan melakukan evaluasi. Pemerintah sudah berusaha melayani sebaik-baiknya, dan masyarakat yakin akan hal itu, jadi lain kali harus diatur lebih baik lagi," kata Wapres JK kepada pers di Jakarta pada Selasa (12/7).

Terjebak dalam mobil dan bus di bawah suhu terik, mengakibatkan penumpang dan pengemudi pingsan dan korban tewas terus meningkat setelah para pemudik enggan untuk meninggalkan kendaraan mereka di tengah kemacetan panjang selama berjam-jam.

Dia mengakui bahwa Pemerintah telah melakukan kesalahan dalam memprediksi kemacetan arus mudik di jalan tol baru Pejagan - Brebes di Provinsi Jawa Tengah sehingga terjadi kemacetan panjang di jalur tersebut.

Menurutnya, pemerintah pada rapat kabinet persiapan Lebaran 2016 telah mengatur solusi dan kebijakan untuk meminimalkan kemacetan selama arus mudik dan arus balik.

"Kami terlalu yakin dan optimis dengan jalan tol baru tersebut dapat membantu, ternyata masyarakat berpikiran sama. Semua orang yakin, akhirnya terjadi kemacetan panjang sehingga musibah pun terjadi," kata JK.
Jakarta (B2B) - The Indonesian government to apologize for the traffic jams are partly due to people going home for Eid al-Fitr festival, and the government will carry out an evaluation for services in the future will be better, according to the vice president.

"The government apologized for the incident, and will conduct the evaluation. The government has tried to serve as well as possible, and people believe it, so next year should be better," Vice President Jusuf Kalla told reporters here on Tuesday (7/12).

Trapped in cars and buses in scorching temperatures, passengers and drivers passed out and the death toll began to steadily rise with people reluctant to leave their vehicles as the line of traffic inched forward hour by hour.

He admitted that the government had made a mistake in predicting congestion on the road junction of Pejagan to Brebes in Central Java province causing long traffic jam on the route.

According to him, the government at a cabinet meeting had been set up solutions and policies to minimize congestion due to people going home for Eid al-Fitr festival.

"We are confident and optimistic, the new toll road could help. Everyone was too confident and brought thousands of holidaymakers to a complete standstill in the three days before Eid.