Partai Demokrat Sesuaikan AD/ART, Akomodir SBY Ketua Umum
Democrat Party Adjust AD/ART, Responding SBY became Chairman
Editor : Cahyani Harzi
Translator : Dhelia Gani

PUBLISHED: Sabtu, 30 Maret 2013 , 20:58:00 WIB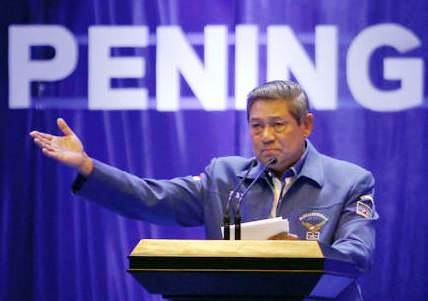 SBY terpilih aklamasi menjadi Ketua Umum Partai Demokrat (Foto: suara-islam.com)
Sanur (B2B) - Anggaran Dasar dan Anggaran Rumah Tangga (AD/ART) Partai Demokrat langsung disesuaikan melalui Kongres Luar Biasa (KLB) setelah menetapkan Susilo Bambang Yudhoyono (SBY) ketua umum DPP Partai Demokrat.

Pembacaan perubahan AD/ART dilakukan Anggota Majelis Tinggi PD Amir Syamsuddin dalam sidang KLB, di Hotel Grand Inna Bali Beach, Sanur, Sabtu sore (30/3).

Inilah AD/ART yang diselaraskan sebagaimana disampaikan Amir Syamsudin kepada para peserta KLB:

Pasal 13, di mana Ketua Umum dalam menjalankan tugas dibantu oleh(menjadi) ketua harian dan melaporkan hal tersebut kepada Ketua Umum.

Pasal 18 (ayat 1), Ketua Harian ditunjuk oleh Ketua Umum terpilih. Lalu ayat 2, Ketua Harian bertugas mengawasi ke dalam dan ke luar kepartaian di tingkat daerah. Dan ayat 3, Ketua Harian melaksanakan tugas sehari-hari atas izin Ketua Umum. Lantas ayat 4, Ketua Harian bertanggung jawab kepada Ketua Umum.

Pasal 19 (ayat 2), Wakil-wakil Ketua Umum melaksanakan tugas dan fungsinya atas dasar Ketua Harian.

Dan terakhir pasal 99 (ayat 3), menyimpang dalam ketentuan dalam ayat dimaksud tersisa dalam waktu 1 tahun ditetapkan maka, ayat 4 tidak berlaku untuk Ketum dan Ketua Harian.

Karena semua peserta KLB setuju, maka sidang kemudian langsung ditutup oleh pimpinan sidang EE Mangindaan.
Sanur (B2B) - Statutes and Bylaws (AD / ART) Democrat Party directly adjusted by the Extraordinary Congress (KLB) after assign Susilo Bambang Yudhoyono (SBY) became chairman of the Democrat Party.

Changes in AD / ART recited Democrat Party lawmakers, Amir Syamsuddin outbreaks in the trial, at the Inna Grand Bali Beach Hotel, Sanur, Saturday afternoon (03/30).

This AD / ART are realigned Amir Syamsudin delivered to participants KLB:

Article 13, in which the Chairman in carrying out assisted by (became) chairman daily and report to the Chairman.

Article 18 (paragraph 1), the Chief Executive is appointed by the Chairman elected. Paragraph 2, Administrator oversees into and out of the party at the local level. And paragraph 3, the Chief Executive of carrying out everyday tasks Chairperson permission. Then verse 4, Administrator is responsible to the Chairman.

Article 19 (paragraph 2), Vice-Chairman representatives perform their duties and functions on the basis of Administrator.

And last article 99 (paragraph 3), notwithstanding the provisions of subsection referred to remaining within the stipulated period of 1 year, paragraph 4 shall not apply to General Chairman and the Chief Executive.

Because all participants in KLB agree, then the court then immediately closed by the chairperson, EE Mangindaan.