Rekatkan Tenun Kebangsaan, Presiden Jokowi Lantik Pimpinan UKP-PIP
Indonesia`s Widodo Installs Presidential Working Unit of Reinforcement State Ideology`s Pancasila
Reporter : Rizki Saleh
Editor : Cahyani Harzi
Translator : Dhelia Gani

PUBLISHED: Kamis, 08 Juni 2017 , 02:00:22 WIB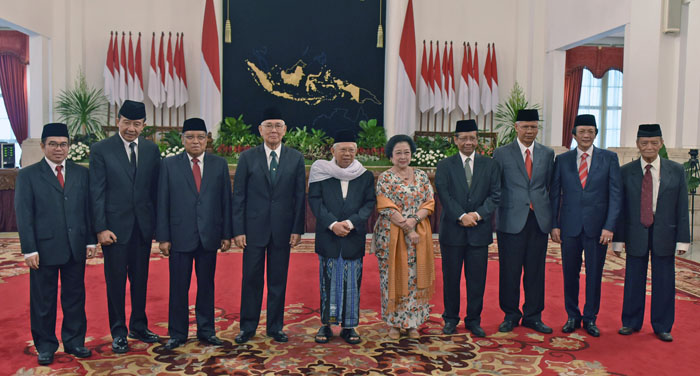 Ketua UKP-PIP Yudi Latief (kiri) bersama anggota dewan pengarah (Foto: Setkab)
Jakarta (B2B) - Presiden RI Joko Widodo melantik kepala dan anggota dewan pengarah Unit Kerja Presiden Pembinaan Ideologi Pancasila (UKP-PIP) di Istana Negara Jakarta pada Selasa (7/6).

Lembaga baru itu bertugas memperkuat pengamalan Pancasila dalam kehidupan sehari-hari yang terintegrasi dengan program-program pembangunan termasuk pengentasan kemiskinan, pemerataan kesejahteraan dan berbagai program lainnya.

Pengangkatan UKP PIP berdasarkan Keputusan Presiden No 31/M/2017 tentang Pengangkatan Pengarah dan Kepala Unit Presiden Pembinaan Ideologi Pancasila, Presiden Joko Widodo menunjuk 10 tokoh menduduki jabatan tersebut.

Kepala UKP PIP dijabat oleh Yudi Latief, penulis buku 'Negara Paripurna' dan saat ini menjabat Direktur Eksekutif Pusat Studi Pancasila (PSP) Universitas Pancasila. Anggota Dewan Pengarah UKP PIP meliputi mantan Presiden Megawati Soekarnoputri, mantan Wakil Presiden Jenderal TNI (Purn) Try Sutrisno, mantan Ketua Mahkamah Konstitusi Muhammad Mahfud MD, mantan Ketua Umum PP Muhammadiyah Ahmad Syafii Maarif, Ketua Majelis Ulama Indonesia (MUI) KH Ma'ruf Amin, dan Ketua Umum Pengurus Besar Nahdlatul Ulama (PBNU), KH Said Aqil Siradj.

Kemudian ada mantan Ketua Umum Persekutuan Gereja-gereja di Indonesia Pendeta Andreas Anangguru Yewangoe, Ketua Parisadha Hindu Dharma Indonesia (PHDI) Mayjen TNI (Purn) Wisnu Bawa Tenaya dan Ketua Umum Majelis Buddhayana Indonesia sekaligus CEO Garudafood Group Sudhamek.
Jakarta (B2B) - Indonesian President Joko Widodo here on Wednesday (June 7) installed nine members of the presidential working unit of Reinforcement State Ideology's Pancasila called the UKP PIP.

The new working unit is tasked with strengthening the implementation of the Pancasila as state ideology in daily life, which is integrated with development programs, such as poverty eradication and even welfare distribution.

The 10 people were installed based on Presidential Decree No. 31/M/2017 on the Appointment of Board of Directors and Chairman of the UKP PIP.

President Widodo inaugurated Yudi Latief as chairman of the UKP PIP and nine members as board of directors include former president Megawati Soekarnoputri, former vice president Try Sutrisno, former chairman of the Constitutional Court Muhammad Mahfud MD, former chairman of Muhammadiyah Ahmad Syafii Maarif, Chairman of the Indonesian Ulema Council Maruf Amin, and Chairman of Nahdlatul Ulama Said Aqil Siradj.

The other appointees are former chairman of the Indonesian Church Association Priest Andreas Anangguru Yewangoe, Chairman of the Parisadha Hindu Dharma Indonesia Wisnu Bawa Tenaya, and Chairman of the Buddhayana Council, concurrently CEO of Garudafood Group Sudhamek.