Jokowi: Pekerja dan Pengusaha Harus Ciptakan Hubungan Harmonis
Jokowi: Workers and Employers Must Build Harmonious Relations
Reporter : Rahmat Kartolo
Editor : Cahyani Harzi
Translator : Dhelia Gani

PUBLISHED: Selasa, 29 Oktober 2013 , 21:08:00 WIB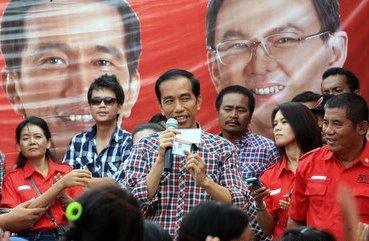 Foto: hukumonline.com
Jakarta (B2B) - Gubernur DKI Jakarta Joko Widodo (Jokowi) mengatakan pengusaha dan pekerja harus mengembangkan hubungan yang harmonis sehingga mereka bisa bersama-sama memutuskan upah minimum pokok tanpa konflik.

"Yang penting sekarang adalah menciptakan hubungan yang harmonis antara pekerja dan pengusaha. Mereka harus bersama-sama manajemen, sehingga hubungan mereka dapat dibangun secara harmonis," kata Jokowi di Jakarta, Selasa (29/10).

Dia menambahkan bahwa hubungan yang harmonis harus dijaga agar pekerja dan pengusaha selalu bisa berkomunikasi dengan baik.

"Seharusnya tidak terjadi bahwa pekerja dan pengusaha bertemu hanya ketika ada hal-hal yang berkaitan dengan upah minimum. Ini tidak menunjukkan hubungan baik. Hubungan konflik seharusnya dihindari. Apabila tidak terjalin hubungan yang baik, konflik akan terus berlangsung," kata gubernur.
Mengacu pada permintaan pekerja untuk peningkatan standar biaya hidup layak Rp2,7 juta, Gubernur mengatakan jika serikat pekerja dan pengusaha telah bertemu dan tidak setuju pada jumlah tersebut, mereka kemudian harus melaporkan masalah itu ke gubernur.

Ribuan pekerja berunjuk rasa di depan Balai Kota di Jakarta, Selasa untuk menuntut kenaikan gaji.

Pekerja mulai berdatangan pada pukul 11:00 Wib dan memadati jalan di depan Balai Kota.

Meskipun hujan deras, mereka melanjutkan demonstrasi, dan menyanyikan lagu-lagu perjuangan tenaga kerja, seraya mengibarkan bendera serikat pekerja.

"Kami datang ke sini untuk bertemu Jokowi dan Ahok (gubernur dan wakil gubernur DKI Jakarta). Kami menuntut kenaikan gaji dalam upah minimum provinsi (UMP) dan penyertaan lebih banyak item dalam Komponen Hidup Layak (KHL)," kata Winarso, ketua dewan eksekutif regional Federasi Serikat Pekerja Logam (FSPMI).

Dia mencatat bahwa demonstrasi itu hanya ´pemanasan´ sebelum pemogokan nasional direncanakan berlangsung pada 31 Oktober-1 November 2013.

"Kemudian, selama pemogokan nasional, pekerja akan menghentikan semua mesin di perusahaan masing-masing. Setelah pemogokan nasional, kami berharap akan ada negosiasi dengan pemerintah untuk memenuhi tuntutan kami," katanya.

Badan Remunerasi Pekerja Jakarta mengatakan biaya hidup layak pekerja harus menerima upah bulanan sekitar Rp2,7 juta.

"Berdasarkan survei yang kami lakukan, biaya hidup layak adalah sekitar Rp 2,7 juta. Jadi hari ini kita, bersama-sama dengan federasi pekerja dan aliansi lainnya di Jakarta, sekali lagi menuntut angka yang realistis untuk dibayarkan kepada para pekerja," kata Jazuli, seorang anggota badan remunerasi pekerja Jakarta, di Jakarta, Selasa.

Dia menambahkan bahwa pemogokan nasional yang direncanakan Kamis dan Jumat depan bisa dibatalkan jika pemerintah siap untuk meningkatkan standar biaya hidup layak menjadi Rp2,7 juta.

"Kami ingin berkomunikasi langsung dengan Gubernur DKI Jakarta Joko Widodo untuk membahas permintaan kami. Jika gubernur menolak untuk menemui kami, kami akan bermalam di Balai Kota dan tinggal sampai permintaan kami dipenuhi," ancam Jazuli.

Dia juga mengatakan para pekerja mengancam untuk menyerukan pemogokan nasional pada Kamis dan Jumat jika permintaan mereka untuk pembayaran gaji yang layak tidak dipenuhi.
Jakarta (B2B) - Jakarta Governor Joko Widodo (Jokowi) said employers and workers should develop harmonious relations so they could jointly decide upon a basic minimum wage without having conflicts.

"What is important now is creating harmonious relations between workers and their employers. They are together as management, so their relations should be built harmoniously," Jokowi said here on Tuesday.

He added that harmonious relations should be maintained so workers and employers could always communicate well.

"It should not happen that workers and employers meet only when there are matters relating to the minimum wage. This does not demonstrate good relations. Conflicting relations should not build up. If poor relations continue, conflicts will continue to take place," the governor warned.
Referred to the demand of workers for an increase in the decent living cost standard to Rp2.7 million, the governor said if the workers union and employers had met and not agreed to a figure, they then had to report the problem to the governor.

Thousands of workers rallied in front of City Hall here on Tuesday to demand a pay increase.

Workers began arriving at 11am and filled the road in front the City Hall.

Despite heavy rains, they continued the demonstration, and singing labor fight songs, while flying union flags.

"We came here to meet Jokowi and Ahok (the Jakarta governor and deputy governor). We are demanding a raise in the provincial minimum wage (UMP) and inclusion of more items in the Decent Livelihood Components (KHL)," said Winarso, the chairman of the regional executive board of the Federation of Metal Workers Unions (FSPMI).

He noted that the demonstration was only a rehearsal before the national strike planned for October 31 to November 1.

"Later, during the national strike, workers will stop operating all engines in their companies. After the national strike, we hope there will be negotiations with the government for our demands," he said.

Officials of the Jakarta Workers` Remuneration Board said the decent living cost workers should receive monthly amounted to about Rp2.7 million.

"Based on the survey we have conducted, the decent living cost is about Rp2.7 million. So today we, together with the workers federations and other alliances in Jakarta, once again demanded a realistic figure for workers` pay," Jazuli, a member of the Jakarta workers` remuneration board, said here on Tuesday.

He added that a national strike planned next Thursday and Friday could be cancelled if the government was ready to raise the decent living cost standard to Rp2.7 million.

"We want to communicate directly with Jakarta Governor Joko Widodo to discuss our demand. If the governor refuses to meet us, we will spend the night at City Hall and stay until our demand is met," Jazuli warned.

He also said workers were threatening to call a national strike on Thursday and Friday if their demand for proper salary payments was not met.