Kekerasan Prajurit, PDIP Protes pada Panglima TNI
Soldiers Violence, PDIP Protests to TNI Commander
Reporter : Rizki Saleh
Editor : Heru S Winarno
Translator : Parulian Manalu

PUBLISHED: Senin, 22 April 2013 , 21:10:00 WIB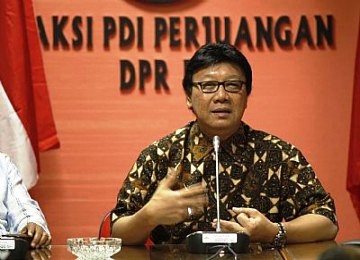 Tjahjo Kumolo (Foto: tjahjokumolo.com)
Jakarta (B2B) - DPP PDI Perjuangan telah mengirim surat kepada Panglima TNI untuk memprotes tindakan prajurit TNI yang diduga telah memukul seorang anggota satuan tugas dari partai politik tersebut.

"DPP PDI Perjuangan sudah mengirim surat protes kepada Panglima TNI, dengan tembusan kepada KSAD,dan Komandan Batalyon," kata Sekretaris Jenderal DPP PDI Perjuangan, Tjahjo Kumolo di Jakarta, Senin (22/4).

Menurut Tjahjo, PDI Perjuangan melakukan protes kepada pimpinan TNI kenapa sampai ada anggota TNI yang memasuki halaman kantor DPP PDI Perjuangan dan melakukan pemukulan kepada seorang anggota satgas.

PDI Perjuangan, kata dia, sangat menyesalkan adanya tindakan dari anggota TNI tersebut.

"Meskipun kedua anggota TNI tersebut sudah diserahkan ke Pomdam untuk diproses sesuai dengan prosedur yang berlaku, tapi kami mengajukan surat protes secara resmi agar hal ini tidak terjadi lagi," katanya.
Jakarta (B2B) - PDIP have sent a letter to the TNI Commander to protest the actions of soldiers who allegedly punched a task force member of the political party.

"PDIP already sent a letter of protest the TNI Commander, with a copy to the Chief of Staff, and the battalion commander," said the Secretary General of the Democratic Party of Struggle, Tjahjo Kumolo in Jakarta, Monday (22/4).

According to Tjahjo, the PDI-P to protest the military leadership of why the soldiers entered the headquarters of the PDI-P and beat up to a member of the task force.

PDI-P, said Tjahjo, deeply regret the actions of the soldiers.

"Although both the military member has been handed over to the military police, to be processed according to established procedures, but we filed a formal protest that this is not repeated," he said.