Bank BTN Beri DKI Pinjaman Rp10 Triliun untuk Bangun Rusunami
Indonesian State-owned Bank Lend 10 Trillion Rupiahs for Jakarta Govt to Build Subsidized Flats
Reporter : Roni Said
Editor : Cahyani Harzi
Translator : Dhelia Gani

PUBLISHED: Sabtu, 08 Agustus 2015 , 21:59:22 WIB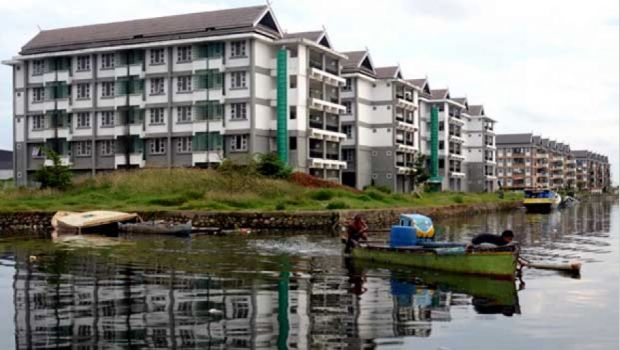 Foto: istimewa
Jakarta (B2B) - Bank Tabungan Negara (BTN) memberikan pinjaman sebesar Rp10 triliun kepada Pemerintah Provinsi (Pemprov) DKI Jakarta, yang rencananya akan digunakan untuk rumah susun sederhana milik (rusunami), dan salah satunya dialokasikan untuk pegawai negeri sipil (PNS).

Gubernur DKI Jakarta, Basuki Tjahaja Purnama mengatakan, telah menunjuk PT Jakarta Propertindo (Jakpro) untuk membangun rusunami, dan beberapa lokasi telah ditetapkan untuk pembangunannya seperti di Ciangir, Legok, Tangerang, yang dikhususkan untuk PNS DKI.

"BTN bisa sediakan pinjaman Rp10 triliun untuk membangun rusunami," kata Gubernur Basuki yang akrab disapa Ahok di Jakarta, belum lama ini.

Dia menambahkan, pihaknya telah melakukan pertemuan dengan dewan direksi BTN terkait dengan pinjaman ini, bahkan PT Jakpro yang ditunjuk untuk membangun juga telah menyetujui dengan pinjaman ini. "Saya langsung temukan dengan PT Jakpro."

Menurut Ahok, DKI memiliki lahan seluas 100 hektar di Ciangir, lokasi tersebut tidak hanya digunakan untuk rusunami PNS saja, tetapi juga untuk panti jompo berkonsep villa bagi para warga lanjut usia (lansia) dan untuk dapat memiliki rusunami, PNS bisa menyicil melalui pinjaman dari BTN.

"Supaya orang tidak merasa dikucilkan di tempat yang sepi. Jadi kalau 100 hektar, dibuat kota baru, ada villa pegawai, panti sosial, taman dan danau," kata Ahok.

Selain di Ciangir, lahan yang akan dibangun rusunami yakni di Kemayoran untuk kampung atlet, kemudian di Cakung dan Cilincing, yang semuanya akan diperuntukkan bagi warga kelas menengah, dan lahan milik PT Jakpro lainnya juga akan digunakan untuk rusunami.

Selain mendapatkan pinjaman Rp 10 triliun dari BTN, PT Jakpro juga tetap akan mendapatkan Penyertaan Modal pemerintah (PMP), karena dalam Peraturan Daerah (Perda), PT Jakpro akan mendapatkan modal hingga Rp10 triliun, sementara Pemprov DKI baru menyetor Rp2 triliun.
Jakarta (B2B) - Indonesian state-owned bank, Bank Tabungan Negara (BTN Bank) lend amounted 10 trillion rupiahs to Jakarta Provincial Government, and the loan will be use for subsidized flats construction, one of them is devoted for civil servants.

Jakarta Governor Basuki Tjahaja Purnama said has appointed Jakarta Propertindo Corp. to build the flats. Some locations have been determined such as in Ciangir, Legok, Tangerang, which are devoted for civil servants.

"BTN Bank can provide 10 trillion rupiahs to be loaned for flats construction," Governor Purnama said here recently.

He added, his party has held a meeting with BTN Bank management related to the loan, even Jakarta Propertindo Corp. which is appointed to do the construction has also agreed about it. "I then arrange a meeting with the company."

According to him, the city has a 100-hectare land in Ciangir, the location is not only used for civil servants' flats, but also for nursing home concept of villa for elderly, and to get the flats, civil servants can pay by installments through loan from the bank.

"If the flats are constructed in a 100-hectare land, then it will be built new city, employees villa, nursing home , parks, and lake. Thus peop le would not feel being ostracized in the deserted place," Governor Purnama said.

Besides in Ciangir, the others locations are in Kemayoran that is for athletes village, then in Cakung and Cilincing. All of them is for medium-class citizens. The other lands owned by PT Jakpro will also be used as flats.

Besides acquiring loan 10 trillion rupiahs from BTN Bank, Jakarta Propertindo Corp. also will still get Government Investment Participation because in by laws, will get capital up to 10 trillion rupiahs, while the government only deposit by 2 trillion rupiahs.