Menhan Perkirakan Ada 1.200 Anggota ISIS di Filipina
Indonesia Says 1,200 IS Operatives in Philippines
Editor : Ismail Gani
Translator : Novita Cahyadi

PUBLISHED: Senin, 05 Juni 2017 , 02:20:59 WIB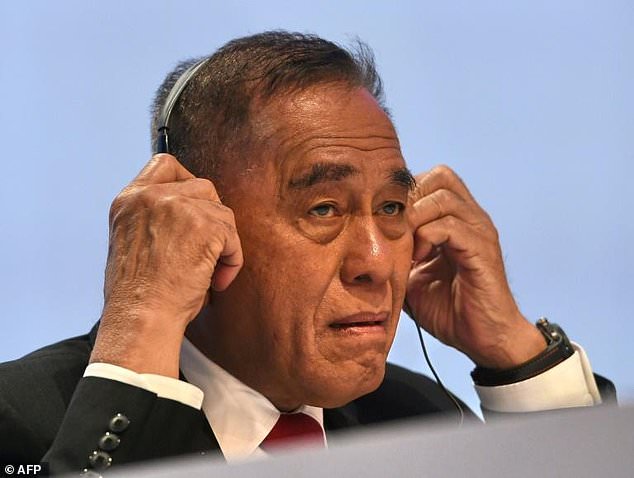 Menteri Pertahanan RI Ryamizard Ryacudu (Foto: MailOnline)
ADA sekitar 1.200 anggota ISIS di Filipina, termasuk orang asing dan 40 di antaranya berasal dari Indonesia, kata menteri pertahanan Indonesia kepada sebuah forum keamanan internasional pada Minggu.

Berbicara di Singapura di tengah pertempuran antara tentara Filipina dan militan yang berperang di bawah bendera ISIS di kota Marawi, Menteri Pertahanan Ryamizard Ryacudu menyebut kelompok militan sebagai "mesin pembunuh" dan mendesak kerjasama regional skala penuh melawan mereka.

"Saya sarankan tadi malam, 1.200 anggota ISIS di Filipina, sekitar 40 dari Indonesia," kata Ryacudu kepada Dialog Shangri-La, dengan menggunakan nama lain untuk kelompok ISIS.

Ancaman meningkatnya terorisme, termasuk kembalinya ratusan pejuang Asia Tenggara yang bertempur dengan ISIS di Suriah dan Irak, menjadi isu hangat pada pertemuan puncak tiga hari di Singapura yang juga dihadiri oleh Menteri Pertahanan AS Jim Mattis.

Ratusan orang bersenjata Islam masuk melalui Marawi, sebuah kota berpenduduk 200.000 orang dan mayoritas Muslim di bagian selatan Filipina, negara yang berpenduduk mayoritas Katolik, pada 23 Mei setelah pasukan pemerintah berusaha untuk menangkap pemimpin mereka, Isnilon Hapilon.

Sekitar 50 orang bersenjata masih menguasai pusat kota hampir dua pekan setelah dimulainya pertempuran yang menewaskan 177 orang termasuk 120 militan.

"Bagaimana kita bisa mengatasi teroris ini? Kita harus bersikap komprehensif," kata Ryacudu, mantan kepala staf angkatan darat (Kasad).

"Kita harus menemukan ... cara yang lengkap tapi kita harus berhati-hati, mereka adalah mesin pembunuh. Tujuannya adalah untuk membunuh orang lain jadi karena itulah tanggung jawab kita bahwa kita memiliki kesepahaman, konsensus dan persamaan penanganan bagaimana cara melawan orang-orang asing ini."

Wakil Menteri Pertahanan Filipina Ricardo David, yang berbicara di forum yang sama, mengatakan bahwa 1.200 anggota ISIS di Filipina yang disebutkan oleh Indonesia sebagai hal baru baginya.

"Saya benar-benar tidak tahu, perkiraan saya saya sekitar 250 hingga 400, jauh lebih sedikit," katanya kepada wartawan.

Namun David mengatakan ada 40 pejuang IS asing di antara mereka yang merebut bagian Marawi, delapan di antaranya telah ditembak mati oleh pasukan pemerintah.

Sebelumnya, pejabat Filipina mengatakan bahwa pejuang asing yang dibunuh berasal dari Malaysia, Indonesia, Yaman, Arab Saudi dan Chechnya.

"Intelijen kami memperkirakan ada sekitar 40 orang asing yang bertempur dalam insiden Marawi," kata David.

Pejabat Filipina menambahkan bahwa pejuang asing menggunakan "jalur belakang" di Laut Sulu dan Sulawesi di dekat perbatasan Filipina, Indonesia dan Malaysia untuk memasuki selatan pulau Mindanao dan terhubung dengan kelompok teror lokal.

"Makanya mereka bisa mengerahkan operasi di daerah Marawi," kata David seperti dikutip AFP yang dilansir MailOnline.
THERE are about 1,200 Islamic State (IS) group operatives in the Philippines, including foreigners of whom 40 are from Indonesia, the Indonesian defence minister told an international security forum Sunday.

Speaking in Singapore amid a bloody standoff between Philippine troops and militants fighting under the IS flag in Marawi city, Defence Minister Ryamizard Ryacudu called the militants "killing machines" and urged full-scale regional cooperation against them.

"I was advised last night, 1,200 ISIS in the Philippines, around 40 from Indonesia," Ryacudu told the Shangri-La Dialogue, using another name for the IS group.

The threat of heightened terrorism, including the impending return of hundreds of Southeast Asian fighters who fought with IS in Syria and Iraq, has been a hot-button issue at the three-day Singapore summit also attended by US Defense Secretary Jim Mattis.

Hundreds of Islamist gunmen rampaged through Marawi, a largely Muslim city of 200,000 in the south of the mainly Catholic Philippines, on May 23 after government forces attempted to arrest their leader, Isnilon Hapilon.

Up to 50 gunmen are still controlling the city centre nearly two weeks after the start of fighting that has killed 177 people including 120 militants.

"How can we tackle these foreign fighters? We have to be comprehensive," said Ryacudu, a retired general.

"We have to find... complete ways but we must exercise caution, they are killing machines. Their aim is to kill other people so that's why it's our responsibility that we have common understanding, consensus and common proceedings on how to fight these foreign fighters."

Philippine Defense Undersecretary Ricardo David, speaking at the same forum, said the 1,200 figure for total IS fighters in the Philippines mentioned by Indonesia was new to him.

"I really don't know, my figure is about 250-400, a lot less," he told reporters.

But David said there were 40 foreign IS fighters among those who seized parts of Marawi, eight of whom have been killed by government forces.

Earlier, Philippine officials said the slain foreign fighters were from Malaysia, Indonesia, Yemen, Saudi Arabia and Chechnya.

"Our intelligence estimates that there are about 40 foreigners that fought in the Marawi incident," David said.

The Philippine official added that the foreign fighters used "back channels" in the Sulu and Celebes Seas near the borders of the Philippines, Indonesia and Malaysia to enter the southern island of Mindanao and link up with local terror groups.

"That's why they were able to muster the operations in the area of Marawi," David said.