Panglima AS Ungkapkan 30 Kelompok Radikal di Indonesia Klaim Dukung ISIS
US General Reveals 30 Groups in Indonesia have Pledged Allegiance to ISIS
Editor : Ismail Gani
Translator : Novita Cahyadi

PUBLISHED: Jum'at, 12 Mei 2017 , 22:10:37 WIB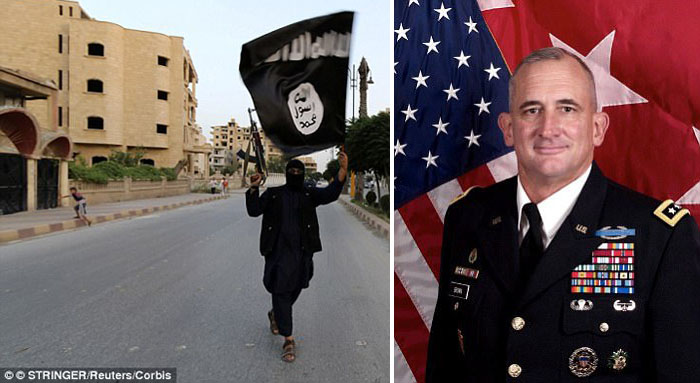 Panglima militer AS di Pasifik, Jenderal Robert Brown (kanan) dan teroris ISIS (Foto: MailOnline)
JENDERAL AS Robert Brown mengatakan bahwa ISIS meluaskan pengaruhnya ke Asia. Diperkirakan sekitar 30 kelompok radikal di Indonesia telah berjanji setia kepada ISIS. Langkah tersebut menyusul hilangnya wilayah kekuasaan ISIS di Irak dan Suriah.

Sejumlah pendukung fanatik dari ISIS telah keluar dari Timur Tengah dan 'mencari tempat baru' di Asia, kata jenderal AS memperingatkan pasukan Inggris kemarin.

Jenderal Robert Brown, yang bertanggung jawab atas puluhan ribu tentara AS di Pasifik, memperingatkan bahwa penyebaran kelompok ISIS di seluruh dunia merupakan 'perhatian besar' dari militer AS.

Berbicara di Royal United Services Institute (RUSI) di London, dia mengungkapkan tentang 30 organisasi radikal di Indonesia baru-baru ini menyatakan sumpah setia kepada ISIS.

Dia mengatakan: 'Kami mengetahui sejumlah kelompok radikal di Pasifik.'

"Karena mereka dipaksa keluar dari kawasan konflik di Timur Tengah, atau Afrika, mereka kini mencari tempat baru, mencari wilayah baru untuk diduduki."

Dia mengatakan mereka telah muncul di Bangladesh, Filipina, Indonesia, dan Malaysia.

Dia menambahkan: 'Baru-baru ini sekitar 30 kelompok radikal di Indonesia menyatakan sumpah setia kepada ISIS."

"Kelompok radikal Islam kini menjadi perhatian utama dunia."

Kelompok ISIS kehilangan wilayahnya di Irak dan Suriah setelah pesawat tempur pasukan koalisi dan pasukan lokal mengusir militan barbar dari kota besar dan kecil.

Setelah mereka terdesak, warga asing yang bergabung di ISIS merangsek ke Eropa, memicu sejumlah teror.

Teroris juga menyebar ke negara-negara seperti Libya dan Afghanistan. Dengan bantuan serangan udara AS, mereka kini berada di bawah kendali pengamanan AS.

Namun kini mereka muncul di Asia Pasifik, kekuatan militer Barat mengkhawatirkan hal itu lantaran tengah bergulat dengan aksi militer Korea Utara yang semakin provokatif seperti dilansir MailOnline.
TOP US General Robert Brown said ISIS were spreading influence into Asia. Around 30 extremist groups in Indonesia have pledged allegiance to ISIS. Comes as jihadis are losing swathes of territory in Iraq and Syria.

Islamic State fanatics are flowing out of the Middle East and 'finding places to go' in Asia, a top US commander warned UK troops yesterday.

General Robert Brown, in charge of tens of thousands of US troops in the Pacific, warned the spread of the group across the world was a 'huge concern'.

Speaking at the Royal United Services Institute (RUSI) in London, he revealed how 30 extremist organisations in Indonesia had recently pledged allegiance to IS.

He said: 'We have violent extremist organisations in the pacific.

'As they are being pushed out of other areas be it the Middle East, or Africa, they are flowing in, finding places to go.'

He said they had popped up in Bangladesh, the Philippines, Indonesia, and Malaysia.

He added: 'Recently about 30 violent extremist organisations pledged allegiance to ISIL in Indonesia.

'Violent extremist organisations are a huge concern for everybody.'

Islamic State is losing swathes of its territory in Iraq and Syria as coalition warplanes and local forces drive the barbaric militants out of towns and cities.

As they have been pushed out, foreign fighters have made their way back Europe, sparking terror fears.

The terrorists have also spread to countries such as Libya and Afghanistan. With the help of US airstrikes, they are now on the back foot in the two countries.

But now they are emerging in the Asia-Pacific, alarming Western militaries already grappling with an increasingly provocative North Korea.