Banjir, Ancam Jakarta pada Desember 2013 dan Januari 2014
Floods Threaten Jakarta in December 2013 and January 2014
Reporter : Rahmat Kartolo
Editor : Cahyani Harzi
Translator : Dhelia Gani

PUBLISHED: Kamis, 21 November 2013 , 22:13:00 WIB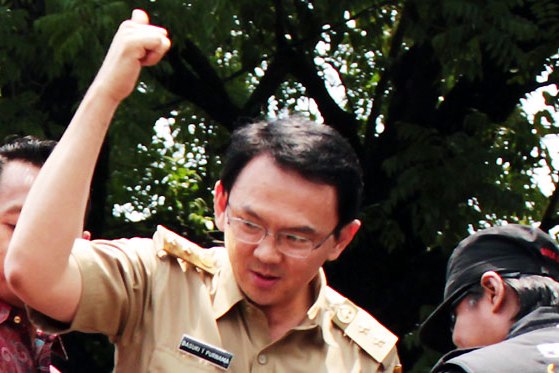 Basuki Tjahaja Purnama (Foto: liputan6.com)
Jakarta (B2B) - Wakil Gubernur DKI Jakarta, Basuki Tjahaja Purnama mengatakan Jakarta masih akan dilanda banjir lebih lanjut selama puncak musim hujan pada bulan Desember tahun ini dan Januari tahun depan.

"Saya memprediksi banjir akan terus melanda Jakarta saat musim hujan mencapai puncaknya pada Desember 2013 dan Januari 2014. Ketinggian permukaan air dari beberapa sungai di Jakarta menunjukkan bahwa banjir di ibu kota tidak dapat dihindari," kata Ahok di Jakarta Balai Kota, Kamis (21/11).

Menurut dia, tingkat air sungai Krukut dan Pesanggrahan terus meningkat, sedangkan sungai lainnya di Jakarta Utara juga terkena dampak banjir pasang surut.

"Oleh karena itu, sejak kemarin, kami telah membuat peta daerah rawan banjir di Jakarta. Kami juga sudah berkoordinasi dengan Dinas Sosial DKI Jakarta untuk mempersiapkan bantuan logistik bagi korban banjir," katanya.

Ahok mengatakan dinas sosial akan membangun posko untuk mengantisipasi banjir dan akan mempersiapkan pelayanan bantuan sosial lainnya bagi para pengungsi banjir.

Meskipun semua persiapan hampir rampung 100 persen, wakil gubernur DKI Jakarta menyatakan harapan bahwa banjir kali ini tidak akan seburuk tahun-tahun sebelumnya.
Jakarta (B2B) - Jakarta Deputy Governor Basuki Tjahaja Purnama stated Jakarta will still be hit by further floods during the peak of the rainy season in December this year and January next year.

"I predict floods will continue to hit Jakarta when the rainy season reaches its peak in December 2013 and January 2014. The height of the water level of several rivers in Jakarta shows that floods in the capital city will be inevitable," Ahok said at Jakarta City Hall on Thursday.

According to him, the water levels of the rivers of Krukut and Pesanggrahan have continued to rise, while the other rivers in North Jakarta were also affected by tidal floods.

"Therefore, since yesterday, we have created a map of flood-prone areas in Jakarta. We have also coordinated with the Special Capital Region of Jakarta´s Social Service Office to prepare logistical assistance for flood victims," he noted.

Ahok said the Social Service Office will build command posts to anticipate floods and will prepare other social assistance services for flood evacuees.

Although all preparations are almost 100 percent ready, the Jakarta deputy governor expressed hope that the flood this time would not be as bad as it has been in previous years.