Bantar Gebang di Mata Fotografer Prancis, Ini Laporan Pandangan Matanya
Shocking Images Reveal Life Inside the Largest Open Landfill Site in South-east Asia
Editor : Ismail Gani
Translator : Novita Cahyadi

PUBLISHED: Kamis, 11 Mei 2017 , 22:14:11 WIB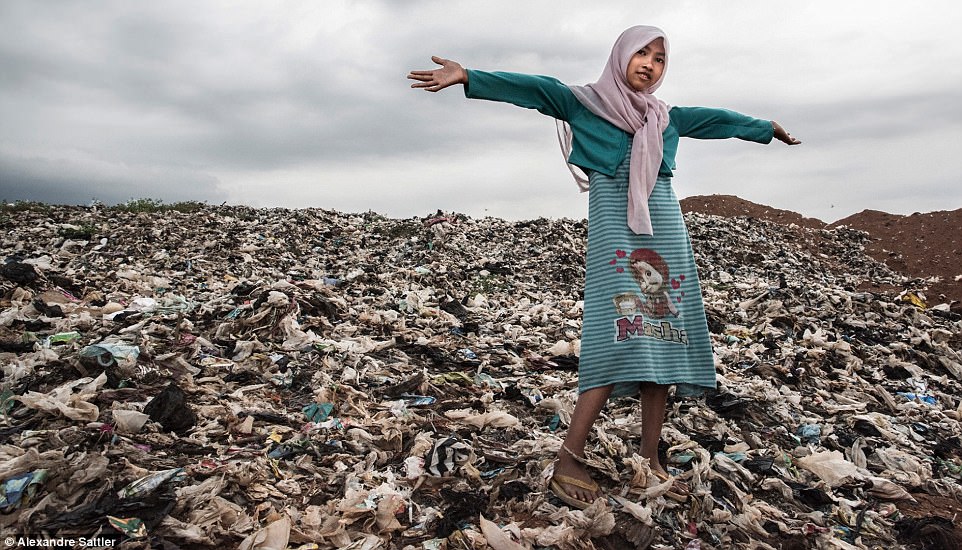 Kegiatan sehari-hari mereka didokumentasikan dalam serangkaian foto mengejutkan oleh fotografer Alexandre Sattler, 36, dari Colmar, Prancis (Foto2: MailOnline)
BANTAR GEBANG berjarak sekitar 19 km dari Jakarta - dikenal sebagai tempat pembuangan sampah terbuka yang terbesar di Asia Tenggara.

Dan rumah bagi sekitar 3.000 keluarga. Beberapa anak yang menyebutnya sebagai tempat 'bertarung hidup' bahkan lahir di sana.

Kegiatan sehari-hari mereka didokumentasikan dalam serangkaian foto mengejutkan oleh fotografer Alexandre Sattler, 36, dari Colmar, Prancis. Dia mengunjungi tempat pembuangan sampah - yang menerima 9.000 ton sampah sehari - karena dia tertarik untuk menemukan lebih banyak tentang masalah limbah di Indonesia.

Apa yang dia temukan sangat mengejutkan dirinya.

Dia menemukan bahwa semua keluarga di sana memakai tempat pembuangan akhir (TPA) sampah sebagai cara mencari nafkah, mengais-ngais sampah untuk mereka mencari barang yang bisa mereka jual kembali.

Sattler menyebutnya 'dunia sampah'.

Dia mengatakan kepada MailOnline Travel: 'Ketika saya tiba di Bantar Gebang, saya melihat banyak keluarga yang tinggal di sana. Hal yang paling mengejutkan adalah bahwa banyak orang menganggapnya sebagai sampah, tapi menjadi sumber nafkah bagi mereka. Skala kesenjangan sosial sangat mencolok dan mengejutkan. Buah dan sayuran dibuang oleh beberapa orang, namun berguna untuk dimakan oleh orang lain.

'Standar hidup sangat buruk: bau, bakteri, tidak sehat ... keluarga dan anak-anak mereka tinggal di tempat penampungan tanpa akses perawatan medis dan air bersih.

"Anak-anak tinggal di tengah sampah, bermain di antara sampah."

Banyak dari mereka, katanya, lalu lalang tanpa alas kaki. Cedera menjadi hal biasa karena banyak beling berserakan.

"Orangtua menunjukkan luka pada kaki anak mereka - saya bergidik melihatnya," katanya.

Hebatnya, katanya, beberapa anak tampak bahagia dan riang - tapi dia menilai hal itu terjadi hanya karena mereka tidak mengetahui bagaimana hidup mereka bisa menjadi lebih baik.

Dia bilang: 'Anak-anak mengajari saya bahwa bahkan dalam situasi terburuk, tetap ada kegembiraan. Saya melihat anak-anak bermain, ceria dan senang berjumpa dengan saya, untuk menunjukkan tempat penampungan, mainan dan mengenalkan saya kepada orang tua mereka.'

"Tidak bisa membandingkan mereka dengan anak-anak yang tinggal di luar gunungan sampah, mereka tampak baik-baik saja."

Berbeda dengan orang dewasa, bagaimanapun, mereka tampak tidak begitu gembira.

Sattler bilang: "Orang-orang dewasa sepertinya lebih pasrah dan lebih santai. Mereka tampaknya mampu menyesuaikan diri dengan situasi mereka tapi tanpa benar-benar ikhlas menerimanya. Saya tersentuh oleh keramahan dan sikap ramah mereka.'

Salah seorang mantan penduduk TPA, Resa Boenard, melakukan yang terbaik untuk memperbaiki kondisi di sana.

Dia adalah salah satu yang beruntung - dapat mengikuti sekolah menengah pertama di luar tempat pembuangan sampah.

Namun kemudian dia kembali untuk mengajar masyarakat Bantar Gebang bagaimana cara berusaha untuk keluar dari kemiskinan.

Bersama dengan rekannya asal Inggris John Devlin, dia mendirikan sebuah organisasi bernama BGBJ, yang merupakan singkatan dari 'Bibit Bantar Gebang'.

Dia mendirikan rumah penampungan dan pusat komunitas di TPA Bantar Gebang, untuk mengupayakan pendidikan. Dia meyakini anak-anak adalah semacam 'benih' yang dapat dibina dan dididik untuk berkembang di dunia luar.

Sattler mengatakan bahwa setiap orang bisa membantu, seperi dilansir MailOnline.

Dia bilang: "Masalahnya global, dan sampah ada dimana-mana. Salah satu solusinya adalah memikirkan kembali gaya hidup dan konsumsi kita, untuk menemukan cara untuk mengurangi limbah. Untuk membantu keluarga yang tinggal di Bantar Gebang, hubungi asosiasi lokal yang membantu keluarga secara langsung dengan memperbaiki kondisi kehidupan mereka (air, kebersihan, makanan), dan memberi kesempatan anak-anak pergi ke sekolah."
ABOUT 12 miles from Jakarta on the island of Java in Indonesia lies Bantar Gebang – the largest open landfill site in south-east Asia.

And home to around 3,000 families. Some of the children that call this frightful place home were even born there.

Their lives have been documented in a series of shocking images by 36-year-old photographer Alexandre Sattler from Colmar, France. He visited the dump – which receives 9,000 tonnes of rubbish a day - because he was interested in discovering more about Indonesia's waste problem.

What he found profoundly shocked him.

He discovered that families there use the landfill as a way of making a living, foraging in the grime for items they can re-sell.

Sattler called it 'a world of filth'.

He told MailOnline Travel: 'When I arrived in Bantar Gebang I saw many families living there. The most shocking thing is that what some consider a waste, becomes a resource for others. The scale of inequality is striking and shocking. Fruit and vegetables thrown away by some, become a source of food for others.

'The living conditions are terrible: smells, bacteria, insalubrity… families and their children live there in shelters without access to medical care and drinking water.

'Children were living in the middle of rubbish, playing in garbage.'

Some, he said, walked around in bare feet. Injuries are not uncommon as the ground is littered with sharp objects.

'Parents showed me their son's open foot wound – I felt helpless,' he said.

Amazingly, he said, some of the children seemed happy and carefree – but he suspects only because they have no points of reference for how their lives could be better.

He said: 'The children have taught me that even in the worst situations, joy exists. I saw children playing, cheerful and happy to share time with me, to show me their shelter, toys and introduce me to their parents.

'Not being able to compare themselves with children living beyond those mountains of waste, they seem fine.'

The adults, however, weren't so buoyant.

Sattler said: 'The adults seemed to be more resigned and show little emotion. They seem to adapt to their situation but without really accepting it. I was touched by their friendliness and their welcoming attitude.'

One former resident of the landfill, Resa Boenard, is doing her best to improve conditions there.

She was one of the lucky ones - able to attend a secondary school outside the landfill.

But she's returned to teach the people of Bantar Gebang how to climb their way out of poverty.

Along with British friend John Devlin she set-up an organisation called BGBJ, which stands for 'the seeds of Bantar Gebang'.

It has opened a hostel and community hub on the landfill, where the educational efforts are focussed. It believes that the children, or 'seeds', can be nurtured and taught to flourish in the outside world.

Sattler says that everyone can help, though.

He said: 'The problem is global, and waste is everywhere. One solution would be to rethink our lifestyles and consumption, to find a way to reduce our waste by producing less wealth. In order to help families living in Bantar Gebang, contact local associations that help families directly by improving their living conditions (water, hygiene, food), and by allowing children to go to school.