Iwan Fals Dilirik PKB dan PPP jadi Calon Presiden 2014
Iwan Fals Being Ogled PKB and PPP Presidential Candidate
Reporter : Rizki Saleh
Editor : Heru S Winarno
Translator : Dhelia Gani

PUBLISHED: Senin, 24 Desember 2012 , 22:15:46 WIB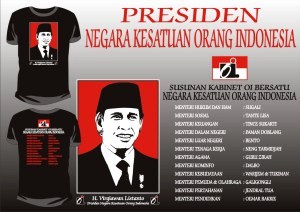 Iwan Fals (Foto: lumbungkreasi.wordpress.com)
Jakarta (B2B) - Setelah mewacanakan raja dangdut Rhoma Irama sebagai calon presiden (Capres) 2014, Partai Kebangkitan Bangsa dan Partai Persatuan Pembangunan (PPP) memunculkan Iwan Fals sebagai kandidat presiden.

"Kalau Iwan Fals mau (menjadi Capres) akan kita dorong. PKB akan membangun komunikasi politik dengan Iwan Fals," kata Ketua DPP Partai Kebangkitan Bangsa, Abdul Malik Haramain kepada pers di Jakarta, Senin (24/12).

Menurutnya, apabila memenuhi syarat yang ditetapkan konstitusi dan undang-undang, setiap orang memiliki hak untuk maju sebagai calon presiden. Hak dan peluang tersebut juga berlaku bagi pelantun Oemar Bakrie dan Wakil Rakyat. "Calon presiden itu bagian dari hak warga negara."

Hal senada dikemukakan petinggi PPP. Ketua Badan Pemenangan Pemilu DPP Partai Persatuan Pembangunan (PPP), Fernita Darwis menyatakan PPP membuka kemungkinan untuk mengusung Capres dari ekternal partai, termasuk Iwan Fals. "PPP terbuka mengusung Capres dari eksternal," ujar Fernita.

Fernita mengatakan PPP memiliki mekanisme internal terkait klausul pengusungan Capres. Sejumlah kriteria akan diperhatikan, di antaranya: memiliki integritas, kapabilitas, popularitas, elektabilitas, serta daya juang.

Sejauh ini, Iwan Fals memiliki kriteria tersebut. Kalaupun ada yang kurang yakni belum ada pernyataan dari Iwan Fals untuk bersedia terjun ke dunia politik.

"Kalau semua kriteria terpenuhi tapi yang bersangkutan tak mau kan susah juga," ujarnya.
Jakarta (B2B) - After the king of dangdut Rhoma Irama proposed as a candidate for president in 2014, the Partai Kebangkitan Bangsa (PKB) and the Partai Persatuan Pembangunan (PPP) led to Iwan Fals as a presidential candidate.

"If Iwan Fals want to (a candidate) will be our push. PKB will build political communications with Iwan Fals," said Chairman Partai Kebangkitan BangsaDPP, Abdul Malik Haramain told reporters in Jakarta, Monday (24/12).

According to him, if it fulfills the specified requirements of the constitution and the law, everyone has the right to run for president. The right and chance also apply for singer Oemar Bakrie and Wakil Rakyat. "Presidential candidate is part of civil rights."

A similar proposed PPP top brass. Chairman of the Election Campaign DPP Partai Persatuan Pembangunan (PPP), Fernita Darwis states opens up the possibility carrying the PPP presidential candidate from an external parties, including Iwan Fals. "PPP open carrying of external candidates," said Fernita.

Fernita said the PPP has internal mechanisms related to clause of carrying the a presidential candidate. A number of criteria will be considered, including: integrity, capability, popularity, electability, and the power struggle.

So far, Iwan Fals own criteria. Even if there are less that there has been no statement from Iwan FALS to be willing to go into politics.

"If all the criteria are met but did not want to concerned it too hard," he said.