Menkop UKM Harapkan Pemerintah Mampu Kembangkan `UKM Center`
Indonesian Govt Developing SME Centers for Small and Medium Entrepreneurs
Reporter : Gusmiati Waris
Editor : Cahyani Harzi
Translator : Dhelia Gani

PUBLISHED: Jum'at, 02 Juni 2017 , 22:16:13 WIB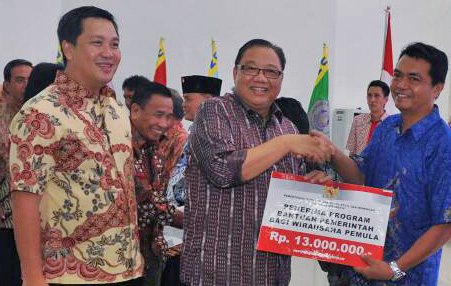 Menkop UKM AAGN Puspayoga (tengah) memberikan bantuan pemerintah bagi wirausaha pemula di Unsrat Manado didampingi Wagub Sulut Steven Kandouw (Foto: Humas Kemenkop)
Jakarta (B2B) - Pemerintah RI meminta pemerintah daerah di tingkat provinsi/kabupaten/kota dapat menyediakan dan memanfaatkan UKM Center agar para pelaku UKM memiliki sarana untuk memasarkan produk mereka, termasuk di Provinsi Sulawesi Utara yang memiliki banyak destinasi wisata yang diminati wisatawan nusantara dan mancanegara.

Harapan tersebut dikemukakan Menteri Koperasi dan UKM AAGN Puspayoga pada pembukaan Pelatihan Peningkatan Kapasitas SDM untuk KUMKM di Universitas Sam Ratulangi (Unsrat) Manado pada Jumat (2/6). Tampak hadir Rektor Unsrat Prof Dr Ellen Joan Kumaat, Wakil Gubernur Sulut Steven Kandouw dan Deputi Pengembangan SDM Kemenkop UKM Prakoso BS.

"Untuk mendorong semakin banyak wisatawan mengunjungi destinasi wisata maka semua pihak terkait harus mampu memelihara kearifan budaya lokal. Hal itu bisa ditunjukkan dengan kehadiran kuliner khas daerah dan cenderamata untuk menunjang potensi keindahan destinasi wisata," kata Menteri Puspayoga.

Menurutnya, untuk menunjang pengembangan UKM di sebuah destinasi wisata maka pemerintah daerah seharusnya memberikan dukungan penuh, salah satunya menyangkut hak cipta produk UKM agar tidak dijiplak orang lain.

"Pemerintah daerah harus lebih giat menjaga hak cipta produk UKM dan hak merek bagi pelaku kuliner di daerahnya. Di acara ini juga disediakan Klinik Hak Cipta agar bisa dimanfaatkan semaksimal mungkin", kata Puspayoga.
Jakarta (B2B) - The Indonesian government has asked the provincial/district/municipal governments to provide and utilize the SME Center to support the marketing of small and medium entrepreneurs' products, including in North Sulawesi Province which has many world class tourist destinations such as Bunaken, according to the minister.

Cooperatives and SMEs Minister Puspayoga revealed that while opened training on capacity building of human resources for SMEs in Manado's Sam Ratulangi University on Friday (June 2). It was attended by Rector Prof Dr Ellen Joan Kumaat, North Sulawesi Deputy Governor Steven Kandouw and the Deputy Minister of SMEs Human Resource Development Prakoso BS.

"To encourage more tourists visiting tourist destinations, all related parties can maintain local cultural wisdom, upported by regional culinary and souvenirs," Minister Puspayoga said.

According to him, to support the development of SMEs in a tourist destination, local governments should provide full support, one of which concerns the copyright of SME products to not be copied by other parties.

"Local governments should be more active in maintaining the copyright of SME products and brand rights for culinary entrepreneurs in the region. Training activities also provide a copyright clinic for SME entrepreneurs," Mr Puspayoga said.