25 Perusahaan Negara Dukung Mudik Gratis Kementerian BUMN
Indonesian`s SOEs Provide Free Transportation for Eid Homecoming Period
Reporter : Gatot Priyantono
Editor : Cahyani Harzi
Translator : Dhelia Gani

PUBLISHED: Rabu, 07 Juni 2017 , 22:41:50 WIB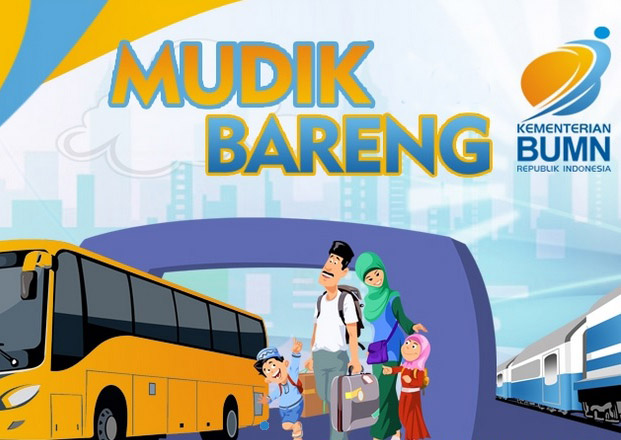 Info Grafis: istimewa
Jakarta (B2B) - Sekitar 25 BUMN akan mendukung penyediaan angkutan mudik gratis melalui program 'Mudik Bareng BUMN 2017' yang dikoordinir oleh Kementerian BUMN untuk mengangkut sekitar 112.362 orang pemudik.

Staf Khusus III Menteri BUMN, Devy Suradji mengatakan bahwa kementerian akan mengangkut 112.362 orang didukung 1.810 bus, 85 gerbong kereta untuk 11 keberangkatan, 18 kapal laut, 24 pesawat komersial menuju berbagai kota di Sumatera, Jawa, Kalimantan, Sulawesi, dan Papua.

Menurutnya, Menteri BUMN Rini Soemarno dijadwalkan melepas keberangkatan pemudik di Stasin Pasar Senen, Jakarta Pusat pada 16 Juni.

Menteri Rini juga akan melepas keberangkatan pemudik dengan 402 bus di Taman Mini Indonesia Indah (TMII) Jakarta Timur pada 19 Juni.

"Ini adalah bentuk sinergi antar beberapa BUMN untuk mewujudkan komitmen bahwa BUMN hadir untuk negeri, yang pelaksanaannya telah berlangsung untuk ke-3 kalinya," kata Devy di Jakarta pada Selasa (6/6).

Ke-25 BUMN yang dilibatkan dalam program tersebut antara lain Jasa Raharja, Aneka Tambang Pelindo I, II, III dan IV, ASDP, Askrindo, Pertamina, Bank Mandiri, PGN, PLN, Bank BRI, Bank BTN, Semen Indonesia, Biro Klasifikasi Indonesia, PT Taspen, Brantas Abipraya, PT Telkom, Bukit Asam, PT Timah, Jasa Marga dan Wijaya Karya.

Menurut Devy, upaya peningkatan jumlah moda transportasi itu dilakukan untuk bisa mengangkut lebih banyak masyarakat yang ingin pulang ke kampung halamannya masing-masing.

"Bus yang digunakan jenis pariwisata. Karena yang reguler tidak diperkenankan mengangkut penumpang. Kami sudah melakukan pemeriksaan terhadap bus yang digunakan," tambahnya.
Jakarta (B2B) - Indonesian SOEs Ministry is organizing a free-ride homecoming program, which involves 25 state-owned enterprises (SOEs) support transport for 112,362 home-bound travelers during the Eid homecoming period.

Special staff of SOEs Minister Devy W Suradji said the free homecoming program called the Mudik Bareng BUMN 2017 will provide 1,810 buses, 11 trains with 85 coaches, 18 ships, and 24 planes will be made available to transport the home-bound Eid travelers to different cities in Sumatra, Java, Kalimantan, Sulawesi, and Papua.

She said, the SOEs Minister Rini Soemarno is scheduled to bid farewell to a train carrying Eid holidaymakers in Jakarta's Pasar Senen station in Central Jakarta on June 16.

Minister Soemarno will see off home-bound travelers aboard 402 buses at the Indonesia Miniature Park (TMII) in East Jakarta on June 19, which is the peak of free-ride homecoming period this year.

"The Mudik Bersama BUMN 2017 program reflects the commitment of SOEs "to be present for the state." The free homecoming program is the third of its kind. The number of participants in the program also increased from 92,014 in 2016 to 112,362 in 2017," Devy said.

The 25 state-owned companies include Jasa Raharja, Aneka Tambang Corp., Indonesia Port Corporation (Pelindo I, II, III and IV), Indonesia Ferry Corporation (ASDP), Indonesia Credit Insurance Corp (Askrindo), Pertamina, Mandiri Bank, Indonesia Gas Corp (PGN), Indonesia Electricity Company (PLN), BRI Bank, BTN Bank, Indonesian Cement, Indonesian Classification Bureau Company, Indonesian Savings and Insurance Companies (Taspen), Brantas Abipraya Corp, Telkom Indonesia Corp, Bukit Asam Corp, Timah Indonesia Corp, Jasa Marga Corp and Wijaya Karya Corp.

According to Dey, the free-ride homecoming program is aimed at encouraging motorcyclists to switch to buses and trains as part of the efforts to reduce the number of road accidents, which mostly happen to motorcyclists during the homecoming period.