Fatwa MUI: Bakar Hutan Perbuatan Haram, Alquran Larang Merusak Lingkungan
Indonesia`s Highest Islamic Body Says the Koran Makes It `Haram` to Harm the Environment
Editor : Cahyani Harzi
Translator : Dhelia Gani

PUBLISHED: Rabu, 14 September 2016 , 22:08:01 WIB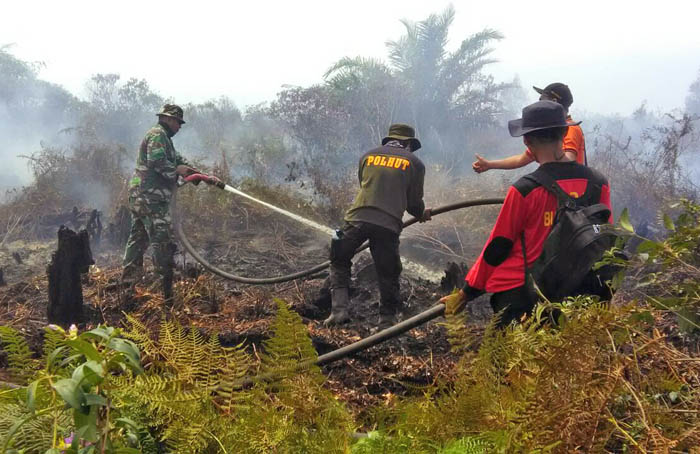 Foto: istimewa
MAJELIS Ulama Indonesia (MUI) hari ini mengeluarkan fatwa terhadap tindakan sengaja membakar hutan, sebagai upaya untuk menghentikan kabut asap yang menyebar hingga ke negara tetangga di Asia Tenggara setiap tahun.

Fatwa dari MUI mengatakan hal itu membakar hutan dan lahan adalah tindakan yang tergolong 'haram', atau melawan hukum Islam, fatwa ini berlaku bagi Muslim yang sengaja membakar hutan dan lahan perkebunan.

Wakil Ketua MUI Bidang Fatwa Huzaemah Tahido Yanggo mengatakan: "Al-Quran menyatakan bahwa kita tidak diperbolehkan untuk merusak lingkungan, dan pembakaran hutan menyebabkan kerusakan tidak hanya untuk lingkungan tetapi juga untuk kesehatan masyarakat - bahkan negara tetangga mengeluh."

Kebakaran yang dilakukan tergolong cepat dan murah untuk membuka lahan perkebunan kelapa sawit dan pulp.

Akibatnya kabut asap melanda Indonesia setiap tahun untuk berbagai tingkat di Sumatera dan bagian Indonesia dari Kalimantan selama musim kemarau.

Kebakaran tahun lalu berada di antara yang terburuk yang pernah terjadi dan melanda sebagian wilayah Indonesia, Malaysia dan Singapura tersedak asap selama beberapa pekan.

Menteri Lingkungan Hidup dan Kehutanan Siti Nurbaya Bakar menyambut baik fatwa tersebut dan mengatakan ia berharap para alim ulama turut menyebarkan fatwa kepada masyarakat lokal: "Tindak lanjut paling tepat adalah mengomunikasikan kepada publik."

Fatwa tidak memiliki kekuatan hukum dan ditujukan untuk mendorong ketaatan di negara Muslim terbanyak di dunia untuk mematuhi fatwa MUI.

Namun masih belum jelas apakah fatwa tersebut akan mendorong efek jera kepada para pelaku pembakaran hutan dan lahan.

MUI sebelumnya mengeluarkan fatwa untuk melindungi lingkungan, termasuk melawan perburuan dan perdagangan hewan langka di Indonesia yang dikenal sebagai negara yang kaya dengan keanekaragaman hayati.

Langkah mengeluarkan fatwa oleh MUI merupakan upaya pemerintah untuk mencegah terulangnya bencana kabut tahun lalu.

Pemerintah berencana untuk menghentikan pemberian konsesi lahan baru untuk perkebunan kelapa sawit, dan telah membentuk lembaga baru untuk mengembalikan jutaan hektar lahan gambut yang kaya karbon tapi rentan terhadap kebakaran seperti dikutip AFP yang dilansir MailOnline.
INDONESIA'S top Islamic clerical body said today it has issued a fatwa against intentionally starting forest fires in a bid to stop the blazes that cloak Southeast Asia in haze every year.

The religious edict by the Indonesian Ulema Council said it was 'haram', or against Islamic law, for Muslims to start fires on purpose in forests or on plantation land.

Huzaemah Tahido Yanggo, head of the body's fatwa council, said: 'The Koran states that we are not allowed to harm the environment, and forest burning causes damage not only to the environment but also to people's health - even neighbouring countries are complaining.'

The fires are started to quickly and cheaply clear land for palm oil and pulpwood plantations.

But they create smog annually to varying degrees in Sumatra and the Indonesian part of Borneo during the dry season.

The blazes last year were among the worst in memory and cloaked large parts of Indonesia, Malaysia and Singapore in choking smog for weeks

Environment and Forestry Minister Siti Nurbaya Bakar welcomed the fatwa and said she hoped Islamic preachers would spread news of it to local communities: 'The most important follow-up is communicating it to the public.'

Fatwas have no legal force and are aimed at encouraging the devout in the world's most populous Muslim country against taking a certain course of action.

But it remained unclear whether the latest edict would have any practical effect in the sprawling archipelago of more than 17,000 islands and 255 million inhabitants.

The council has previously issued fatwas to protect the environment, including one against the illegal hunting and trade in endangered animals in the biodiverse country, which environmentalists said was the world's first.

The move by the clerics follows efforts by Jakarta to prevent a repeat of last year's haze disaster.

Authorities plan to stop granting new land concessions for palm oil plantations, and have established a new agency to restore millions of hectares of carbon-rich peatlands susceptible to fires.

The blazes have not been as serious this year with Singapore so far suffering just one day of serious haze, although it is unclear whether that is due to official efforts or a late rainy season.