Presiden Jokowi `Ceramah` di Mimbar Masjid Agung Tasikmalaya usai Shalat Jumat
Indonesian President Urges People to Maintain Unity in Diversity
Reporter : Rizki Saleh
Editor : Cahyani Harzi
Translator : Dhelia Gani

PUBLISHED: Sabtu, 10 Juni 2017 , 02:03:56 WIB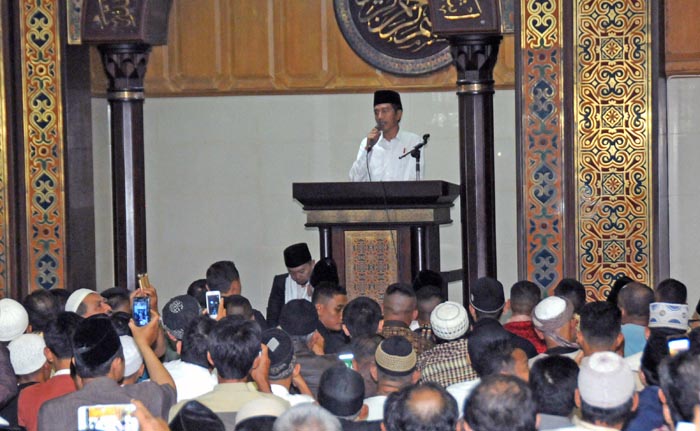 Presiden Jokowi saat memberikan sambutan usai Shalat Jumat di Masjid Agung Kota Tasikmalaya, Jawa Barat (Foto: Setkab)
Jakarta (B2B) - Presiden RI Joko Widodo mengajak seluruh rakyat Indonesia untuk menjaga kerukunan dan persatuan di tengah keberagaman, karena keragaman tersebut merupakan potensi di tengah persaingan global.

"Inilah takdir Allah, hukum Allah yang diberikan kepada bangsa Indonesia, yaitu keragaman suku, keragaman bahasa lokal, dan agama. Ini sudah menjadi takdir Allah, hukum Allah. Oleh sebab itu, ini harus kita jaga, kita rawat, sebagai sebuah kekuatan," kata Presiden saat menyampaikan sambutan usai Shalat Jumat di Masjid Agung Tasikmalaya, Jawa Barat.

Presiden Jokowi meminta persaudaraan antar-umat muslim untuk dijaga dan tidak saling menyakiti sebagai saudara sebangsa.

Di tengah maraknya kabar bohong (hoax) dan menyebarnya ujaran kebencian, Presiden mengharapkan agar masyarakat tidak saling mencemooh, menghindari fitnah dan tidak menjelekkan sesama.

"Itu bukan budaya bangsa Indonesia yang penuh dengan nilai kesantunan dan kesopanan," tegas Presiden usai Shalat Jumat berjamaah dan berbicara di mimbar masjid setelah diminta Khatib untuk memberikan sambutan.

di depan jamaah Shalat Jumat setelah diminta Khatib naik ke mimbar masjid untuk menyampaikan

Saat menyerahkan sertifikat hak atas tanah di Balaikota Tasikmalaya, Presiden Jokowi juga menyampaikan agar masyarakat tidak terpecah hanya karena perbedaan pilihan dalam pemilihan umum kepala daerah (pilkada) maupun pemilihan umum presiden (pilpres).

"Jangan sampai dengan tetangga gesekan gara-gara pilihan bupati, gubernur, pilpres. Ndak! Kita ini saudara, harus semua rangkulan, negara besar," ujar Presiden Jokowi.
Jakarta (B2B) - Indonesian President Joko Widodo has urged the Indonesian people to maintain harmony and unity, amid the nations diversity, because the nations wealth of diversity offers great potential amid global competition.

"This is God's destiny for Indonesia. Diversity in tribes, local languages, and religions. The law of God which is given to Indonesian people. Therefore, we must maintain and take care of diversity as nations power," President Widodo said during his speech in Tasikmalaya's Great Mosque.

He shared his thoughts with the congregation after conducting the Friday prayer iwith residents in Tasikmalaya district of West Java on Friday.

Jokowi also called for maintaining the spirit of brotherhood among Muslim, and expected the people not to harm each other, as they remain fellow countrymen.

In the midst of spreading of false news and hate speech, he requested that people do not insult each other, not vilify others, and avoid slander.

"It (Insulting each other) is not the culture of Indonesian nation, which presents politeness," President said.

In addition, during delivery of land certificates to public at Tasikmalaya City Hall, Widodo said society should not be split due to the different choices in regional heads election or presidential election.

"Do not fight with neighbors because of different choices of regents, governors, and president. We are brothers. All people must embrace each other. We are a big country," he stated.