Bali Hari Ini dan Kemarin di Mata Kolumnis Asing
Bali Today and Yesterday: India could `Learn Something`from the Paradise Island of Indonesia
Editor : Ismail Gani
Translator : Novita Cahyadi

PUBLISHED: Senin, 29 Mei 2017 , 02:31:25 WIB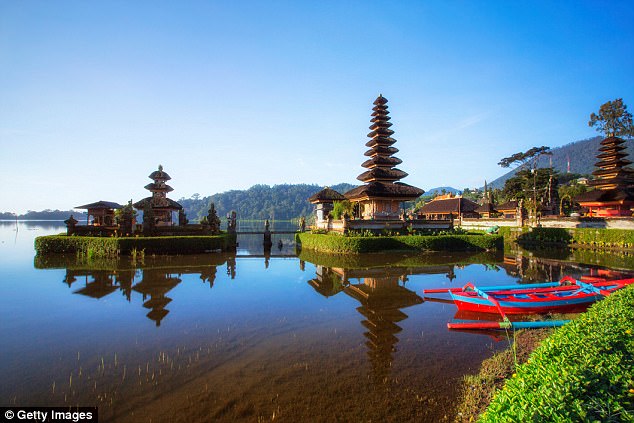 Foto: MailOnline
SEJAK saya masih remaja, Bali adalah sebuah mimpi. Saya lagi-lagi teringat halaman buku foto mungil karya Henri Cartier-Bresson, fotografer terkenal Prancis dan pendiri Magnum Agency.

Buku itu, Les Danses a Bali ('Tarian di Bali') diterbitkan segera setelah kunjungan fotografer ke Bali pada 1949.

Dengan seni lukisnya yang indah, Cartier-Bresson menggambarkan sekolah-sekolah menari di Bali yang menampilkan beberapa adegan luar biasa dari epik Ramayana, yang sebagian besar ditampilkan oleh gadis-gadis Bali yang cantik.

Lebih dari 65 tahun kemudian, banyak hal telah berubah di Bali, namun suasana spiritual yang damai yang tertangkap oleh lensa kamera Leus Cartier-Bresson tetap ada - perbedaannya hanya pada kehadiran ratusan ribu wisatawan.

Saya menyaksikan perubahan drastis ini selama kunjungan baru-baru ini ke berjuluk 'pulau dewata' di Indonesia.

Pengalaman 'luar biasa' pertama adalah saat tiba di Bandara Internasional Denpasar. Berjalan menuju loket imigrasi, saya melihat ratusan wisatawan dari berbagai negara - orang Barat, Cina, Malaysia, Jepang, dan beberapa orang India - mengantri untuk mendapatkan visa.

Saya berpikir, 'Oh tidak, mungkin diperlukan setidaknya dua jam sebelum kita keluar dari bandara.'

Kami kemudian dibuat terkejut - dalam waktu kurang dari 20 menit, visa kami disetujui. Berbeda dengan penerapan dari sistem imigrasi India (yang membaik dalam beberapa tahun terakhir), saya tidak dapat mempercayai kecepatan petugas imigrasi di Bali mengeluarkan visa pada saat kedatangan wisatawan.

Mereka hanya memindai paspor Anda, yang kemudian dicap dan itu saja. Saya teringat akan perolehan izin dalam Garis Antrian yang tidak praktis yang masih berlaku di banyak negara bagian di India Barat Laut.

Mengapa Pemerintah India tidak bisa mengenalkan sistem seperti itu di India saat pengunjung ingin memasuki Arunachal Pradesh atau Nagaland?

Sistem imigrasi India sayangnya tidak dapat memahami kesederhanaan dan efisiensi; sistem mereka tetap ketat sehingga mampu mempertahankan 'kontrol'.

Bukan berarti Bali tidak menghadapi masalah keamanan. Pada 12 Oktober 2002, 202 orang (termasuk 88 orang Australia dan 38 orang Indonesia) tewas dalam serangan bom bunuh diri.

Serangan berikutnya terjadi tiga tahun kemudian, menewaskan empat warga asing. Tapi sementara 'keamanan' diperketat, para pengunjung disambut dengan senyuman dan kalimat khas 'Apa kabar Tuan/ Nyonya.'

India pastinya sudah banyak belajar. Perbandingan dengan timur laut itu menarik. Seperti orang Bali, penduduknya sangat ramah dan selalu tersenyum; Mereka berbicara bahasa Inggris yang baik dan lebih jauh lagi agak 'santai', mereka adalah tuan rumah yang hebat.

Suatu malam, saat menyaksikan epik Ramayana ditampilkan oleh sekelompok besar penari Bali dan paduan suara 'dalam keadaan trance', saya melihat bagaimana pulau ini telah menjadi kosmopolitan meskipun setia pada tradisi Hindunya.

Apakah karakter utama epik menjalankan peran mereka sekarang berbeda dengan yang disaksikan oleh Cartier-Bresson pada 1949? Mungkin tidak.

Duduk di sana, saya terpesona oleh nyanyian paduan suara yang mencekam, menggambarkan pertempuran antara Baik dan Buruk, pergulatan antara Sinta dan Rahwana dan Hanuman melompat-lompat dan berinteraksi dengan orang banyak, ternyata menghibur semua penontonnya.

Mungkin yang lebih menarik lagi, kebetulan saya dikelilingi oleh wanita Muslim dari Malaysia, yang diperkenankan hadir di panggung setelah epik Ramayanan berakhir.

Mungkin itu adalah keajaiban Hinduisme untuk mempertemukan kerumunan seperti itu, bergetar serentak.

Aspek menarik lainnya yang terkait dengan situasi di Bali adalah gelombang kedatangan wisatawan China, terkait dengan inisiatif One Belt One Road (OBOR) Presiden Xi Jinping.

Indonesia ingin berpartisipasi dalam mimpi ambisius untuk menarik 10 juta wisatawan dari China pada 2019.

Data terakhir dari Badan Pusat Statistik (BPS) menunjukkan bahwa 1,43 juta turis China mengunjungi Bali pada 2016, merupakan kenaikan tahunan hingga 25 persen dari tahun sebelumnya.

Patokan 10 juta mungkin sulit dicapai untuk industri pariwisata Indonesia.

Selain itu, sebuah survei baru-baru ini mengungkapkan bahwa turis China yang berkunjung ke Bali hanya menghabiskan seperempat dari apa yang dihabiskan oleh rekan mereka dari Eropa dan Australia.

Sedangkan untuk Indonesia, pariwisata merupakan sumber pendapatan yang lumayan, untuk China, itu berarti kehadiran di Asia Tenggara.

Agence France Press baru-baru ini mengungkap tentang senjata baru China dalam perang ekonomi, yaitu pariwisata, yang menjelaskan: 'Larangan impor yang menghantam pada produk seperti mangga, batubara dan salmon telah lama menjadi cara China untuk menghukum negara-negara yang menolak untuk mengikuti garis politiknya. Namun Beijing telah menunjukkan bahwa hal itu juga dapat melukai orang lain dengan memotong ekspor Cina yang menguntungkan, pariwisata. '

Artikel tersebut mengutip contoh Korea Selatan mengenai perisai anti-rudal AS dan larangan pada kelompok wisatawan China untuk mengunjungi Korea.

Demikian pula, pariwisata ke Taiwan juga telah turun tajam saat hubungan lintas selat memburuk.

Negara-negara yang mengajukan tuntutan China dihargai dan mereka yang tidak 'berperilaku' dihukum. Lebih dekat kepada kami, surat kabar Pakistan Dawn menerbitkan awal bulan ini laporan 'tersembunyi' tentang CPEC.

Salah satu bab berbicara tentang pengembangan industri 'wisata pantai'; Sebuah sabuk panjang industri hiburan pesisir yang mencakup dermaga kapal pesiar, pelayaran, kehidupan malam, taman kota, lapangan umum, teater, lapangan golf dan spa, hotel, air panas dan olahraga air.

Laporan tersebut menambahkan: 'untuk pengembangan produk liburan pesisir, budaya Islam, budaya historis, budaya rakyat dan budaya laut semuanya harus diintegrasikan.'

Banyak yang melihat ini sebagai bentuk baru penjajahan, meski ini masih jauh dari kasus di Bali. Intinya tetap bahwa India masih harus belajar dari Bali dalam hal keramahan dan kebersihan seperti dilansir MailOnline.
SINCE my teenage years, Bali was a dream. I remember turning again and again the pages of tiny photo book by Henri Cartier-Bresson, the famed French photographer and founder of Magnum Agency.

The book, Les Danses à Bali ('Dances in Bali') was published soon after the photographer's visit to the island in 1949.

With his exquisite art of catching expressions, Cartier-Bresson depicted the dancing schools of the island which enact some of the powerful scenes of the Ramayana, mostly portrayed by young tiny Balinese girls.

More than 65 years later, many things have changed on the island, but the peaceful spiritual atmosphere caught by the lens of Cartier-Bresson's Leica remains — with a difference, the hundreds of thousands of tourists.

I could myself witness these changes during a recent visit to the 'paradise' island of Indonesia.

The first 'incredible' experience is the arrival at Denpasar International Airport. Walking towards the immigration's counters, I could see hundreds of visitors of different nationalities — Westerners, Chinese, Malaysian, Japanese, and a few Indians — queuing for a visa.

I thought to myself, 'Oh no, it may take at least two hours before we get out of the airport.'

We were in for a surprise — in less than 20 minutes, we were through. Being used to the Indian system (which has improved in recent years), I could not believe the speed with which the immigration officers were issuing visa-on arrival.

They just scan your passport, which is then stamped and that is it. I recalled the cumbersome Inner Line Permit still in force in many states of India's Northeast.

Why can't the Government of India introduce such a system in India when visitors want to enter Arunachal Pradesh or Nagaland?

The babus of India are unfortunately unable to understand simplicity and efficiency; their system has to be complicated so that they are able to keep some 'control'.

It is not that Bali has not faced security issues. On October 12, 2002, 202 people (including 88 Australians and 38 Indonesians) were killed in a suicide bomb attack.

Another attack occurred three years later, killing four foreigners. But while 'security' is taken care of, the visitors are welcomed with a smile and a thunderous 'How are you, Sir/Ma'am'.

India certainly has a lot to learn. A comparison with the northeast is interesting. Like the Balinese, its inhabitants are fun-loving and always smiling; they speak good English and are rather 'relaxed', furthermore, they are great hosts.

The Seven (or Eight) Sisters could become the hub of domestic tourism if Delhi could understand the potential of tourism for the economy and the integration of the northeast.

One evening, watching the Ramayana enacted by a large group of Balinese dancers and a choir 'in trance', I noticed how the island has become cosmopolitan while still being anchored deeply in its Hindu tradition.

Was the way the main characters of the epic perform their roles now different from the one witnessed by Cartier-Bresson in 1949? Probably not.

Sitting there, I was fascinated by the haunting chants of the choir, the battle between Good and Evil, with Sita prisoner of the evil Ravana and Hanuman jumping through and interacting with the crowd, to the amusement of all.

Perhaps even more interesting, I happened to be surrounded by vociferous Muslim ladies from Malaysia, fully participating in the high drama on the stage.

It was probably the magic of Hinduism to bring together such a motley crowd, vibrating in unison.

Another interesting aspect linked with the island's present situation is the arrival of waves of Chinese visitors, linked with the much-talked about the One Belt One Road (OBOR) initiative of President Xi Jinping.

Indonesia would like to participate in the ambitious dream by attracting 10 million tourists from China by 2019.

The latest data from the Central Statistics Agency (BPS) show that 1.43 million Chinese tourists visited Bali in 2016, representing a 25 per cent annual increase over the previous year.

The 10-million benchmark may be difficult to achieve for the Indonesian tourist industry.

Moreover, a survey recently revealed that the typical Chinese tourist visiting Bali spends only one quarter of what is spent by their European and Australian counterpart.

While for Indonesia, tourism is a source of hefty revenue, for China, it means a presence in South-East Asia.

Agence France Press recently spoke of China's new weapon in the economic war, i.e. tourism, explaining: 'Slapping import bans on products like mangoes, coal and salmon has long been China's way of punishing countries that refuse to toe its political line. But Beijing has shown that it can also hurt others by cutting a lucrative Chinese export, tourism.'

The article quotes the example of South Korea over a US anti-missile shield and the ban on Chinese tour groups from visiting Korea.

Similarly, tourism to Taiwan has also fallen sharply as relations across the strait worsened.

Countries submitting to China's demands are rewarded and those who do not 'behave' are punished. Closer to us, the Pakistani newspaper Dawn published earlier this month the 'hidden' report on CPEC.

One of the chapters speaks about the development of a 'coastal tourism' industry; a long belt of coastal enjoyment industry that includes yacht wharfs, cruise homeports, nightlife, city parks, public squares, theatres, golf courses and spas, hot spring hotels and water sports.

The report adds: 'for the development of coastal vacation products, Islamic culture, historical culture, folk culture and marine culture shall all be integrated.'

Many see this as a new form of colonisation, though this is far from being the case in Bali as yet. The point remains that India has still a lot to learn from the island in terms of hospitality and cleanliness.