Ayu Azhari Akui Terima Uang dari Ahmad Fathanah
Ayu Azhari Admitted Accept Money from Ahmad Fathanah
Reporter : Rusdi Kamal
Editor : Heru S Winarno
Translator : Parulian Manalu

PUBLISHED: Jum'at, 03 Mei 2013 , 23:02:00 WIB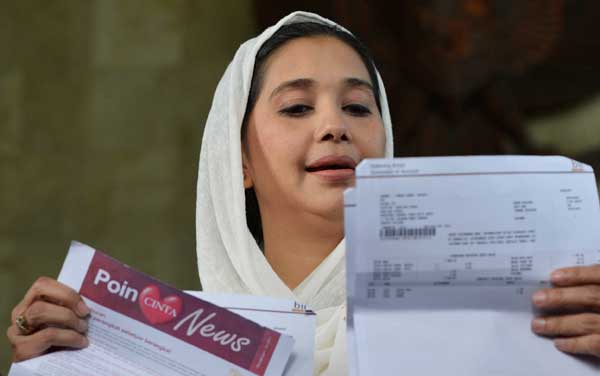 Ayu Azhari di KPK (Foto: metrotvnews.com
Jakarta (B2B) - Ayu Azhari akhirnya mengakui menerima uang dari tersangka kasus suap pengurusan kuota impor daging sapi dan pencucian uang, Ahmad Fathanah senilai Rp20 juta dan US$1.800 atau sekitar Rp38 juta.
"Tadi Ayu Azhari datang ke KPK, menurut penjelasan penyidik bukan untuk diperiksa tapi mengembalikan uang Rp20 juta dan US$1.800 yang diberikan oleh Ahmad Fathanah," kata juru bicara Komisi Pemberantasan Korupsi (KPK) Johan Budi di Jakarta, Jumat (5/5).
Menurut Johan, uang tersebut menjadi uang muka untuk Ayu Azhari selaku seorang penyanyi. "Jadi uang itu untuk istilahnya, dia (Ayu) mau manggung di suatu tempat, tapi ditunggu-tunggu tidak jadi, sehingga dia sudah diberikan uang duluan dalam bentuk tunai," kata Johan.
Namun Johan tidak mengetahui waktu pemberian uang tersebut. "Tidak dijelaskan kapan pemberian uang tersebut, intinya Ayu Azhari pernah terima dari Ahmad Fathanah untuk urusan manggung."
Acara "manggung" tersebut menurut Johan berdasarkan pengakuan Fathanah ke Ayu terkait acara Partai Keadilan Sejahtera (PKS).
Jakarta (B2B) - Ayu Azhari finally admitted accept money from a suspect in a bribery arrangement beef import quotas and money laundering, Ahmad Fathanah worth Rp20 million and U.S. $ 1,800 or about Rp38 million.
"That Ayu Azhari came to KPK, according to the explanation the investigator not to be examined but return the money Rp20 million and U.S. $ 1,800 given by Ahmad Fathanah," said a spokesman for the Corruption Eradication Commission (KPK) Johan Budi in Jakarta, Friday (5/5).
According to Johan, the money for a down payment as a singer Ayu Azhari. "So the money was for the term, he (Ayu) want a gig somewhere, but been waiting not so, but the money has been received in cash," said Johan.
But Johan did not know the time of delivery of the money. "Not explained when giving the money, essentially Ayu Azhari ever received from Ahmad Fathanah for the gig."
The "gig" according to Johan from Fathanah recognition Ayu, related events Prosperous Justice Party (PKS).