400 Tewas di Seluruh Indonesia selama Mudik Lebaran 2016
12 Die in Giant Indonesian Traffic Jam: Official
Editor : Ismail Gani
Translator : Novita Cahyadi

PUBLISHED: Sabtu, 09 Juli 2016 , 23:28:10 WIB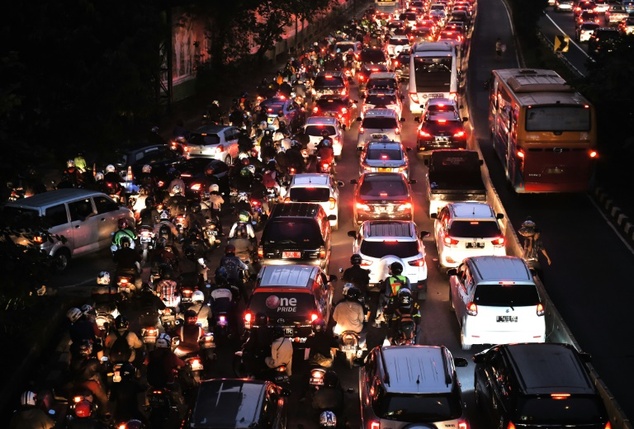 Kekesalan pemudik pada kemacetan di ´Brexit´, mendorong netizen mengunggah foto-foto ke media sosial untuk memperlihatkan mobil yang merayap puluhan kilometer (Foto: MailOnline)
DUA BELAS orang tewas dalam tiga hari akibat kemacetan lalu lintas terparah di Indonesia yang membentang lebih dari 20 kilometer (13 mil) dan mengakibatkan ribuan pemudik tertahan perjalanannya di tol, kata seorang pejabat Indonesia pada Jumat.

Kemacetan panjang di pintu tol Brebes Timur, Kabupaten Brebes, Provinsi Jawa Tengah sangat buruk sehingga dijuluki netizen sebagai gerbang tol bencana dengan menyebutnya sebagai 'Brexit', dari akronim Brebes exit.

Jalan di negara dengan penduduk mayoritas Muslim yang paling padat penduduknya di dunia terhambat pada akhir bulan suci Ramadhan, ketika jutaan pemudik ingin berlebaran kampung halaman mereka untuk merayakan Idul Fitri, yang jatuh pada hari Rabu.

Namun kemacetan panjang di persimpangan "Brexit" persimpangan tahun ini sangat parah dalam tiga hari sebelum Idul Fitri, puluhan ribu mobil berdesakan di jalan raya arteri, kata Kepala Pusat Komunikasi dan Informasi Publik Kementerian Perhubungan RI Hemi Pramuraharjo kepada AFP yang dilansir MailOnline.

"Dalam hal kasus Brexit ini, sudah ada total 12 korban lebih dari hari yang berbeda," katanya. Mereka tewas pada 3 Juli dan 5 Juli bukan dalam satu hari sebagaimana dilaporkan media sebelumnya, kata Hemi.

Hemi mengatakan beberapa dari korban adalah orang tua sementara yang lain meninggal karena kelelahan dan komplikasi kesehatan lainnya. Media lokal melaporkan bahwa seorang balita usia satu tahun meninggal akibat keracunan asap kendaraan juga turut tewas.

Lebih dari 400 pengendara meninggal di seluruh Indonesia selama masa mudik ini, termasuk kemacetan di 'Brexit', kata Hemi.

Kecelakaan yang tidak biasa selama liburan Lebaran, lebih banyak disebabkan kerusakan jalan di Pulau Jawa, dimana setengah dari 255 juta penduduk Indonesia bermukim di Jawa.

Kekesalan pemudik pada kemacetan di 'Brexit', mendorong netizen mengunggah foto-foto ke media sosial untuk memperlihatkan mobil yang merayap puluhan kilometer, didukung foto udara pada ribuan kendaraan bermotor roda empat, dan tampak para pengemudi frustasi akibat macet.

Hemi menambahkan kemacetan lebih banyak disebabkan ulah pedagang kaki lima di tepi jalan dan pasar yang ramai di dekat persimpangan 'Brexit' memperparah kemacetan, sehingga menimbulkan kemacetan 'lebih dari 20 kilometer.'

"Ada hambatan di sana, di mana ada sebuah pompa bensin sangat dekat dan antrian banyak orang," katanya.

"Tidak ada ruang di jalan. Kami tidak punya solusi."

Menanggapi kontroversi, Kementerian Kesehatan membantah laporan sebelumnya korban tewas "Brexit" berlangsung dalam satu hari, dan mendesak pengendara merencanakan perjalanan panjang untuk beristirahat dan mengambil semua tindakan pencegahan yang diperlukan.

Kepala Pusat Penanggulangan Krisis Kesehatan di Kementerian Kesehatan RI, Kementerian Achmad Yurianto mengatakan melalui pernyataan resminya bahwa pemakaian AC terus-menerus menyebabkan peningkatan karbon dioksida di dalam mobil yang sempit.
TWELVE people have died during a massive three-day traffic jam in Indonesia that stretched more than 20 kilometres (13 miles) and brought thousands of holidaymakers to a complete standstill, an official said on Friday.

The horror traffic at a major highway junction at Brebes, a city on the main island of Java, was so bad that Indonesians dubbed the disastrous toll gate "Brexit", from the words "Brebes exit".

Roads across the world's most populous Muslim-majority country are choked every year at the end of the holy month of Ramadan, as millions head to villages to celebrate Eid, which fell on Wednesday.

But the chaos at the "Brexit" junction this year was particularly acute in the three days before Eid, as tens of thousands of cars crammed the arterial highway, transport ministry spokesman Hemi Pramuraharjo told AFP.

"In terms of this Brexit case, there's been a total of 12 victims over different days," he said. The deaths occurred between July 3 and July 5, not a single day as earlier reported, he said.

Pramuraharjo said several of the victims were elderly while others died from fatigue and other health complications. Local media reported that a one-year-old suffering from fume poisoning was also among the deceased.

More than 400 motorists had died on Indonesia's roads so far this holiday season, including those in the "Brexit" jam, Pramuraharjo said.

Accidents are not uncommon during the holiday odysseys, particularly on the potholed roads of overcrowded Java, home to more than half of Indonesia's 255 million people.

At the "Brexit" snarl, frustrated motorists posted pictures to social media showing cars snaked back for miles. Aerial shots captured a sea of motionless vehicles, with some drivers seeking respite on the roadside.

Pramuraharjo said roadside vendors and crowded markets near the junction compounded the chaos, leading to traffic snarls "more than 20 kilometres" in length.

"There is a bottleneck there, where there's a petrol station very nearby and many people queue," he said.

"There's no space on the road. We don't have a solution."

Responding to the controversy, the health ministry denied earlier reports the "Brexit" victims died in a single day, and urged motorists planning a long journey to rest and take all necessary precautions.

The ministry's Achmad Yurianto said in a statement the heavy use of air conditioning could also lead to an increase in carbon dioxide within the cramped confines of the car.