Menkop Puspayoga Proyeksikan Kluster Pertanian Mampu Stop Impor Beras
Indonesian Govt Developing Agricultural Clusters in Five Districts
Reporter : Gusmiati Waris
Editor : Cahyani Harzi
Translator : Dhelia Gani

PUBLISHED: Sabtu, 07 Januari 2017 , 23:50:40 WIB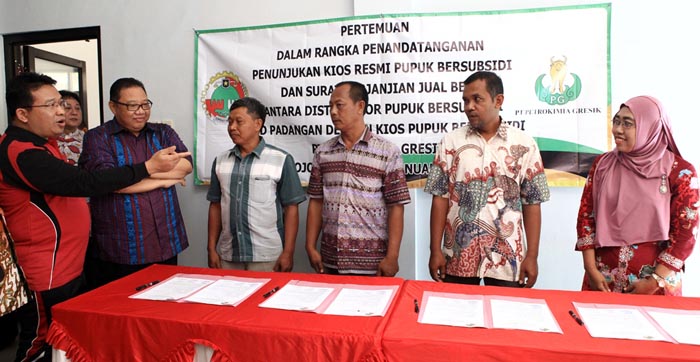 Menkop UKM Puspayoga (ke-2 kanan) didampingi Bupati Bojonegoro Suyoto menyaksikan penandatanganan kios resmi pupuk bersubsidi KUD Padangan dengan PT Semen Gresik (Foto: Humas Kemenkop UKM)
Jakarta (B2B) - Kementerian Negara Koperasi dan UKM tengah menyiapkan program kluster pertanian yang bertujuan meningkatkan kesejahteraan petani dan diproyeksikan mengurangi ketergantungan pada beras impor, dan pada tahap awal sudah disiapkan lima kluster pertanian di lima daerah, masing-masing seluas 1.000 hektar.

"Nantinya akan ada 65 kluster pertanian yang saya kira akan mampu mengurangi bahkan menhentikan ketergantungan beras impor," kata Menkop UKM AAGN Puspayoga pada kunjungan kerja di Kabupaten Bojonegoro, Provinsi Jawa Timur pada Sabtu (7/1).

Lima kabupaten di empat provinsi disiapkan untuk menerapkan kluster pertanian yakni Lampung, Sukabumi di Jawa Barat, Banyumas dan Demak di Jawa Tengah dan Bojonegoro di Jawa Timur. Dari kelima kabupaten maka kluster Sukabumi yang sudah berjalan, dengan menggandeng PT Pertamina yang menyalurkan dana corporate social responsibility (tanggung jawab sosial perusahaan).

Dalam hal ini 2.400 petani yang tergabung dalam kluster tinggal berproduksi saja, sementara sarana produksi padi (saprodi) disiapkan oleh koperasi, sementara perusahaan terbatas yang dibentuk (PT BUMR) membeli gabah kering panen (GKP) seharga Rp4.500 per kg lalu memasarkannya.

"Saya melihat potensi besar Bojonegoro khususnya di Kecamatan Padangan untuk dikembangkan menjadi salah satu kluster pertanian. KUD di sini bagus dan dapat menjadi contoh bagi KUD lain," kata Puspayoga.

Sementara Ketua KUD Padangan, Mihandri Samsuri menyatakan kesiapannya untuk menjadi kluster pertanian, yang menyiapkan saprodi dan pembiayaan untuk produksi padi yang didanai melalui unit koperasi simpan pinjam (KSP), dan nantinya hasil produksi petani akan dibeli dan dipasarkan oleh KUD Padangan.

"Saat ini kami sudah bekerjasama dengan lima kelompok tani, KUD Padangan bertindak selaku inti, sedangkan kelompok tani sebagai plasma," kata Mihandri Samsuri.
Jakarta (B2B) - Indonesian Ministry of Cooperatives and SMEs developing agriculture cluster program which aims to improve the welfare of farmers and stop rice imports, and in the initial phase prepared in five districts of five clusters, each cluster area of 1,000 hectares.

"There will be developed 65 clusters of the farm, which is expected to be able to stop the dependence on rice imports," said Minister of Cooperatives and SMEs, AAGN Puspayoga on working visit in Bojonegoro district of East Java Province on Saturday (1.7.17).

Five districts in four provinces prepared for implement the agricultural cluster in Lampung, Sukabumi in West Java, Banyumas and Demak in Central Java and Bojonegoro in East Java. Of the five districts, clusters in Sukabumi has been running and supported Pertamina Corp., which distribute funds for corporate social responsibility.

In this case 2,400 farmers who are members of the cluster, while a production facility set up by the cooperative, while the limited company that was formed (PT BUMR) will buy dry grain harvest for 4,500 rupiah per kg.

"I saw huge potential in Bojonegoro district especially Padangan subdistrict into agriculture clusters. Cooperative are here well developed, and could be a model in other regions," Minister Puspayoga said.

While chairman of Padangan Cooperative, Mihandri Samsuri said it was ready to support rice production facilities, and production financing from credit unions, and eventually production of farmers will be purchased and marketed by the cooperative.

"We have been working with five farmer groups, and Padangan act as the core, while the farmer groups as the plasma," Mr Samsuri said.