Pemerintah dan Dekranas Dukung Potensi Wirausaha Perajin UMKM Kaltara
Indonesian Govt Support Developing of North Borneo`s SMEs Crafters
Reporter : Gusmiati Waris
Editor : Cahyani Harzi
Translator : Dhelia Gani

PUBLISHED: Jum'at, 02 Juni 2017 , 02:53:59 WIB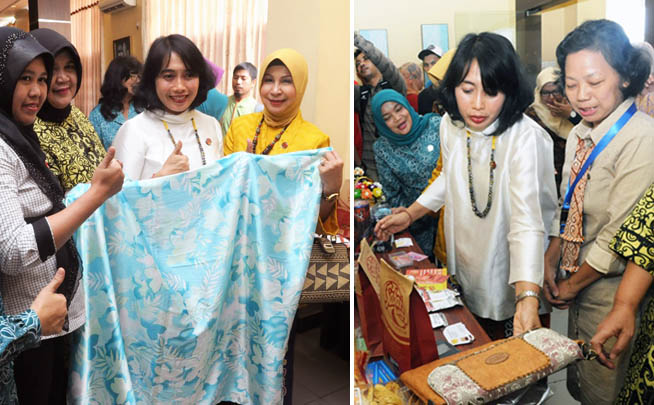 Ketua Bidang Manajemen Usaha Dekranas, Bintang Puspayoga (gaun putih) Foto2: Humas Kemenkop UKM
Jakarta (B2B) - Kementerian Koperasi dan UKM bersama Dewan Kerajinan Nasional (Dekranas) dan Dekranas Provinsi Kalimantan Utara (Kaltara) melakukan sinergi mendukung pengembangan perajin UMKM dengan kegiatan pelatihan sehingga mampu meningkatkan profesionalisme sebagai wirausaha.

"Potensi perekonomian di Kaltara khususnya sektor UMKM sangat luar biasa, kalau potensi ini bisa dikembangkan, saya optimis produk UMKM dan perajin Kaltara bisa bersaing dengan daerah lain, bahkan bisa menembus pasar global," kata Ketua Bidang Manajemen Usaha Dekranas, Bintang Puspayoga usai membuka sinergi kementerian dengan UKM Dekranas dan Dekranasda Kaltara di Tarakan belum lama ini.

Menurutnya, materi pelatihan berupa pengembangan jaringan pemasaran produk perajin, kiat peningkatan keterampilan teknis perkoperasian, pendidikan kewirausahaan, bimbingan teknis peningkatan akses modal, penataan manajemen koperasi simpan pinjam, dan kegiatan magang bagi pemuda.

Bintang Puspayoga menambahkan Kaltara merupakan satu dari enam provinsi yang terpilih menjadi percontohan sinergitas kementerian dengan Dekranas.

"Pertimbangannya selain potensi alam, potensi perajin UMKM luar biasa harus didukung pemerintah daerah untuk menunjang keberhasilan sinergi ini," kata Bintang.
Jakarta (B2B) - Indonesian government by the Cooperatives and SMEs Ministry with National Craft Council called the Dekranas and North Borneo provincial government support the development of SMEs crafters with training activities so as to enhance professionalism as an entrepreneurs.

"The potential of economy in North Borneo, especially the SME sector is very remarkable, if this potential is developed, I am optimistic that SME products and local craftsmen can compete with other regions, even penetrate the global market," said the Head of Business Management the Dekranas Bintang Puspayoga after opened synergy of ministry with the Dekranas in Tarakan city recently.

According to her, the training materials include the development of marketing network of artisans products, tips on improving the technical skills of cooperatives, entrepreneurship education, technical guidance of capital access, management of savings and loan cooperatives, and internship activities.

Mrs Pusapayoga said that the North Borneo is one of six provinces selected to be pilot project of ministerial synergy with the Dekranas.

"The potential of natural and potential SME crafters should be supported by local governments for the success of the synergy," she said.