Pakaian Adat Presiden Jokowi dan Menteri Meriahkan Hari Lahir Pancasila
Indonesian Traditional Dress Enliven the Pancasila´s Birthday June 1st
Reporter : Adipati Edonizar
Editor : Cahyani Harzi
Translator : Dhelia Gani

PUBLISHED: Jum'at, 02 Juni 2017 , 04:33:45 WIB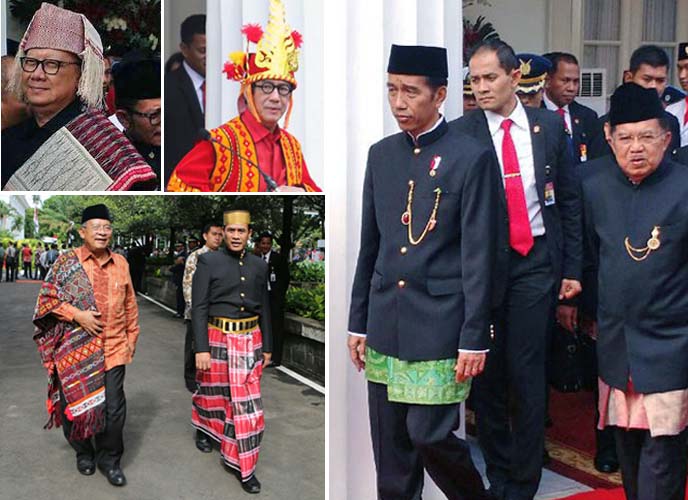 Presiden Jokowi dan Wapres JK (kanan), Mendagri Tjahjo Kumolo (kiri atas), Menkhumham Yasonna H Laoly (tengah atas), Menko Darmin Nasution dan Mentan Amran Sulaiman (kiri bawah) Foto2: istimewa
KEGIATAN kenegaraan yang dipimpin Presiden RI Joko Widodo pada peringatan Hari Lahir Pancasila 1 Juni tampak berbeda dari biasanya, Presiden Jokowi dan Wakil Presiden Jusuf Kalla dan para menteri Kabinet Kerja kompak mengenakan busana adat Nusantara.

Presiden Jokowi dan Wakil Presiden Jusuf Kalla mengenakan pakaian adat Betawi meskipun keduanya bukan berasal dari Jakarta, melainkan berlatar belakang Solo, Jawa Tengah dan Bone, Sulawesi Selatan. Namun ide penggunaan pakaian adat merupakan ide dari Presiden Jokowi yang ingin menyampaikan pesan bahwa Indonesia sangat beragam.

"Takdir Tuhan untuk kita adalah keberagaman. Dari Sabang sampai Merauke adalah keberagaman. Dari Miangas sampai Rote adalah keberagaman. Berbagai etnis, berbagai bahasa lokal, berbagai adat istiadat, berbagai agama, kepercayaan serta golongan bersatu padu membentuk Indonesia. Itulah Bhinneka Tunggal Ika kita, Indonesia," kata Presiden Jokowi saat menjadi inspektur upacara Peringatan Hari Lahir Pancasila di Gedung Pancasila, Kementerian Luar Negeri, Jakarta Pusat, Kamis, 1 Juni 2017.

Sejumlah menteri tampil sesuai asal daerahnya seperti Menteri Hukum dan HAM Yasonna H Laoly dengan pakaian tradisional Nias, Sumatera Utara; Menteri Pertanian Andi Amran Sulaiman dengan pakaian khas Bugis, Sulawesi Selatan; dan Menteri Pemuda dan Olahraga Imam Nahrawi dengan pakaian khas Madura, Jawa Timur. Sementara Menko Perekonomian Darmin Nasution melakukan 'padu padan' kemeja batik dengan menyampirkan kain ulos khas Tapanuli Selatan di bahu kanan saat berjalan dengan Mentan Amran Sulaiman memasuki lokasi upacara peringatan di halaman Gedung Pancasila, Kementerian Luar Negeri RI di Jakarta.
THE OFFICIAL state activity led by Indonesian President Joko Widodo on the anniversary of the Pancasila's Birthday June 1st looks different than usual, President Widodo with Vice President Jusuf Kalla and some ministers wearing traditional clothes.

President Widodo and VP Kalla wore Betawi traditional clothes although they are not coming from Jakarta, but from Solo district of Central Java province and Bone district of South Sulawesi province. The idea of wearing traditional clothes is idea of President Widodo who wants to convey the message that Indonesia is very diverse.

"God's destiny for Indonesia is diversity. Sabang to Merauke is diversity. Miangas to Rote is diversity. Various ethnic, various local languages, various customs, various religions, beliefs and various groups united to form Indonesia. That is our the Bhinneka Tunggal Ika is Indonesia," said President Widodo as inspector of commemoration Birthday of the Pancasila here on Thursday (June 1).

Several ministers perform according to their local origin such as Justice and Human Rights Minister Yasonna H Laoly with Nias traditional clothes of North Sumatra province; Agriculture Minister Andi Amran Sulaiman with Bugis traditional clothes of South Sulawesi province and Youth and Spots Minister Imam Nahrawi with Madura traditional clothes of East Java province. Meanwhile, Senior Minister for Economic Affairs Darmin Nasution did 'mix and match' batik shirt with ulos is traditional fabrics of South Tapanuli in North Sumatera province.