Napi Lapas Jambi Kabur Saat Banjir Disorot Media Asing
Inmates Escape Indonesian Prison during Floods
Editor : Ismail Gani
Translator : Novita Cahyadi

PUBLISHED: Kamis, 15 Juni 2017 , 04:34:47 WIB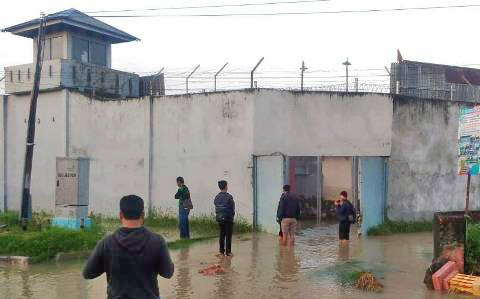 Tembok penjara Lapas Kelas II A Jambi dihantam banjir (Foto: istimewa)
Jakarta (B2B) - Sejumlah tahanan dan narapidana di kabur dengan cara berenang dari lembaga pemasyarakatan (Lapas) setelah satu temboknya roboh, kata polisi Rabu, menyusul maraknya aksi napi kabur dari Lapas di berbagai provinsi di Indonesia.

Sedikitnya 32 narapidana kabur dari Lapas Kelas II A Jambi, Provinsi Jambi, Selasa malam, dengan berenang melalui air banjir setelah mereka berhasil menembus tembok.

Sebagian besar berhasil ditangkap namun sekitar 10 orang diyakini masih dalam pelarian setelah kabur dari Lapas tersebut, yang menampung sekitar 1.200 narapidana, kata Kabid Humas Polda Jambi, AKBP Kuswahyudi Tresnadi.

Ratusan petugas polisi dan tentara dikerahkan untuk memburu napi yang kabur. Pasukan keamanan menggunakan perahu karet untuk operasi pencarian di Jambi, yang masih tergenang air banjir.

"Jika narapidana bersembunyi dengan keluarga mereka, kami mendesak keluarga untuk menyerahkan mereka dan menyerahkannya kepada kami," kata Tresnadi kepada AFP seperti dilansir MailOnline.

Napi kabur dari Lapas kerapkali terjadi di Indonesia dimana sebagian besar penjara terlalu penuh sesak.

Bulan lalu, lebih dari 440 narapidana melarikan diri dari penjara di Kota Pekanbaru di ibukota Provinsi Riau setelah penjaga penjara membiarkan mereka keluar dari sel karena ingin melaksanakan sholat.

Hanya sekitar setengah yang tertangkap.
DOZENS of inmates swam to freedom from a flooded Indonesian jail after one of its walls collapsed, police said Wednesday, the latest breakout to hit the country's creaking prison system.

At least 32 inmates escaped from the jail in Jambi city on western Sumatra island late Tuesday by swimming through the floodwaters after they smashed through the wall.

Most were recaptured but about 10 are believed to still be on the run after the breakout from the jail, which houses about 1,200 inmates, said Jambi police spokesman Kuswahyudi Tresnadi.

Hundreds of police officers and soldiers have been deployed to look for the escapees. Security forces are using rubber dinghies for the search operation in Jambi, which is still inundated with floodwaters.

"If the inmates are hiding with their families, we urge the families to surrender them and hand them over to us," Tresnadi told AFP.

Jailbreaks are common in Indonesia where most prisons are overcrowded.

Last month, more than 440 inmates fled a jail in Pekanbaru City on the island of Sumatra after prison guards let them out of their cells to pray.

Only about half were recaptured.