Mendesak, Regulasi `UKM Naik Kelas` dengan Peraturan Menteri
Indonesian SMEs Entrepreneurs Need Regulation for the Business Status
Reporter : Gusmiati Waris
Editor : Cahyani Harzi
Translator : Dhelia Gani

PUBLISHED: Sabtu, 03 Juni 2017 , 04:59:41 WIB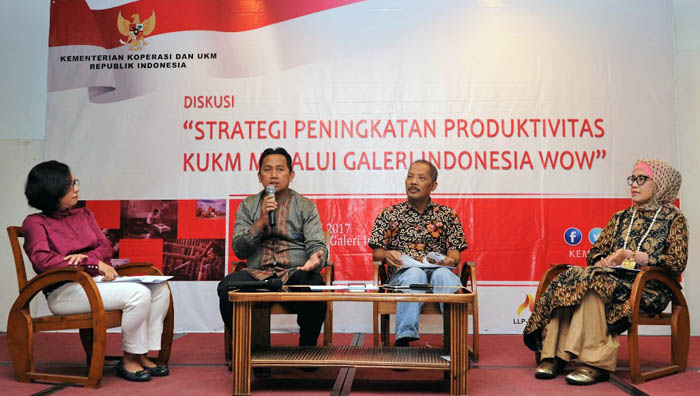 FGD Strategi Peningkatan Produktivitas KUKM Melalui Galeri Indonesia´ dihadiri Dirut LLP KUKM Ahmad Zabadi (ke-2 kiri), pengamat UKM Cak Samsul Hadi, dan pelaku UKM Ratih Puspitawati Foto: Humas Kemenkop UKM
Jakarta (B2B) - Pelaku usaha kecil dan menengah (UKM) membutuhkan regulasi berupa peraturan menteri (Permen) yang khusus mengatur 'UKM naik kelas' karena rujukan selama ini hanya secara makro, sementara beberapa daerah telah melaksanakannya tapi belum memiliki acuan secara nasional, dan regulasi ini dibutuhkan UKM yang siap 'go international' untuk mendapatkan sertifikat internasional.

Hal itu dikemukakan pengamat UKM Cak Samsul Hadi, Direktur Utama Lembaga Layanan Pemasaran (LLP) KUKM Ahmad Zabadi dan pelaku UKM Ratih Puspitawati pada Focus Group Discussion (FGD) bertema 'Strategi Peningkatan Produktivitas KUKM Melalui Galeri Indonesia' di Gedung Smesco UKM Jakarta pada Jumat (2/6).

Cak Samsul Hadi mengatakan regulasi berupa Permen diharapkan dapat menjadi pegangan bagi setiap pelaku usaha di tanah air mengetahui arah kebijakan pemerintah secara nasional.

Menurutnya, Permen sangat penting untuk menjelaskan secara rinci tentang definisi UKM Naik Kelas seperti apa, dan selama ini regulasi yang menjadi rujukan justru hanya mengartikan secara makro, sehingga belum ada kesamaan pemahaman dari pelaku UKM.

"Hal itu tidak mudah dicapai sehingga perlu dirinci bahwa naik kelas karena berbagai hal seperti kelembagaan. Kenapa itu tidak dicatat sebagai kenaikan kelas. Nah itu butuh peraturan," kata Cak Samsul Hadi.

Dia mengharapkan FGD ini dapat mengingatkan Kementerian Koperasi dan UKM untuk merealisasikan Permen yang dimaksud sehingga dapat segera menyesuaikan diri dengan regulasi.

"Beberapa daerah seperti Gorontalo, Surabaya dan Surakarta telah melaksanakan UKM Naik Kelas meski belum ada acuan nasional. Mereka melihat hal itu sebagai kebutuhan lokal, kalau ada kebijakan nasional akan lebih mudah," katanya.

Ahmad Zabadi menegaskan dukungan terhadap program UKM Naik Kelas, dengan syarat meningkatkan kualitas produk menyangkut disain, branding, kemasan dan pemasaran sehingga dapat bersaing di pasar domestik dan mancanegara.

"Kita akan terus meningkatkan kualitas layanan dan akan didukung sertifikasi bagi UKM yang telah mengikuti program pelatihan bidang tertentu, sehingga dapat mengikuti berbagai pameran UKM di mancanegara," katanya.

Ratih Puspitawati sependapat dengan Ahmad Zabadi bahwa syarat utama UKM mengikuti pameran di mancanegara. "Naik kelas penting banget seperti sekarang kalau kita mau pameran ke luar negeri harus punya ini dan itu."
Jakarta (B2B) - Indonesian SMEs entrepreneurs need regulation through ministerial regulation, to regulate improvement the status of SMEs entrepreneurs, while some regions have implemented but have no national reference, and regulations required by SMEs to 'go international' with certificates from the government.

It was stated by the SMEs observer Cak Samsul Hadi, Director of the Institute of Marketing Cooperatives and SMEs Ahmad Zabadi and and SMEs entrepreneur Ratih Puspitawati on focus group discussion (FGD) here on Friday (June 2).

Cak Samsul Hadi said the regulation with ministerial regulation is expected to become a reference for SME entrepreneurs in Indonesia about Jakarta policy.

According to him, the ministerial regulation is also important to give details on the definition of improvement the status of SMEs entrepreneurs, and the current regulation is only set macro, so there is no understanding of SMEs entrepreneurs across the country.

"It was not easy to understand that need to be specified because it is associated much as institutional. Why not referred to as an improvement of status," Mr Hadi said.

He expects the FGD can remind the Indonesian Cooperatives and SMEs Ministry to realize ministerial regulations so that SMEs entrepreneurs abide by the regulations.

"Some regions such as Gorontalo, Surabaya and Surakarta have implemented it, although there is no national benchmark, although it is seen as a local need, but Jakarta policy will make it easier for them to develop businesses," he said.

Mr Zabadi supports the improvement of the status of SME entrepreneurs, as long as they can improve the quality of products such as design, branding, packaging and marketing to compete in the domestic and foreign markets.

"We will continue to improve the quality of services and will be supported by certification for SMEs who have attended the training program, so as to participate in various SMEs exhibitions abroad," he said.

Ratih Puspitawati agrees with Ahmad Zabadi on the main requirements of SMEs to go international. "It's very important if you want to follow the exhibition abroad."