CashCoop, Kolaborasi Kemenkop UKM dan Finnet Dukung Konektivitas Koperasi
Indonesian Cooperatives Access Online Banking and e-Money Payment by CashCoop
Reporter : Gusmiati Waris
Editor : Cahyani Harzi
Translator : Dhelia Gani

PUBLISHED: Kamis, 08 Juni 2017 , 05:32:50 WIB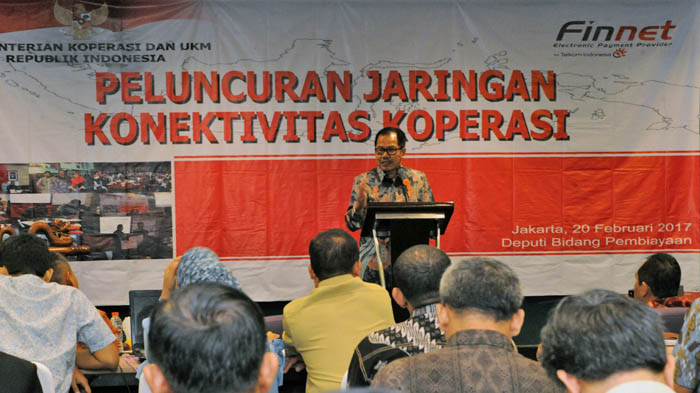 Deputi Bidang Pembiayaan Kemenkop UKM Braman Setyo menyampaikan sambutannya pada peluncuran CashCoop (Foto: istimewa)
Jakarta (B2B) - Koperasi harus mulai merintis jaringan konektivitas antar-koperasi di era digital agar mampu bersaing dengan lembaga keuangan lainnya, yang telah menerapkan layanan keuangan berbasis teknologi informasi. Menyikapi hal itu, Kementerian Koperasi dan UKM menggandeng PT Finnet Indonesia membentuk jaringan konektivitas koperasi yang dinamai CashCoop.

"Sebagai tahap awal, kementerian merintis fasilitas pembayaran elektronik yang dirancang khusus untuk koperasi dan anggota agar transaksi lebih mudah dan terintegrasi nonstop 24 jam. CashCoop juga mendorong koperasi agar dapat meningkatkan layanan kepada anggota berbasis teknologi informasi," kata Deputi Bidang Pembiayaan Kemenkop UKM Braman Setyo di Jakarta, belum lama ini.

Dia mengingatkan sudah saatnya koperasi bangkit dan sinergi dengan aplikasi CashCoop yang kelak membuka peluang bagi koperasi untuk koneksi dengan jaringan penyedia layanan keuangan perbankan maupun nonbank.

CashCoop merupakan aplikasi digital layanan keuangan yang disediakan Kemenkop UKM untuk koperasi agar bisa mendapatkan akses layanan keuangan dengan fitur payment point online banking (PPOB), dan e-Money yang terintegrasi dengan berbagai macam biller dan layanan transaksi keuangan lainnya.

"Ini tersedia gratis, koperasi hanya perlu melakukan registrasi melalui web www.cashcoop.co.id lalu input data registrasi. Koperasi akan mendapatkan SMS notifikasi berupa user dan password untuk transaksi," katanya.

Layanan itu juga tersedia untuk aplikasi melalui telepon genggam dengan terlebih dahulu mengunduh aplikasinya di Google Play yakni CashCoop Mobile.

Menurutnya, koperasi akan mendapatkan berbagai keuntungan dengan bergabung dalam platform Cash Coop.
"Caranya mudah, ada sharing pendapatan untuk koperasi dan anggota. Transaksi tercatat secara sistem dan akurat dengan harga layanan kompetitif."
Jakarta (B2B) - The cooperatives in Indonesia should begin to pioneer inter-cooperative connectivity networks in the digital age in order compete with financial institutions, which have implemented financial services based information technology. In response, Indonesian Cooperatives and SMEs Ministry took Finnet Indonesia Company developing cooperatives connectivity called the CashCoop.

"As initial phase, the ministry designed electronic payments for cooperatives and members to make transactions easier and integrated nonstop 24 hours. CashCoop also encourages cooperatives to improve services to their members," said the Deputy Minister of Finances Braman Setyo here recently.

He reminded cooperatives to rise and take advantage of CashCoop applications for cooperatives to connect with a network of banking financial services providers.

CashCoop is an application for cooperatives to access online banking and e-Money payment points feature integrated with various billers and other financial transaction services.

Provided free of charge, cooperative only need to register through www.cashcoop.co.id then input data registration then will get SMS notification for user and password before transaction," he said.

The service is also available for smartphone applications by downloading the CashCoop Mobile app on Google Play.

According to him, the cooperative will get various benefits from Cash Coop. "The trick is easy, there is revenue sharing for cooperatives and members.