Mbah Ghoto yang Klaim Berusia 146 Tahun Meninggal Dunia di Sragen
World`s `Oldest Person` Claimed to be 146 Years Old Dies in Indonesia
Editor : Ismail Gani
Translator : Novita Cahyadi

PUBLISHED: Selasa, 02 Mei 2017 , 06:09:33 WIB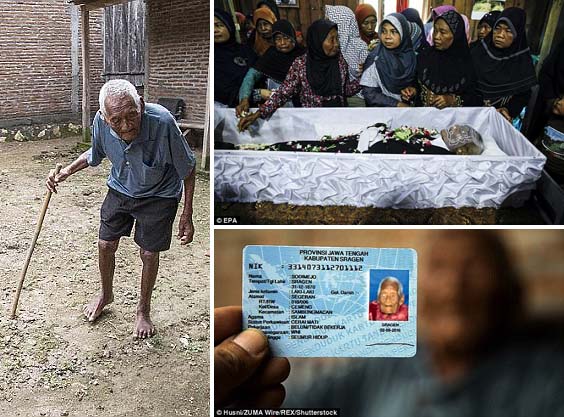 Saparman Sodimejo alias Mbah Ghoto semasa hidupnya (kiri) jenazahnya sebelum dimakamkan dan KTP yang menyatakan kelahiran 31 Desember 1870 (Foto2: MailOnline)
SEORANG pria yang mengaku berusia 146 tahun dan hidup lebih lama dari keempat istrinya meninggal dunia.

Saparman Sodimejo, yang juga dikenal sebagai Mbah Ghoto, memiliki KTP Kabupaten Sragen, Provinsi Jawa Tengah yang mengaku tanggal lahirnya adalah 31 Desember 1870.

Namun apakah dia pernah terdaftar sebagai pria tertua di dunia secara terbuka patut dipertanyakan, karena dokumennya sampai saat ini belum pernah diverifikasi secara independen.

Mendiang meninggal di desanya di Kabupaten Sragen, Jawa Tengah, Indonesia dan jasadnya telah dimakamkan.

Ghoto dibawa ke rumah sakit pada awal April karena kesehatannya memburuk tapi enam hari kemudian dia memaksa keluar dari rumah sakit dan memilih dirawat di rumahnya.

Cucu perempuannya Suyanto mengatakan kepada BBC: "Sejak kembali dari rumah sakit, dia hanya makan sesendok bubur dan minum sangat sedikit."

"Itu hanya berlangsung beberapa hari. Hingga menjelang kematiannya, dia menolak untuk makan dan minum."

Pada Desember, dia merayakan ulang tahunnya bersama sanak saudaranya.

Hadir pada pesta ulang tahunnya adalah para cucunya Suryanto dan istrinya Suwarni, bersama anak-anak mereka Erika Kurniawati dan Anisa Kurniawati, di antara kerabat muda lainnya yang masih hidup.

Tidak mengherankan, ia hidup lebih lama dari semua 10 saudara kandungnya dan keempat istrinya, yang terakhir meninggal dunia pada 1988. Semua anaknya juga meninggal.

Jika dokumennya benar, usianya yang ke 146 membuatnya jauh lebih tua daripada orang tertua yang diverifikasi di dunia, rekor yang dipegang oleh wanita Prancis Jeanne Calment, yang hidup hingga usia 122 tahun.

Suryanto mengatakan tahun lalu bahwa kakeknya telah mempersiapkan kematiannya sejak berusia 122 tahun, namun sepertinya tidak pernah datang.

Dia berkata: 'Batu nisan itu dibuat pada 1992. Itu 24 tahun yang lalu.'

Selain itu, Suryanto mengatakan bahwa keluarga Mbah Ghoto sudah menyiapkan sebuah kuburan untuknya - di dekat kuburan anak-anaknya.

Staf di kantor catatan sipil Indonesia mengonfirmasi tanggal lahir Mbah Gotho, yang tercantum dalam KTP Indonesianya pada 31 Desember 1870.

Dokumen lain tanpa catatan yang dapat diverifikasi yang konon lebih tua dari Mbah Ghoto termasuk James Olofintuyi berusia 171 tahun dari Nigeria dan Dhaqabo Ebba yang berusia 163 tahun dari Ethiopia seperti dilansir MailOnline.
A MAN who claimed to be 146 years old and outlived all four of his wives has died in Indonesia.

Saparman Sodimejo, also known as Mbah Ghoto, had an Indonesian ID card that claimed his date of birth was December 31, 1870.

But whether or not he will ever be listed as the world's oldest man is open to question, since the paperwork has so far not been independently verified.

He passed away in his village in the Sragen district of Central Java, Indonesia and a funeral took place today.

Ghoto was taken to hospital in early April due to deteriorating health but six days later checked himself out and returned home.

His grandson Suyanto told the BBC: 'Since he came back from the hospital, he only ate spoonfuls of porridge and drank very little.

'It only lasted a couple of days. From that moment on to his death, he refused to eat and drink.'

In December, he celebrated his birthday with his relatives.

Attending his party were his grandson Suryanto and wife Suwarni, with their children Erika Kurniawati and Anisa Kurniawati, among other younger surviving relatives.

Unsurprisingly, he had outlived all 10 of his siblings as well as his four wives, the last of whom died in 1988. All of his children have also died.

If his documents are correct, his age of 146 made him significantly older than the verified oldest person in the world ever, a title that belongs to French woman Jeanne Calment, who lived to be 122.

Suryanto said last year that his grandfather had been preparing for his death ever since he was 122, but it never seemed to come.

He said: 'The gravestone there was made in 1992. That was 24 years ago.'

In addition, Suryanto said Mbah Ghoto's family had already prepared a gravesite for him - near his children's graves.

Staff at the Indonesian records office have confirmed Mbah Gotho's birthdate, which is specified on his Indonesian ID card as 31st December 1870.

Others without verifiable records who are purportedly older than Mbah Ghoto include 171-year-old James Olofintuyi from Nigeria and 163-year-old Dhaqabo Ebba from Ethiopia.