Penyidik Kebakaran Hutan Disandera Perusahaan Kelapa Sawit Disorot Dunia
Indonesia Condemns Palm Oil Firm`s Hostage-taking over Fires
Editor : Ismail Gani
Translator : Novita Cahyadi

PUBLISHED: Selasa, 06 September 2016 , 07:05:36 WIB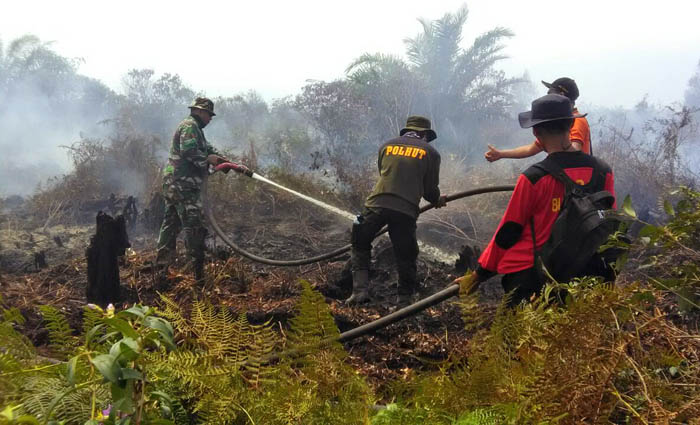 Kebakaran hutan berusaha dipadamkan petugas (Foto: istimewa)
MENTERI Lingkungan Hidup dan Kehutanan (LHK) mengutuk tindakan perusahaan kelapa sawit untuk menghentikan penyelidikan kebakaran hutan dengan menyandera petugas penyelidik kebakaran hutan.

Sebuah tim terdiri atas tujuh petugas yang tengah menyelidiki kebakaran hutan disergap pada Jumat dan diyakini sekelompok penculik dimobilisasi oleh Andika Permata Sawit Lestari Ltd, sebuah perusahaan kelapa sawit yang beroperasi di provinsi Riau.

Novrizal Tahar, juru bicara kementerian, pada Senin mengatakan bahwa para sandera dibebaskan Sabtu pagi setelah melakukan negosiasi yang melibatkan polisi dan pejabat setempat.

Tim awalnya menemukan bahwa lebih dari 2.000 hektar dari hutan telah dibakar oleh pekerja dari perusahaan, menurut pernyataan kementerian Minggu.

Setelah negosiasi, tim setuju untuk menghapus file dari kamera digital mereka, kecuali gambar yang diambil oleh pesawat tak berawak, kata pernyataan itu.

Menteri LHK Siti Nurbaya mengatakan dalam pernyataan resminya bahwa insiden tersebut mendorong pihaknya untuk mengambil tindakan tegas terhadap pelaku pembakaran hutan ilegal dan perusahaan nakal sesuai dengan hukum yang berlaku.

Pekan lalu, enam provinsi di Sumatra dan Kalimantan menyatakan keadaan darurat, setelah kebakaran hutan mengakibatkan sebagian wilayah Asia Tenggara diselimuti kabut berasap.

Kabut yang disebabkan oleh kebakaran hutan Indonesia telah menjadi masalah tahunan bagi Asia Tenggara. Kebakaran tahun lalu adalah yang terburuk sejak 1997, mengancam hubungan antara Indonesia dan negara-negara tetangganya. Sekitar 261.000 hektar hutan dan lahan terbakar, menyebabkan kerugian ekonomi miliaran dolar bagi Indonesia.

Sebagian besar kebakaran hutan dan lahan akibat tindakan yang sengaja dilakukan oleh konglomerat perkebunan dan petani kecil untuk membersihkan hutan dan lahan gambut untuk perkebunan seperti dikutip Associated Press yang dilansir MailOnline.
INDONESIA'S minister of environment and forestry has condemned attempts by a palm oil company to stop an investigation into forest fires by taking ministry investigators hostage.

A team of seven officials investigating wildfires was intercepted Friday and held by a group of captors believed to be mobilized by Andika Permata Sawit Lestari Ltd., a palm oil company operating in Riau province.

Novrizal Tahar, a ministry spokesman, said Monday that the hostages were released early Saturday following negotiations involving police and local officials.

The team initially found that more than 2,000 hectares (4,942 acres) of forest had been burned by workers of the company, according to a ministry statement Sunday.

Following the negotiations, the team agreed to erase the files from their digital camera, except for pictures taken by a drone, the statement said.

Siti Nurbaya, the minister of environment and forestry, said in the statement that the incident has encouraged her ministry to take stern actions against perpetrators of illegal forest burning and rogue corporations in accordance with the law.

Last week, six provinces on Sumatra and Borneo islands declared emergencies, with forest fires blanketing a swath of Southeast Asia in a smoky haze.

The haze caused by Indonesian wildfires has become an annual problem for Southeast Asia. Last year's fires were the worst since 1997, straining relations between Indonesia and its neighbors. About 261,000 hectares (644,931 acres) burned, causing billions of dollars in economic losses for Indonesia.

Many of the fires are deliberately set by agricultural conglomerates and small-time farmers to clear forests and peatland for plantations.