2013, Kurikulum Pendidikan Berubah Jadi Berbasis Sains
In 2013, Curriculum to be Based on Science
Reporter : Rizki Saleh
Editor : Ismail Gani
Translator : Intan Permata Sari

PUBLISHED: Selasa, 04 Desember 2012 , 07:07:03 WIB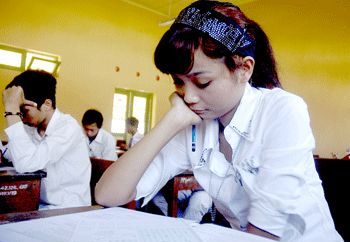 Siswa sedang belajar (Foto: elshinta.com)
Jakarta (B2B) - Pemerintah akan mengubah kurikulum sekolah dasar (SD), sekolah menengah pertama (SMP) dan sekolah menengah atas (SMA) serta sekolah menengah kejuruan (SMK) dengan menekankan aspek kognitif, afektif dan psikometrik melalui penilaian berbasis tes dan portofolio saling melengkapi.

"Siswa untuk mata pelajaran tahun depan sudah tidak lagi banyak menghafal, tapi lebih banyak kurikulum berbasis sains," kata Menteri Pendidikan dan Kebudayaan Mohammad Nuh kepada pers di Jakarta, Senin (3/12).

Menurut Nuh, orientasi pengembangan kurikulum 2013 adalah tercapainya kompetensi yang berimbang antara sikap, keterampilan, dan pengetahuan, disamping cara pembelajarannya yang holistik dan menyenangkan.

"Masyarakat bisa memberikan masukan atas setiap elemen kurikulum mulai dari standar kompetensi lulusan, standar isi, standar proses hingga standar evaluasi. Adanya uji publik ini diharapkan kurikulum yang terbentuk telah menampung aspirasi masyarakat," ungkap Nuh.
Jakarta (B2B) - The government will change curriculum of elementary school, junior high school, senior high school and vocational school by prioritizing on cognitive, affective, and psychometric aspects through test and portfolio based assessments which are complementary.

"Next year, students will no longer memorize much subjects, but that the curriculum will be science based," says Minister of Education and Culture, Mohammad Nuh to reporters in Jakarta on Monday (3/12).

Nuh states that the orientation of curriculum development in 2013 is to achieve balanced competence among attitude, skill, and knowledge, other than holistic and fun ways of learning.

"People can send their opinions on each element of curriculum ranging from graduates' standardized competence, content standardization, process standardization, and evaluation standard. The public test is
expected to enable the curriculum to accommodate people's aspiration," says Nuh.