Cardiff City Promosi ke Liga Utama Inggris
Cardiff City Rejoice in Promotion to Premier League
Editor : Heru S Winarno
Translator : Parulian Manalu

PUBLISHED: Rabu, 17 April 2013 , 11:16:00 WIB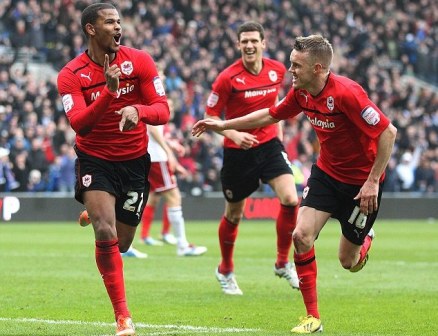 Pemain Cardiff City menyambut gembira promosi ke Liga Utama Inggris (Foto: Mail Online)
London (B2B) - Cardiff City dipromosikan ke jenjang kompetisi Liga Utama Inggris (Premier League), Selasa, setelah bermain imbang 0-0 di kandang lawan Charlton Athletic, sehingga klub Wales berada di urutan kedua pada kompetisi divisi dua (Championship).

Cardiff, yang dengan mengenaskan gagal dalam babak "playoff" pada tiga musim terakhir, mulai musim depan akan bermain di kompetisi kasta tertinggi itu. Ini merupakan pertama kalinya sejak 1962.

Promosi mereka itu mendapat perhatian dan dukungan luar biasa dari penonton setia mereka, yang bersorak-sorai merayakan kemenangan itu sejak pluit akhir berbunyi.

"Semua tersenyum dan bergembira dan saya kira ini merupakan malam panjang di Cardiff," kata pelatih Malky MacKay kepada Sky Sports dalam wawancara di tengah suara bising di Stadion Cardiff City.

"Saya pun gembira melihat kegembiraan pemain dan pendukung itu. Banyak orang di sini yang lama menunggu kejadian ini," kata pelatih dari Skotlandia yang menangani tim itu sejak 2011.

"Para staf klub sepak bola, ofisial di belakang meja, staf pelatih, direktur dan para pemilik klub, para pendukung, malam ini menjadi milik kita semua," tambah mantan pelatih Watford itu.

"Saya kehilangan kata-kata saat ini. Kami pantas maju, kami pantas mendapatkannya," kata pemain bertahan Cardiff Mark Hudson kepada BBC.

"Kami bermain konsisten tahun ini, tepatnya mulai November, sehingga kami sekarang dipromosikan. Kami akan merayakan ini dan seterusnya maju lagi untuk mendapatkan gelar," katanya.

Cardiff memenangi kompetisi Championship dengan unggul tujuh poin atas tim urutan kedua Hull City, dengan sisa tiga pertandingan lagi.
London - Cardiff City were promoted to the English Premier League on Tuesday after a 0-0 draw at home to Charlton Athletic guaranteed the Welsh side a top-two finish in the Championship (second division).

Cardiff, who have agonisingly missed out in the playoffs for the last three seasons, will play in the top flight next season for the first time since 1962.

Their promotion was greeted with joyous scenes at the final whistle with players and fans celebrating on the pitch.

"There are a lot of smiley happy faces and it´s going to be a long night in Cardiff I think," manager Malky Mackay told Sky Sports against a deafening noise at the Cardiff City stadium.

"I´m delighted for these people. There are a lot of people here who have gone through a lot of hard times and this is for them," added the Scotsman who took over the team in 2011.

"The staff of the football club, the back office, the training ground staff, the directors and our owners, these players and these fans and the people of Cardiff, it´s a night for them," added the former Watford boss.

"I am lost for words right now. We thoroughly deserve that if I´m honest," Cardiff defender Mark Hudson told the BBC.

"The consistency we´ve had this year, top since November, and now we´re promoted. We´ll celebrate now then go for that title."

Cardiff are well placed to claim the silverware, with 84 points from 43 matches giving them a seven-point lead over second-placed Hull City with three games left.