Petinju Inggris Anthony Joshua jadi Target Bully di Medsos setelah Berdoa di Mesjid
Anthony Joshua Subjected to Vile Abuse after Posting a Picture of Himself Praying in Mosque
Editor : Ismail Gani
Translator : Novita Cahyadi

PUBLISHED: Kamis, 19 Januari 2017 , 01:29:16 WIB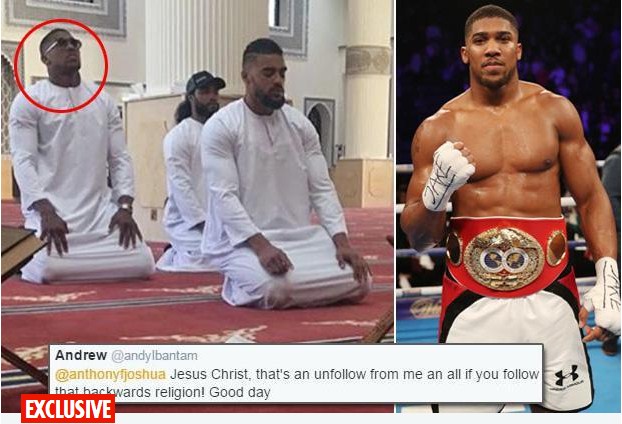 Juara kelas berat Inggris, 27, mengunggah foto di akun Twitter-nya saat ia berlutut di bangunan suci di Dubai saat jeda latihan tinju (Foto2: The Sun)
ANTHONY JOSHUA menjadi target pelecehan oleh kalangan anti Islam di Inggris setelah mengunggah foto dirinya berdoa di mesjid.

Juara kelas berat Inggris, 27, mengunggah foto di akun Twitter-nya saat ia berlutut di bangunan suci di Dubai saat jeda latihan tinju.

Joshua bukan seorang Muslim, tetapi menyatakan tertarik pada Islam - dan keterangan foto menyebutkan: "Selain keberuntungan, kerja keras & bakat .. Doa adalah dasar yang kuat. Itu sangat baik untuk bergabung dengan saudaraku saat menjadi imam shalat Ashar."

Joshua menikmati saat-saat di sela latihan ringan di atas ring sebelum pelatihan berat menjelang pertarungannya pada 29 April menghadapi Wladimir Klitschko di London.

Namun beberapa komentar sangat mengganggunya - dan dari sekian kecaman ada komentar pedas yang menyatakan tidak akan lagi mendukung peraih medali emas Olimpiade 2012 dalam usahanya untuk menambah gelar juara WBA dengan kemenangan sebagai juara IBF.

Pengguna media sosial Matt C, berkomentar: "Saya berharap Klitchko akan mengalahkan Anda sekarang."

Mark Warren mengatakan: "MUSLIM ??? Bukan masalah karena saya bukan pendukung atau penggemar."

Namun dengan cepat pula banyak yang membelanya dan mengecam balik mereka dan mendukung sang petinju: "Dia masih seorang petinju besar dan sekarang memilih untuk tidak mendukungnya. Saya merasa kasihan untuk Anda."

Lainnya mengatakan: "Kebohongan dan fitnah yang disebarkan oleh orang-orang yang tidak memiliki pengetahuan. Semoga Allah membimbing Anda ke jalan yang benar."

Dan komentar lain: "Untuk semua orang yang membencinya. Muhammad Ali adalah seorang Muslim dan petinju terbesar sepanjang masa, apakah Anda membencinya juga??"

Shalat Ashar adalah salah satu shalat wajib lima waktu yang wajib ditunaikan setiap Muslim - dan sementara Joshua bukan penganut dari agama tertentu, dan dia telah berbicara tentang menjadi spiritual, seperti dilansir The Sun.

Dalam sebuah wawancara tahun lalu di mana ia mengungkapkan ia berdoa sebelum perkelahian, ia berkata: "Saya belum menganut agama tertentu: Saya harus mempelajarinya dahulu."
ANTHONY JOSHUA has been subjected to shocking anti-Muslim abuse after posting a picture of himself praying in a mosque.

The British heavyweight champion, 27, posted the photo on his Twitter account as he knelt in the holy building in Dubai during some time off from the ring.

Joshua is not a Muslim but has an interest in the faith – and his caption read: "Besides luck, hard work & talent.. Prayer is a solid foundation. It was nice to join my brother as he led through afternoon prayer (asr)."

Joshua has been enjoying some downtime before serious training takes hold ahead of his huge April 29 fight with Wladimir Klitschko in London.

But some of the comments below his post will not have relaxed him – and while some embraced it, many others gave back vile abuse and vowed not to follow the 2012 Olympic gold medallist in his quest to add the WBA belt to his IBF title.

One wrote: "Jesus Christ, that's an unfollow from me an all if you follow that backwards religion! Good day."

Others, such as user Matt C, commented: "Hope Klitchko batters you now."

Mark Warren said: "MUSLIM??? That's me defo not a supporter or fan."

And another simply put: "Unfollow unsupport."

But people were quick to hit back at the trolls and support the boxer, with one writing: "He is still a great fighter and now choose not to support him. I feel sorry for you."

Another said: "Lies and slander spread by those with no knowledge. May Allah guide you to the right path."

And a third commented: "To all the people hating. Muhammad Ali was a Muslim and the greatest of all time, do you guys hate him as well??"

Asr is the afternoon daily prayer recited by Muslims – and while Joshua is not a member of any particular religion, he has spoken about being spiritual.

In an interview last year during which he revealed he prayed before fights, he said: "I don't have a preferred religion: I'd have to do research.