MU Digulung Chelsea 4-0 di Stamford Bridge
Jose Mourinho Stunned as Chelsea Trash United at Stamford Bridge
Editor : Ismail Gani
Translator : Novita Cahyadi

PUBLISHED: Senin, 24 Oktober 2016 , 01:41:56 WIB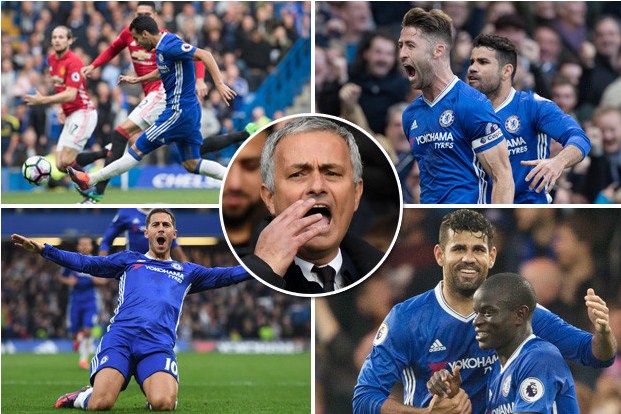 Foto2: The Sun
EGOISME Jose Mourinho kali ini kena batunya saat kembali ke Stamford Bridge menghadapi Chelsea yang mempermalukan Manchester United (MU) dan pendukung Blues mengejek sang pelatih, mantan idola mereka.

Sebuah kesalahan besar dari pertahanan MU setelah hanya 34 detik, yang memberi peluang pada Pedro mencetak gol, Chelsea pun menguasai permainan pada laga yang memalukan bagi sang pelatih asal Portugis.

Dan gol dari Gary Cahill, Eden Hazard dan N'golo Kante memukul telak MU dan membuat mereka tertinggal enam poin di papan klasemen dan hanya tujuh dari zona degradasi.

Gol tercepat pada Liga Premier Inggris (EPL) musim ini terjadi ketika terjadi kekacauan komunikasi di lini belakang United membuka ruang bagi Pedro untuk meneruskan umpan lambung Marcos Alonso dengan tembakan kaki kiri akurat. Aksi pemain asal Spanyol membuat Mourinho hanya bisa tertegun mendapati tim asuhannya mati langkah.

Dan Smalling melakukan kesalahan kedua bagi MU. Ketika tembakan jarak dekat Cahill menggetarkan jala gawang David de Gea untuk kali kedua. Cahill menyambut bola liar yang berawal dari sepak pojok Eden Hazard.

MU lebih ofensif dengan mendorong Marcus Rashford menemani Zlatan Ibrahimovic sebagai duet lini depan. Perubahan ini mendongkrak alur serangan United di kedua sayap, tetapi meninggalkan lubang di pertahanan saat mereka menyerang.

Chelsea memanfaatkan kondisi dengan menambah dua gol via sepakan Hazard dan tembakan datar menyilang Kante. Skor akhir 4-0 untuk kemenangan The Blues seperti dilansir The Sun.
JOSE MOURINHO'S ego took a battering on his return to Stamford Bridge with Chelsea hammering Manchester United and Blues fans mocking their former idol.

A howler from the United defence after just 34 seconds, that let Pedro score, set the tone for the Portuguese's embarrassing afternoon.

And goals from Gary Cahill, Eden Hazard and N'Golo Kante killed United off and left them six points off the top of the table and only seven off the drop zone.

The fastest goal of the Premier League season so far came when Marcos Alonso dinked a hopeful ball down the line that befuddled the centre-back pairing of captain Chris Smalling, Daley Blind and keeper David de Gea. Pedro nipped in to poke home leaving Mourinho with a stunned smile as he turned away in shock.

And Smalling was again at fault for United's second. The defender was supposed to be marking opposite captain Gary Cahill at corners, but he lost his man and the England defender smashed the ball into the roof of the net.

David Luiz got away with a spiteful challenge on 40 minutes. Marouane Fellaini had been dishing it out a bit but the Brazilian went over the top with a knee-high tackle that left the Belgian wiggling about on the floor in pain, briefly.

On 62 minutes, Mourinho's nightmare was complete. Hazard, accused last season of downing tools for his former boss in the wake of the Eva Carneiro row, made a mockery of Smalling's marking and poked home.

And the best was still to come when N'Golo Kante – the defensive midfielder famous for his discipline and selflessness – danced through the pathetic United defence, leaving Smalling all at sea, and scuffed the ball perfectly past David de Gea.