RB Leipzig Klub Kontroversial Siap Tekuk Bayern untuk Rebut Puncak Klasemen
Controversial RB Leipzig Out to Beat Mighty Bayern to Christmas No 1 Amid Backlash
Editor : Ismail Gani
Translator : Novita Cahyadi

PUBLISHED: Rabu, 21 Desember 2016 , 21:23:32 WIB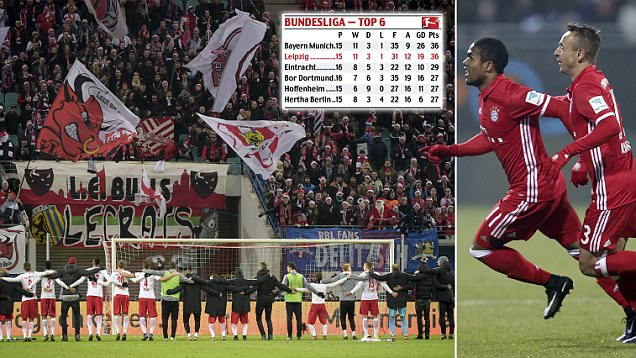 Di tepi sungai White Elster, di pusat kota kuno Leipzig, kini dibangun markas klub RB Arena, yang mampu menampung penonton 44.000 orang dari penduduk setempat pada Sabtu (Foto: MailOnline)
INI bukan pertama kalinya sebuah revolusi yang tenang dimulai di Leipzig. Pada Oktober 1989, protes damai yang dipimpin oleh para pemimpin gereja di sana menjadi penentu runtuhnya Tembok Berlin dan berakhirnya Komunisme di Jerman Timur.

Kini dua puluh tujuh tahun kemudian terjadi lagi perubahan yang tak terduga dan tampaknya tak terbendung untuk meruntuhkan kemapanan. Dan jika tidak cukup memiliki makna sejarah yang sama, maka ini menjadi sejarah penting bagi sepak bola Jerman.

Pada Rabu malam di Allianz Arena, tim perkasa Bayern Munich, sebagai klub utama Jerman, mengambil RB Leipzig, klub didirikan tujuh tahun yang lalu oleh perusahaan minuman energi Red Bull, sebagai tim non-liga.

Namun yang luar biasa adalah bahwa tujuh tahun dan empat kali promosi sejak pembentukannya itu, laga ini adalah benturan untuk kesempatan untuk berada di puncak Bundesliga. Siapapun yang menang malam ini akan memasuki istirahat musim dingin Jerman sebagai pemimpin klasemen. Bayern dan RB Leipzig saat ini sama-sama mengantongi 36 poin di puncak klasemen; salah satu klub yang mewakili komitmen manajemen klub.

Ketika Leicester City menantang bangsawan sepak bola musim lalu di Liga Premier, ada cinta yang hampir universal di kalangan penggemar sepak bola dari klub-klub kecil yang melihat mereka sebagai wakil mereka terhadap elit penguasa.

Namun ketika RB Leipzig memainkan pertandingan Piala melawan Dynamo Dresden, kepala banteng dilemparkan ke lapangan oleh fans lawan; ketika mereka bermain Union Berlin musim lalu, pendukung mengenakan pakaian hitam dan serempak diam selama 15 menit. Hamburg dan Borussia Dortmund juga mengorganisir protes terhadap RB Leipzig ketika tim telah bertemu musim ini.

Sebuah survei terbaru yang dilakukan oleh Universitas Teknik Braunschweig menunjukkan bahwa RB Leipzig adalah klub paling populer di negeri ini sekaligus menjadi 'klub paling dibenci di Jerman'. Kepala eksekutif Dortmund Hans-Joachim Watzke menyebut mereka sebagai '11 manusia kaleng.'

Di tepi sungai White Elster, di pusat kota kuno Leipzig, kini dibangun markas klub RB Arena, yang mampu menampung penonton 44.000 orang dari penduduk setempat pada Sabtu. Sebuah klub kecil yang semula bermain di depan ratusan penggemar saja atau setara dengan Vanarama Utara pada 2009, ketika miliarder Austria Dietrich Mateschitz, pendiri kedua Red Bull, mengganti nama klub dari SSV Markranstadt menjadi RB Leipzig pada 2009 seperti dilansir MailOnline.
IT'S NOT the first time a quiet revolution has started up in Leipzig. In October 1989, the peaceful protest led by church leaders there precipitated the collapse of the Berlin Wall and the end of the Communism in the old East Germany.

Now twenty seven years later there is another unexpected and seemingly unstoppable challenge to the established order. And if it doesn't quite have the same historical significance, then it is still shaking German football to its core.

On Wednesday evening at the Allianz Arena, the mighty Bayern Munich, the club at the heart of the German football establishment, take on RB Leipzig, the club formed just seven years ago by energy drinks company Red Bull, as a non-league team.

What is extraordinary is that seven years and four promotions since that formation, this game is a clash for bragging rights at the top of the Bundesliga. Whoever wins tonight will enter the German winter break as leaders. Bayern and RB Leipzig are currently joint top on 36 points; one club representing the established power, the other, a band of upstart revolutionaries from Saxony provoking outrage.

When Leicester City challenged football's aristocrats last season in the Premier League, there was almost universal love amongst football fans of smaller clubs who saw them as their representatives against the ruling elite.

But when RB Leipzig played a Cup tie against Dynamo Dresden, a bull's head was thrown on to the pitch by opposition fans; when they played Union Berlin last season, fans wore black and organised 15 minutes of silence. Hamburg and Borussia Dortmund have also organised protests against RB Leipzig when the teams have met this season.

A recent survey conducted by the Braunschweig Technical University demonstrated that RB Leipzig are the least-popular club in the country and 'Germany's most-hated club' has become a tag line. Dortmund chief executive Hans Joachim Watzke called them '11 performing cans.'

On the banks of the White Elster river, in the very centre of the ancient city of Leipzig, sits the newly-constructed RB Arena, which is now generally filled with 44,000 locals on a Saturday. This from a club which were playing in front of a few hundred fans in the equivalent of the Vanarama North in 2009, when Austrian billionaire Dietrich Mateschitz, co-founder of Red Bull, renamed SSV Markranstadt as RB Leipzig in 2009.