Wawrinka Sportif, Minta Maaf Lawan setelah Hantam Bagian Vital Lawan
Wawrinka Says Sorry after Hitting Australian Open Opponent Where It Hurts
Editor : Ismail Gani
Translator : Novita Cahyadi

PUBLISHED: Selasa, 17 Januari 2017 , 03:37:40 WIB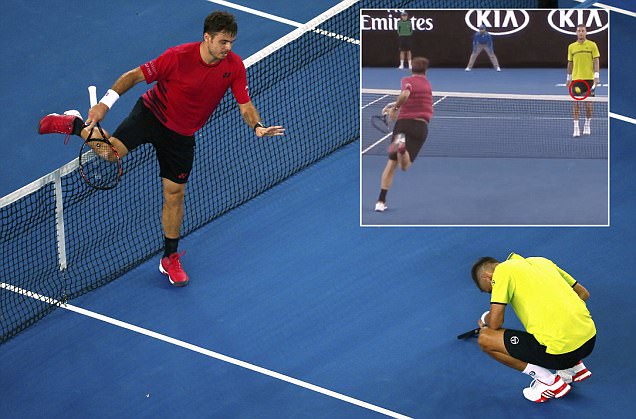 Petenis Swiss tersebut segera bereaksi meminta maaf setelah menyadari pertandingan telah berakhir, dan melompati net untuk memeriksa kondisi lawannya (Foto2: MailOnline)
MARTIN Klizan harus keluar lebih cepat setelah kalah di putaran pertama turnamen tenis Australia Terbuka, setelah bermain maraton lima set sebelum dikalahkan oleh Stan Wawrinka dan parahnya lagi bagian bawah perutnya terkena pukulan bola dari lawannya yang membuatnya terduduk seraya meringis kesakitan.

Insiden aneh ini terjadi di set penentuan setelah petenis peringkat keempat dunia Wawrinka itu mengembalikan bola dengan smash mudah, setelah memukul bola, ternyata pukulan kerasnya menghantam bagian bawah pinggang lawannya.

Petenis Slovakia jelas kesakitan setelah bola memukul pangkal paha dan petenis peringkat 34 dunia tampaknya tidak menyangka pukulan Wawrinka melewati net dan menghantam bagian vital di tubuhnya.

Petenis Swiss tersebut segera bereaksi meminta maaf setelah menyadari pertandingan telah berakhir, dan melompati net untuk memeriksa lawannya setelah dihantam pukulan kerasnya.

"Itu adalah pertandingan berat malam ini," kata juara 2014 di lapangan usai pertandingan seperti dilansir MailOnline.
MARTIN Klizan endured a miserable first-round exit in the Australian Open, as his marathon five-set defeat by Stan Wawrinka was compounded by him being hit by a ball in the nether regions.

The bizarre incident took place in the deciding set after world No 4 Wawrinka was teed up for an easy smash across court but, having conceded the point, Klizan was hit below the waist by his opponent.

The Slovakian was clearly in pain after the ball struck him in the groin and the world No 34 was far from impressed after expecting Wawrinka to steer the ball over the net with minimum exertion.

The Swiss immediately reacted apologetically after realising where his winner had ended up, going over the net to check on his opponent after thumping the ball in his direction.

'It was a big fight tonight,' 2014 champion Wawrinka said on court after the match.